When FDNY firefighter William Moon died after a tragic accident at work last month, his organs were donated to five recipients in dire need, among them fellow FDNY member Patrick Reynolds, son of Irish immigrants, who received Moon's liver. He talks to the Irish Voice, sister publication to IrishCentral, about his disease and profound gratitude to the Moon family.
Retired New York City Fire Department (FDNY) captain Patrick Reynolds never knew firefighter William "Billy" Moon, 47, whose life was tragically cut short after a training accident on December 12 at his Brooklyn firehouse. But Moon's name will forever be revered by Reynolds, who received a life-saving liver transplant from the fallen FDNY hero just before Christmas. 
"My wife calls it a Christmas miracle. We are so, so grateful to the Moon family," Reynolds, 63, the son of immigrants from counties Kerry and Westmeath, told the Irish Voice during an interview from his home in East Northport, Long Island, where he is convalescing after a seven-hour surgery that he wasn't expecting at Mount Sinai Hospital in Manhattan on December 20.
Reynolds retired from the FDNY in 2016 after serving 31 years; many of his days after 9-11 were spent at Ground Zero. He and his wife Bridget, whose parents emigrated from counties Cavan and Mayo, have two grown children, Aileen and Brian. Lurking in the background for several years was the genetic liver illness Reynolds was diagnosed with after retirement.
His Alpha-1 antitrypsin deficiency was pegged by a gastroenterologist who surmised that the cirrhosis showing up on scans, coupled with Reynolds' shortness of breath, could be genetic instead of 9-11-related. A test confirmed the doctor's hunch, and Bridget Reynolds did some research which led the couple to Mount Sinai and its Alpha-1 specialists.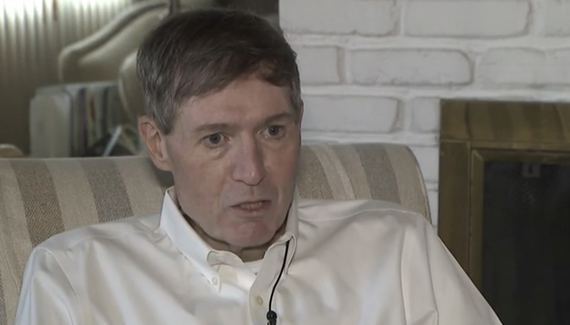 3
Life didn't demonstrably change for Reynolds after the diagnosis. "I was pretty active right up until the surgery. We were traveling and skiing and playing tennis. I was feeling pretty good but always knowing that the disease would eventually get worse," he said.
"The mental element was tough for me and my family. You start worrying that maybe one day you could be too sick to get a transplant."
One year ago, Reynolds was placed on the national transplant list which is overflowing with hopefuls in need of organs, but not nearly enough supply. Once Reynolds' case became known many members of the FDNY, and some kind-hearted strangers, offered themselves as living donors where they would give a lobe of their liver for transplant, but none of those who did preliminary testing proved to be a match.
December 19 was an ordinary pre-Christmas day for Reynolds, until a 4 p.m. phone call that changed the trajectory of his life. It was from Mount Sinai saying that a liver was ready for donation and that Reynolds should make his way to the hospital ASAP.
"We got there in 90 minutes. The next morning at 7 a.m. I was on the operating table," he says.
Firefighter Moon's liver was made available to Reynolds through a direct donation, in which the donor's family chooses who should receive an organ. Moon's widow Kristina proceeded with the donation of his liver, heart, kidneys and lungs which saved five people – Reynolds, a fellow retired FDNY Lieutenant Terrance Jordan, who was in need of lungs, and three patients residing outside of New York. 
Reynolds spent eight days at Mount Sinai and says he's feeling fine. There have been minimal side effects, and he's taking a number of medicines to combat his body possibly rejecting its new liver. 
"People say to me that I look so much better now. I guess I didn't realize that I wasn't looking good," Reynolds says.
Activity, for now, has been minimal, and for three months he and his wife are isolating as much as possible. His future prognosis is excellent.
"They have pretty high success rates with liver transplants. I'll be on some sort of anti-rejection medicine for the rest of my life but that is fine. Ideally, once you get past a year you're in a comfortable position. Every month I should be feeling better and better."
As it happens, Alpha-1 is an ailment that is common among descendants of northern Europe. "That's one of the things that we discovered," Reynolds says. "There's an Alpha-1 program in Dublin."
Alpha-1 Foundation Ireland was founded in 2001 and is based out of Dublin's Beaumont Hospital. Its website (alpha1.ie) reports that Alpha-1, "after cystic fibrosis, is the commonest genetic disorder in Ireland. It severely affects more than 15,000 people, with another 250,000 carriers also at risk of lung and liver disease on the island of Ireland."  
The foundation provides free blood testing for the condition as part of a national screening program funded by the Irish Health Service Executive "to reduce the underdiagnosis and misdiagnosis of Alpha-1. This targeted detection program is the only national screening program for Alpha-1 in the world."
Patrick and Bridget Reynolds are looking forward to returning to Ireland. Childhood visits to his parent's homeland were regular when Patrick grew up in the Yorkville section of Manhattan. He and Bridget, a Bronx native who played the bagpipes at Manhattan College, met at a supermarket where they both used to work.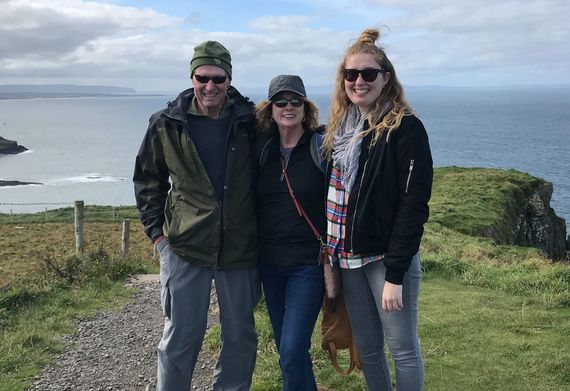 3
"We brought our kids to Ireland in 2009. My wife and I have been back two times since. I don't have too many cousins there as many of them left for England. But we love going back," he adds.
The home where his mother was raised has been turned into a tourist attraction in Kerry. Molly Gallivan's Cottage and Traditional Farm, in the village of Bonane just outside of Kenmare, was purchased by a family who restored it to how it was in Molly's time back in the 1840s.
"I stayed there as a child and loved it. My aunt used to live nearby. Someone bought it and I'm sure there's some embellishment in the story," he laughs. 
Also planned for the future is a meeting with Kristina Moon so the Reynolds family can share their appreciation for her husband's selfless act. Reynolds has not yet spoken to Kristina, who he calls a "pillar of strength" for an address she gave to members of the FDNY, urging them to become organ donors in the event of a tragedy.
"It brought me great peace to know that there are people who are able to spend their holiday with family and friends because of Billy's gifts," Moon said. 
*This column first appeared in the January 25 edition of the weekly Irish Voice newspaper, sister publication to IrishCentral.