Tributes to the late Sinn Fein leader Martin McGuinness by prominent American leaders arrived soon after news of his passing on Tuesday. Former President Bill Clinton said he and his wife Hillary were saddened to learn of his death.
"When he decided to fight for peace, Martin was calm, courageous, and direct. And when he gave his word, that was as good as gold," Clinton said.
"As Sinn Fein's chief negotiator, his integrity and willingness to engage in principled compromise were invaluable in reaching the Good Friday Agreement. In the years that followed, he played an even more important role in ensuring that the peace would last -- personally overseeing the arms decommissioning, joining the new government as the first education minister, and later serving as deputy first minister, and doing it all with a sense of humor and fairness that inspired both his friends and former foes.
"My lasting memory of him will be the pride he took in his efforts to improve disadvantaged schools in unionist and Protestant communities. He believed in a shared future and refused to live in the past, a lesson all of us who remain should learn and live by."
4
Former Congressman Bruce Morrison, a key intermediary in the Irish peace process, spoke warmly of his long working relationship with the Irish politician.
"It's a very sad day for all of us who care about the situation in the north of Ireland, to lose Martin McGuinness," Morrison told the Irish Voice. "He was a very special human being above and beyond any political considerations. He used his enormous personal gift of friendship, tolerance and patience throughout his political career and it made huge differences in where the north is today.
"He knew what he stood for, he knew what he believed in, but he never felt that he couldn't reach out to someone who disagreed, or listen to a different point of view.
"Martin's life certainly included his time in the IRA, and he didn't shrink from explaining that or confirming it was true. He had moved from that struggle, not in terms of the goals but in terms of the means, and he had left violence behind and he wanted to help everyone else to.
"If people can't see that, if they want to consign him to 1972, that's the kind of thing people wanted to do with Nelson Mandela. The question is how do people grown and change as opportunities grow and change. No one is a better example of reaching for change."
4
Ian Paisley was as far from Martin McGuinness as it was possible to get, Morrison adds. "But when he was dying he wanted to see Martin, because he considered him a friend. Now the fact that he could be Paisley's friend without ever signing up to his negatives positions is a testament to a human being who's better than most of us could ever hope to be."
In a statement House Democratic Caucus Chairman Joe Crowley said, "I'm deeply saddened to learn of Martin McGuinness' passing. A giant for peace, he will be forever remembered for his attempts to bring change to all of Ireland.
"I first met Martin more than 20 years ago during his first visit to the United States, though I knew of and admired him long before that visit. We became close friends and continued a relationship for years that was built on admiration and respect. 
"Martin was one of the most extraordinary leaders I have ever met, never giving up on his belief in a united Ireland, while working to constructively bridge the divide with those who fought for a different future. His achievements, including the leadership shown during the implementation of the Good Friday Agreement and his consistent, responsible support for devolution of power in the North, will be marked down in history as some of the most important efforts toward peace in modern history."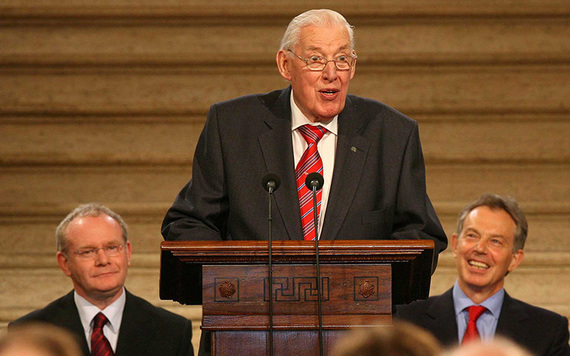 4
Congressman Richard Neal of Massachusetts, co-chairman of the Friends of Ireland Caucus in the House, wrote, "It is with genuine sadness that I learned my great friend Martin McGuinness has passed away. I can say without hesitation that Martin was an individual who helped change the course of Irish history for the better.
"People from around the world knew him as a peacemaker, a statesman and a gentleman. But I am going to miss my friend and his love of poetry, fishing and the City of Derry. During this difficult time, my thoughts go out to his wife Bernie and the entire McGuinness family. He will be missed."
Congressman Brendan F. Boyle of Pennsylvania said, "One of the great achievements in the world in the last 50 years has been the Northern Ireland peace process. Simply put, without Martin McGuinness, peace would not have been achieved and sustained.
"I pay tribute to Martin's dedication to securing peace on the island throughout his long career working alongside three first ministers of Northern Ireland, and vow to honor his memory through my commitment to preserving that peace."
As of early Tuesday afternoon, Congressman Peter King of New York, a long time supporter of Sinn Fein, had yet to issue a statement on the passing of McGuinness.
Read more: Galway man to be deported from Boston after Trump immigration police home raid