Sinéad O'Connor was laid to rest in the Garden section of Dublin's Deansgrange Cemetery this week, the same cemetery where her mother Johanna Marie O'Grady O'Connor, who died in a car accident in 1985, is buried.
O'Connor has accused her mother of horrific abuse but said in 2017 that she had forgiven her and missed her terribly.
"I cannot wait until the day that I naturally get to heaven so that I can see my mother again," O'Connor said on the "Dr. Phil" show in 2017. 
Mourners have been leaving flowers at Sinéad O'Connor's grave ever since her private funeral was held in Bray on Tuesday, August 8.
"I was walking around up here when a lady asked if I was looking for Sinéad's grave, and directed me to it," one mourning fan told the Irish Sun on Tuesday.
"So I think people have already been visiting to respectfully leave flowers." 
Other notable people interred at Deansgrange Cemetery include Dermot Morgan, Flann O'Brien, brothers Arthur Shields and Barry Fitzgerald, Ernest Walton, and Seán Lemass.
Thousands of people gathered in Bray, Co Wicklow on Tuesday to pay their respects as O'Connor's coffin was driven past her former home. 
The hearse carrying O'Connor's coffin moved through the crowd of mourners as Bob Marley songs played from a Volkswagen camper van decorated with a number of flags.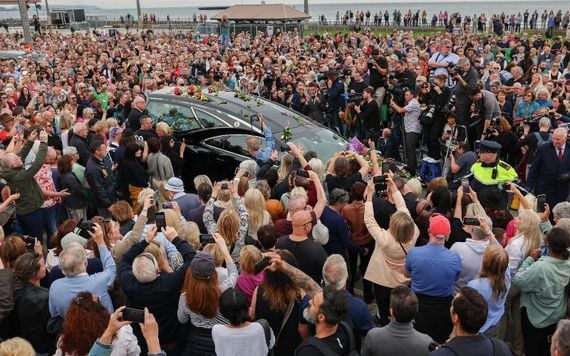 2
At a private funeral service on Tuesday, Imam Shaykh Dr. Umar Al-Qadri delivered the eulogy and described O'Connor as an "otherworldly voice."
Sla'n abhaile, Sinéad; Dia leat.

💚☘️🇮🇪#SinéadOConnor #DaughterofEire pic.twitter.com/Me5guhS6pG

— Shaykh Dr Umar Al-Qadri (@DrUmarAlQadri) August 8, 2023
The private funeral service was attended by Taoiseach Leo Varadkar, President of Ireland Michael D. Higgins, and U2 frontman Bono, among others. 
O'Connor's brother Joseph, a celebrated author, read his 2010 poem "Blackbird in Dun Laoghaire" during Tuesday's funeral service. 
The poem was inspired by his sister and recounts how Joseph searched for her when they were both children in Dun Laoghaire. 
"There's a blackbird in Dun Laoghaire –
And I'm suddenly a kid,
Asking where from here to Sandycove
My youngest sister hid.
I'm fourteen this Easter.
My job to mind her.
Good Friday on the pier –
And I suddenly can't find her." 
'Blackbird in Dún Laoghaire' was a poem inspired by Sinéad O'Connor written by her brother Joseph O'Connor in 2010. He recited it once again at her funeral service yesterday. @joeliveline shared his beautiful words on today's @rteliveline ❤️️ pic.twitter.com/XrP60sDQpn

— RTÉ Radio 1 (@RTERadio1) August 9, 2023
56-year-old O'Connor's death was confirmed by her family in a statement on Wednesday, July 26. The Irish musician had been living in London.
Metropolitan Police in London confirmed afterward that the death was not being treated as suspicious. An autopsy was conducted and O'Connor's remains were released to her family on August 3.
Tributes to O'Connor have been widespread since her death.