Irish Taoiseach (Prime Minister) Leo Varadkar has said he would not criticize anyone for protesting US president Donald Trump's visit to Ireland next month.
Trump is expected to visit Ireland for a number of days at the beginning of June and protests against his arrival are anticipated.
Read more: Should President Trump's June visit to Ireland be banned due to hate speech?
"Peaceful protest is part of a democracy and I would certainly never criticize anyone for taking part in a protest if that's the way they wish to express their views," he told the Irish Independent.
"President of the United States has a welcome in Ireland"
"But, as has been the case always in the past the President of the United States has a welcome in Ireland and I believe we should respect the office even if people have particular views about the current incumbent.
"The links that exist between Ireland and America are very strong, they are about the economy and jobs, they are about citizenship, there are family links too and cultural links and we want to keep those links strong regardless of who is Taoiseach or President."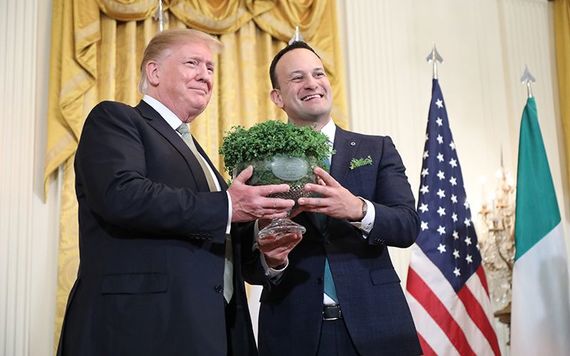 4
"A lot of people have been critical of President Trump, including me on occasion, on issues around climate for example, on his opposition to free trade, on the criticisms he has made of the European Union, and on issues such as women's rights.
Read More: CIA sweep Clare as Donald Trump set to visit Ireland in June
"I'll have the opportunity, as I have in the past, to actually raise those issues with him in person but I understand that other people will wish to do so by means of protest and in a democracy protest is allowed and welcome."
When asked if there were any policy issues on which he and Trump agreed, the Fine Gael leader replied: "Emm, I'm sure there are... I'm absolutely sure there are. It's always the differences that spring to mind but let me think about that."
Irish politicians say Trump is not welcome in Ireland
Both the Labour party and the Social Democrats have spoken out against Trump's visit, stating he is "not welcome in Ireland."
4
Labour Senator Aodhán O Ríordáin has said "Trump is no ordinary president"  adding that he "is the face of hate, racism and division".
Time to get our placards ready. #BridgesNotWalls #IrishStand https://t.co/TJ7a8gAzzz

— Aodhán Ó Ríordáin (@AodhanORiordain) May 15, 2019
"The Social Democrats will strongly oppose any proposed visit on the basis that we don't believe Irish people are willing to entertain his narrow and divisive brand of politics," the party's co-leaders Róisín Shortall and Catherine Murphy said. 
"Any official hosting of President Trump in Ireland would be a betrayal of the values that Irish people hold dear."
Trump Doonbeg Resort Co Clare
The Irish leader revealed that there has been no confirmation of the trip as of yet and that the announcement has to come from the White House although it is likely he will stay in his Doonbeg resort in Co Clare which is not accepting bookings between May 31 and June 7.
4
Trump is due in France next month and will make a state visit to the United Kingdom on June 3 to 5, 2019, to mark the 75th anniversary of World War II's D-Day and it is thought he will fit his Irish trip in around these dates.
Read More: Ireland should welcome President Trump with open arms when he visits in June
While in the UK, Trump will take part in a bilateral meeting with embattled Prime Minister Theresa May, who continues to deal with Brexit, the United Kingdom's exit from the European Union.
What are your thoughts on Trump's visit to Ireland? Let us know in the comments below.
This article was submitted to the IrishCentral contributors network by a member of the global Irish community. To become an IrishCentral contributor click here.