President Donald Trump has officially proclaimed March 2017 as Irish American Heritage Month. Women around the world have officially proclaimed March 8 as an international strike, and Irish women are on-board in a continued effort to repeal the 8th Amendment that bans abortion in Ireland.
Just last week 800 babies were found buried, abandoned in an unmarked grave in Tuam. And on March 17, 2017, the world will celebrate Ireland. Mixed messages much?
Are we to feel proud of being Irish this month? What does an endorsement from Trump say about our country? What does the continuous lack of respect for women's rights say about our government?
Love & support for women that fight every day against sexist pigs like #Trump #InternationalWomensDay #ADayWithoutAWoman pic.twitter.com/wAt5vj6PTL

— Fight For Democracy (@ImpeachTheNazi) March 8, 2017
What does the remains of 800 babies say about our history, our heritage, or moral and religious background? What does the fact that, across the globe, millions of people will be getting blackout drunk in our honor say about us? Not to mention that this year, the blessed/cursed day falls on a Friday so New York City will undergo a weekend of total carnage. God save us all.
Two marches, during March, only nine days apart, will represent such conflicting views of our country that it's hard to know where to stand on being Irish -- especially on being Irish in America. On March 8, Irish women will gather outside the Irish Consulate on Park Avenue to protest the ongoing refusal of the Irish government to call a referendum on the 8th Amendment, before joining the international women's strike throughout the city.
Read more: Thousands of Strike 4 Repeal protests takeover O'Connell Bridge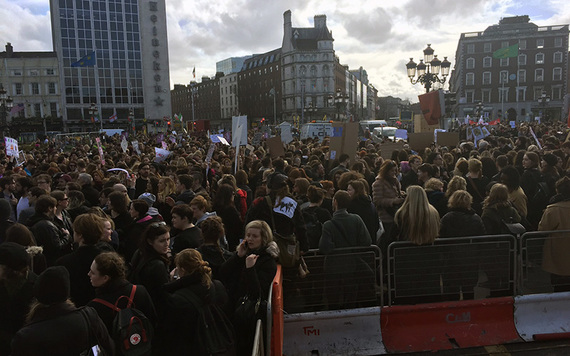 3
Nine days later, the same streets will be filled with green, white and gold in celebration of our loved little island. Rivers will be dyed green, songs will be sang, and every second person will have a pint of the black stuff in hand. Can we do a total 180 in just nine days?
I think it's fair to say that being Irish right now is a difficult and confusing time for Irish women, and for those of us who depend on Ireland's strong relationship with America for our livelihood. If that connection were to go away, if that bridge were to burn -- how many of us would have to go home?
Reading the official White House statement declaring March as the official Irish-American Heritage Month, this line in particular struck me: "Over generations, millions of Irish have crossed the ocean in search of the American Dream, and their contributions continue to enrich our country today."
Millions of us. And I know I'm not alone in saying that I am eternally grateful for the opportunities afforded to my generation because of this historical relationship. I also know that I am not alone in wishing that the same welcome was being offered to immigrants now, who are similarly in need of a fresh start, a new home, a better life.
.@POTUS has declared March Irish-American Heritage Month. Read the Proclamation ➡️️ https://t.co/pV2KfWJ4jc #IrishAmericanHeritageMonth pic.twitter.com/MEYYQUMaFJ

— U.S. Embassy Dublin (@USEmbassyDublin) March 2, 2017
It's wonderful to feel our country be honored, and recognized for our special contribution to America, but it comes with an inescapable sour taste of guilt, wondering what made us so special. Wondering why people who are similarly struck down by famine and hardships that are no fault of their own be welcomed with open arms like we were.
Perhaps that feeling comes from our ingrained sense of Catholic guilt, only further emphasized by the recent findings at Tuam. I wonder will that even shake the world's perspective on Ireland, or is that just what the world expects from us now. I wonder if it's surprising at all.
What comes with that is this fear about speaking up. There have been talks of boycotting the White House celebrations of St. Patrick's Day on Capitol Hill, but I highly doubt that many will risk rocking the boat and sabotaging our relationship with the free world. Our own taoiseach showed no sign of speaking out against Trump's immigration ban, but welcomes the acknowledgment of Ireland's millions of immigrants who have flocked to America building a strong bond that is beneficial to us, and only us.
As a neutral country that underwent 800 years of oppression, are we as weakened by our connection with America now as we have been strengthened by it in our past? It seems that our dependency on this relationship with America has scared us into silence.
I know that for a lot of us with visas on the line, there is a major dependency on this relationship. I'm also aware that there's a bigger point to be made, and a bigger picture to be seen. I'm just not sure we're brave enough to see it, to rock the boat even a little. Is that something to be proud of?
Being an Irish person in New York, there is so much to be proud of. Our cultural influence is everywhere, our social influence even more so, and I have yet to meet a single solitary American who has anything but enthusiasm towards Ireland. I have yet to meet a single solitary human who has not enjoyed their time visiting Ireland.
We, as a population of chatty, wild and wonderful creatures have created this international sense of friendly, welcoming love. That is, on a daily basis, something to be very proud of. That's what the parades are for.
3
So what are we marching for in this, the most honorable of Marches -- are we protesting on March 8, or celebrating on March 17? These are the questions that I feel we are asking ourselves this month.
I like to think we can do both. I like to think we can be simultaneously proud of the bond that we have tirelessly created and sustained with America, while resisting the push against women's rights, and human rights from both administrations.
I like to think we can march against those administrations and for our rights on March 8, and march for the people who make this bond between us so great, and celebrate that together on March 17.