Updated 8.40AM EST: Thousands of women and men assembled on O'Connell Bridge as part of Strike 4 Repeal a campaign organized by the Coalition to Repeal the Eighth Amendment. Hold banners and wearing black the crowds young and old had a clear message – "No Debate, We Won't Wait."
The Strike 4 Repeal campaigns taglines is "No More Business As Usual" and the massive crowds spilling out from O'Connell Bridge, much of which was under refurbishment, and onto the Liffey quays certainly made their point.
IrishCentral was there to take in the crowds:
IrishCentral is live from the Strike For Repeal assembly on O'Connell Bridge, Dublin, on International Women's Day. Read more here: http://irsh.us/2n55tqa

Posted by IrishCentral.com on Wednesday, March 8, 2017

They called on women and men who supported the Repeal the 8th Amendment campaign to take the day off work (paid or otherwise) and meet on the bridge wearing black.
The lobbyists at the center of this campaign had earlier on Wednesday morning pitched Ministerial Departments such as Health and Justice. At 5.30pm, at the Garden of Remembrance, the group will again gather, along with those who were unable to get out of work and march.
Posted at 3:30AM EST: Around the world, from London to Istanbul, marches have been taking place in honor of International Women's Day calling for equal pay, the end of domestic violence and access to abortion. In Dublin, the Coalition to Repeal the Eighth Amendment will bring their Strike 4 Repeal march to the streets calling for Ireland's Eighth Amendment, which outlaws abortion, to be withdrawn.
Strike 4 Repeal called on the women of Ireland to down tools (at home or at work), wear black, and take a stand on International Women's Day if the Irish government had not called a referendum on the topic by this date. The date has arrived. The strike's slogan? "No more business as usual."
If you're in Dublin, meet me on the Bridge at 12:30#strike4repeal #wewontwait pic.twitter.com/V94XPTm5fP

— Strike 4 Repeal (@Strike_4_Repeal) March 4, 2017
In a statement Ailbhe Smyth, Convener of the Repeal the Eighth Coalition said:
"International Women's Day celebrates the history of women fighting for economic, political and reproductive rights, and we are continuing this fight. In Ireland, women are no longer prepared to wait patiently on the sidelines while 'experts' and politicians debate our human right to personal and bodily autonomy. We will not sit by as they decide what rights and freedoms we should have over our own bodies, our lives, and our futures.
"It's over a year since the last General Election and despite all the promises and commitments, we are no closer to a referendum date. Recent polls further strengthen our view that Irish people want the issue of abortion dealt with. The delay cannot be permitted to continue, and on Wednesday, we'll be marching to demand that a date is named for a referendum."
Ireland is one of the last countries in the developed world to have a near-total ban on abortion.
Every day, on average, 12 women travel to the United Kingdom to access legal abortion services. During the period from 2010 to 2012, according to reports, there were 1,642 abortion pill packages sent to Ireland.
Westport to Dundalk, Melbourne to New York: 2moro we make history as we #strike4repeal in over 50 different locations globally #REPEALTHE8TH pic.twitter.com/vN2dQxpJ1C

— Strike 4 Repeal (@Strike_4_Repeal) March 7, 2017
In Dublin, today the Strike 4 Repeal campaigners will meet on O'Connell Bridge at 12.30pm, following picketing at various government buildings. There will also be a March 4 Repeal at the Garden of Remembrance, on Parnell Square at 5.30pm. Around Ireland strikes are taking places in Belfast, Cork, Galway, Kerry, Kilkenny, Limerick, Mayo, Ashbourne, Navan, and Sligo. Students from NCAD, DCU, DIT, TCD, NUIG, UCD, IADT and Royal Holloway in London also plan walk-outs and strikes. Further afield strikes in New York, Berlin, Manchester, London, Glasgow, Oxford, Cambridge, Durham, Buenos Aires and Aberdeen are planned.
A recent Irish Times survey found that 74 percent of people were in favor of more liberal abortion laws. That's up 10 percentage points from 2013.
The survey showed that 55 percent of Irish citizens believe women should have limited access to abortion in the cases of rape and fatal fetal abnormalities. Nineteen percent said Ireland should allow abortion in all cases requested.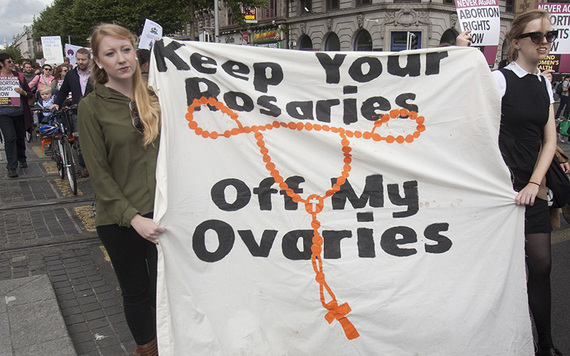 2
Cathie Doherty, a volunteer at the Abortion Rights Campaign told the Huffington Post that over 3,000 people have already indicated on the strike's main Facebook event page that they'll participate, and dozens of other local event pages have cropped up.
This is a previous video on the topic released by Project Repeal:


Meanwhile, on Monday, March 6, the United Nations Committee on the Elimination of Discrimination against Women (CEDAW) called for independent investigations into Ireland's Mother and Baby Homes and Magdalene Laundries following the excavation of several babies' remains from a mass grave in Tuam, Co Galway that could contain up to 800 children's bodies. The report said victims should get appropriate compensation and official apologies.
Read more: Tuam Babies - "It would be... kinder to strangle these children at birth" said doctor
It also repeated criticism of Ireland's abortion laws, saying the Eighth Amendment impedes women's human rights as it "unduly restricts access to abortion." It also suggested Ireland change the Constitution's Article 41.2, which recognizes the role of women in the home, urging the Government to remove the "stereotypical language on the role of women in the home."
Responding to this report, Cora Sherlock of the Pro-Life Campaign said it was "bordering on ridiculous the way some UN bodies are issuing what appear like twice monthly condemnations of Ireland's pro-life Eighth Amendment."
She continued, "The purpose of the CEDAW committee is to highlight and seek to eliminate discrimination. Abortion, however, is the ultimate discrimination as it targets the most vulnerable in society, namely unborn babies."
Ireland's pro-choice and bodily autonomy marches are not the only ones of its kind taking place for International Women's Day. On Sunday, in London, Eurhythmics star Annie Lennox, Mayor Sadiq Khan and Bianca Jagger led a march through the city. Jagger made a point commenting on President Donald Trump's attitude to women as well as a need for gender equality and a stop to domestic violence.
Annie Lennox and Sadiq Khan lead women's march in central London https://t.co/olPeah0a9b pic.twitter.com/FLOoa00X3X

— This Weekend London (@LDNthisweekend) March 7, 2017
In the United States, like in Ireland, there is a planned strike – "A Day Without Women." It's planned that women will stop work, wear red and call for reproductive justice, labor rights and an end to gender violence.
"A Day Without a Woman" is the ambitious follow-up to the Women's March https://t.co/vaegOAhgxk pic.twitter.com/Oe6odMVzpA

— VICE News (@vicenews) March 7, 2017
For more information on Strike4Repeal visit their Facebook page.