Ireland's Minister for Foreign Affairs and Trade will arrive in Washington DC on Tuesday to commence three-days of meetings with senior politicians on Capitol Hill including US House Speaker, Paul Ryan, House Majority Leader, Kevin McCarthy and House Minority Leader, Nancy Pelosi. He will also meet with Donald Trump's national security adviser Mike Flynn.
Charlie Flanagan, the first Minister of State to visit the United States after Donald Trump's inauguration, will also meet with members of the bi-partisan Congressional Friends of Ireland group.
Ahead of the visit he released a statement saying "This visit is an important opportunity to meet with US Congressional leaders and to have an exchange of views with on matters of common interest and concern between Ireland and the United States. I am also looking forward to meeting with members of the Irish business community in the Washington, DC, area."
He added that these meetings with top officials would provide him with the opportunity to convey the Irish Government's concern regarding the recent announcements by the US Administration which impact on undocumented Irish citizens in the US and, more widely, on citizens of certain designated States.
On Monday evening, ahead of his trip Flanagan appeared on the RTE chat show, Claire Byrne Live, to discuss Donald's Trump's executive order, which the President signed on Friday last banning entry into the US for people from Iraq, Syria, Iran, Sudan, Libya, Somalia and Yemen. This order has since been stayed and its constitutionality and legality is being investigated.
Read more: Judge Ann Donnelly who blocked Trump - a profile in courage say colleagues
3
Speaking on RTE about the ban Flanagan said "I fundamentally disagree with what President Trump has done. It's not the way we do business here in Ireland.
"But we saw his campaign. He promised to do this he said he was going to do this but what is surprising and perhaps is disturbing is the speed with which these executive actions are being rolled out. Executive actions are not actions that have been subject to parliamentary scrutiny like we do here and that's why further clarification is really required as to what the impact of this is."
He also referred to Ireland's "interest" in executive order, since Dublin and Shannon airports host preclearance US immigration. On Monday evening the first individual traveling through Dublin, en route the United States had been detained. The Minister explained that once an individual has been turned away by the US immigration preclearance they are then passed off to Irish immigration officials and offer legal aid or any other accommodation that may be necessary.
Read more: Ireland may end US immigration preclearance over refugee ban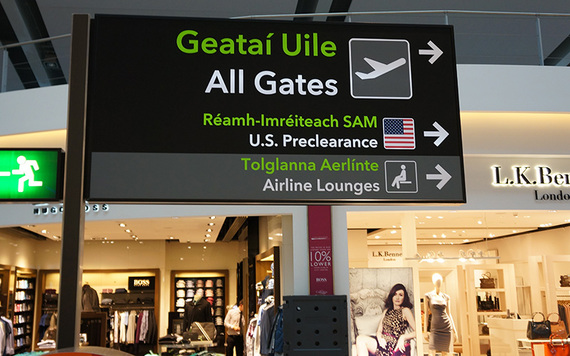 3
In relation to the 50,000 undocumented Irish living in the United States Flanagan said that during his trip to Washington he would use every moment of his "time available in order to highlight what is a difficulty for Irish people going back 30 years.
"I spoke to Paul Ryan within two days of the election of Donald Trump, I said I want to engage early having regard to the change in administration, having regard to the fact the Republican have the President and the majority in the Senate and the majority in the House."
The Minster confirmed that he would meet with Ryan, members of the Trump administration and senior Republicans, Irish American caucus and representative groups of the undocumented.
The Irish Times reported that Flanagan is due to meet with Trump's "national security adviser Mike Flynn and top Republicans overseeing the new president's legislative agenda."
The Department of Foreign Affairs and Trade have said that during his visit he "will discuss the Northern Ireland peace process, Ireland's approach to Brexit, the prospects of immigration reform, and the economic links between Ireland and the US."
On Tuesday (Jan 31) Flanagan will address the annual general meeting of the Irish Network DC, a professional networking organization for Irish, Irish-Americans and friends of Ireland in the Washington metro area.
On Feb 1, Flanagan will hold a series of meeting with US Congressional leaders, both Republican and Democrat and with members of the bi-partisan Congressional Friends of Ireland group. The Congressional Friends of Ireland is an organization in the US Congress which was founded in 1981 by Irish-American politicians and brings together a broad range of members of the US Hose from both sides of the aisle who are of Irish-America heritage or a strong interest in Irish affairs.
Of these meetings, Flanagan said "My meetings with senior political leaders on Capitol Hill provide an opportunity for me to discuss a range of issues of interest and concern to Ireland and the US, including: on-going US support for the Peace Process; Ireland's approach to Brexit; the prospects for immigration reform, as well as recent immigration related measures announced by the US; and economic links between Ireland and the US."
On Thursday (Feb 2), the Minister has a number of engagements with representatives of Irish, US and international media outlets based in Washington.
Read more: President Trump's record on refugees is way better than Obama and Bush