Ireland is conducting a complete review of the US preclearance locations at Dublin and Shannon airports in response to President Trump's executive actions banning refugees and Muslim immigrants from seven countries from coming to the US.
Taoiseach Enda Kenny confirmed on Monday night during a press conference with British Prime Minister Theresa May that he had "asked for a complete review of the preclearance facilities in Ireland, in respect of the three departments dealing with this, so we can be absolutely clear about the importance of it."
He also voiced his disapproval of the new regulations. "In respect of the policy introduced by the American government, I disagree with it," he said.
"I will obviously say that to the president and vice-president when I meet with them," he added, presumably referring to the St. Patrick's Day ceremony, which was recently confirmed for March under the new administration.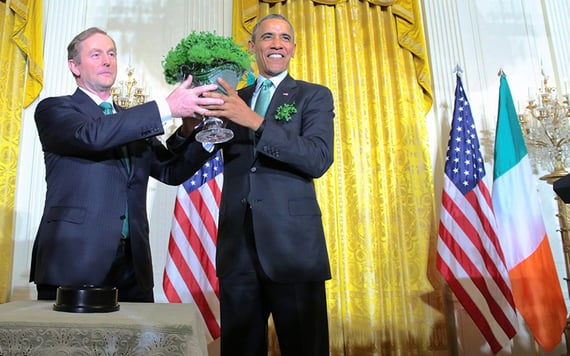 5
Kenny has come under some pressure for accepting the invitation to carry on the traditional St. Patrick's Day visit as usual, but he argued that "it's more important now than ever before to be able speak face-to-face with President Trump to explain to him the matters of importance for us here."
Keep up-to-date with immigration news on IrishCentral here 
Since 2011 those traveling to the US from Ireland have been able to pass through immigration and customs prior to boarding flights at Dublin and Shannon airports. Ireland is one of only six countries in the world that have such US border preclearance stations. The other countries are The Bahamas, Bermuda, Aruba, the United Arab Emirates and Canada.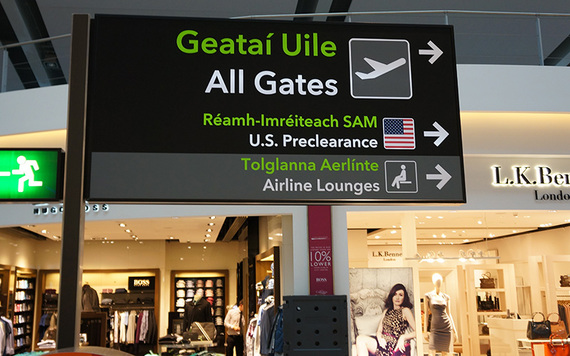 5
A statement released by the Irish government said that the preclearance facilities in Ireland had been "used by 1.18 million people in Dublin and 204,000 people in Shannon last year."
However, as Ireland's Minister for Health, American-born Katherine Zappone, warned on Monday, carrying out Trump's ban on Irish soil could conflict with Irish laws.
"We need to determine whether our constitution and the international treaties we have signed up to, that those laws operate in context of Irish soil in terms of prohibiting those policies of discrimination against nationalities, and also people of particular religions, that Donald Trump has implemented," she said.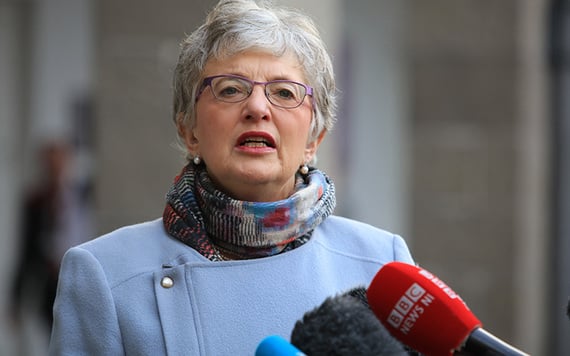 5
The Irish Department of Transport reported to the Irish Times that since the executive actions were signed on Friday afternoon, one person has been refused preclearance in Ireland.
Ireland's Minister for Transport Shane Ross said that the orders "are not being implemented by the [Dublin Airport Authority] DAA or by any staff of DAA, or any staff like that. Those are being implemented by US people.
"There is no Irish implementation of these particular measures."
He also voiced his disagreement with the new restrictions.
"I am very concerned about what Donald Trump did, obviously because it is something that has Earth-shattering consequences globally – and no one could expect any Irish Government minister to approve of what he did," he said.
"Dublin Airport, that is an issue which will be discussed at cabinet tomorrow and will be resolved, and Shannon as well, and I think at this stage it is probably unwise to say what would happen at all, but it is important that Irish people aren't caught in difficulties as well."
5
In addition to Minister Zappone, a group of five human rights organizations, including Amnesty International Ireland, the Irish Refugee Council and the Irish Council of Civil Liberties, called upon the Taoiseach to review the preclearance system.
"This executive order is a barely concealed attempt to discriminate on nationality and religious grounds, itself a gross violation of freely accepted international human rights obligations," read the statement.
It called on the Irish government to "clarify the role of gardaí [Irish police] and immigration officials in the US preclearance process to ensure that in the exercise of their public functions, a person's rights under the Irish Constitution, European Convention on Human Rights, EU law or international human rights law will not be violated."
Sinn Fein's Gerry Adams also wrote to Kenny, asking that he not "allow Irish airports to enforce this fundamentally unjust order."
Read more: President Trump's record on refugees is way better than Obama and Bush
H/T: Irish Times.