The Irish certainly had a weekend to remember, a powerful rugby display over Scotland making the Irish side the current favorites for the World Cup later this year, and 14 different nominations for Oscars revealing the sporting, emotional, and cultural awakening among a new generation. 
Take "The Quiet Girl," a small Irish language film about a young girl's need to adapt to a cruel fate that sees her sent away from a dysfunctional family to live with relatives. The movie has been burning up with the superlatives heaped upon it. 
Its success is a magnificent achievement not only for the actors and producers but for the Irish language, cast away by generations before this one but now being embraced by a whole nation. The film did not win an Oscar, but its very presence on the glittering carpet on Sunday night was a huge leap forward for authentic Irish filmmaking. 
The Irish had an Oscar winner for Best Live Action Short Film, "An Irish Goodbye," which accomplished the remarkable feat of having a Down syndrome actor, a native of Belfast, as one of the two main leads. 
The touching story of two brothers trying to adjust to their mother's death was yet another first for small Irish productions that made it to the big show. Having a Down syndrome actor in a lead role was a piece of Hollywood history. 
Leading men Colin Farrell and Brendan Gleeson will have to wait for another film to ferry them to Oscar glory as "The Banshees of Inisherin" came up empty. The presence of the two veterans at the Oscars was a welcome reminder of the surfeit of great actors that Ireland has now, including Kildare actor and fellow Oscar nominee Paul Mescal.
But the magical weekend did not only include Ireland's historic 14 Oscar nominations. Over in Scotland, the Irish rugby team was looking resplendent after a massive victory over the Scots to move within touching distance of an historic Six Nations Grand Slam, defeating five other European nations in succession. 
Only England, who were demolished by France last weekend, stand in the way of a perfect season, and with the England vs. Ireland clash coming on St. Patrick's weekend in Dublin there could not be a better setting for what looks like an historic winning season. 
Yes, Ireland have been competitive in Rugby World Cups before but never came remotely close to winning one. But this team is different. 
Saturday's game was a perfect example. The Irish had three key players injured in the first 20 minutes, losing them for the rest of the match. 
Playing away from home, with a baying Scottish crowd desperate to see their team defeat Ireland after seven consecutive losses, there was every excuse to fold. 
But as the The Guardian commented, Ireland has forgotten how to lose matches, and they tore into the Scots in the second half to run out easy winners.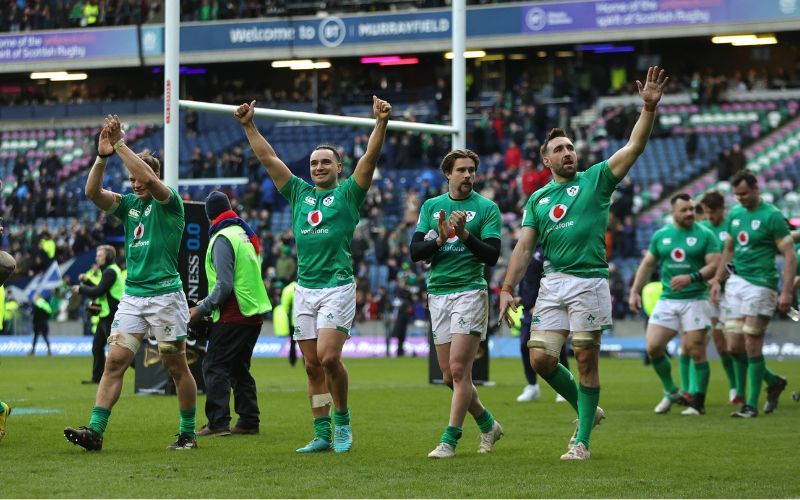 2
Real-world success in sports for a small country like Ireland is rare indeed. Boxing and rowing are the two main categories where the Irish have stood out in the past, but the notion of Ireland winning a World Cup in rugby has been a long shot. 
Until now that is. The Irish are favorites for the World Cup to be played in France this fall. 
Given the success on the rugby field and the record number of Oscar nominations, this Irish moment looks like it will be around for a while which is good news for Irish everywhere this St. Patrick's Day. 
Erin Go Bragh!
*This editorial first appeared in the March 15 edition of the weekly Irish Voice newspaper, sister publication to IrishCentral.