Northern Irish film "An Irish Goodbye" won the Oscar for Best Short Film at the 95th Academy Awards on Sunday night, but it was a disappointing night for "The Banshees of Inisherin", which left empty-handed. 
The film was nominated for nine awards on Sunday night but lost out to "Everything Everywhere All At Once" (EEAAO), which took home seven awards, including Best Picture and Best Director. 
Colin Farrell and "Aftersun" star Paul Mescal lost out to Brendan Fraser (The Whale) in the Best Actor category, while Brendan Gleeson and Barry Keoghan lost out to "EEAAO" star Ke Huy Quan in the Best Supporting Actor category. 
Kerry Condon, who was seen as the film's best hope for an Oscar, lost out to "EEAAO's" Jamie Lee Curtis in the Best Supporting Actress category. 
The Irish-language film "An Cailín Ciúin" ("The Quiet Girl") missed out in the Best International Feature Film Category, with the German-language anti-war epic "All Quiet on the Western Front" taking home the award.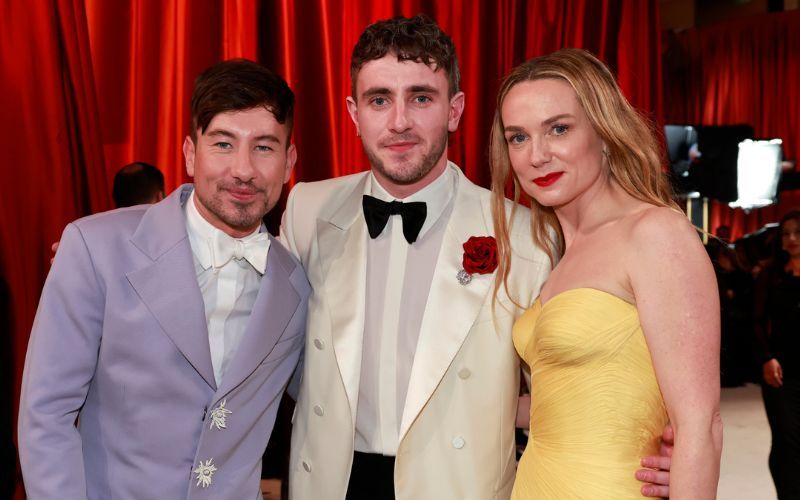 2
However, Ireland did scoop two awards at Sunday night's ceremony, with "An Irish Goodbye" winning in the Best Live Action Short Film category and Dubliner Richie Baneham and his team winning the Oscar for Best Visual Effects for their work on "Avatar: The Way of Water". 
"An Irish Goodbye" provided one of the most wholesome moments of the evening, with the audience at the Dolby Theater coming together to sing happy birthday to actor James Martin on his 31st birthday. 
"Thank you to everybody back home in Northern Ireland who helped us make this. We wish we had the time to list you all here but you know who you are. There is something very important we would like to speak about as well," director Ross White said on Sunday night. 
"This award is actually the second most important thing about today because it is this man's birthday. He is out here in Hollywood wearing a leopard print suit jacket. We would love to use the rest of our time up here to sing for James," writer/director Tom Berkeley added. 
Ireland's Minister for Culture Catherine Martin congratulated the two winners at this year's Oscars, describing it as a "historic night" for Ireland. 
"This evening's ceremony has been a momentous occasion on so many levels; for the nominees who have received richly deserved plaudits for their creative endeavors; for the Irish film industry which is riding the crest of a wave; and for all of us in Ireland who are so proud of your achievements," Martin said. 
"The Oscars ceremony showcased our talent, our language, and the beauty of our country as a tourism destination to a global audience, and with the pipeline of exciting projects in production at the moment, there is no reason why we can't be competing every year at the highest level, such is the creative talent within the country at the moment." 
President of Ireland Michael D. Higgins also heralded a "remarkable" year for the Irish film industry. 
"May I congratulate 'An Irish Goodbye' and Richard Baneham for their fantastic achievements in winning the Best Live-Action Short Film and Best Visual Effects Awards respectively at last night's Oscars ceremony," Higgins said in a statement. 
"May I further extend my congratulations to Colin Farrell, Paul Mescal, Kerry Condon, Brendan Gleeson, Barry Keoghan, Jonathan Redmond and all involved with 'An Cailín Ciúin' and 'The Banshees Of Inisherin' for the exceptional recognition of their work which being nominated for an Academy Award constitutes."