The coronavirus alert, with two cases confirmed with the illness in the Republic of Ireland, has this week forced extra medical security measures.
Sinn Féin leader Mary Lou McDonald's children are off school for two weeks because a confirmed case is a student there, and she canceled several public meetings in the next few days to be with them.
Google's 8,000 employees in Dublin worked from home on Tuesday when a member of staff reported flu-like symptoms.
Ryanair canceled 25 percent of its flights to Italy, the worst-hit coronavirus country in Europe, for three weeks from March 17.
Read more: Coronavirus fact box - what you need to know
Plans to deal with mass gatherings of people were being considered by the Cabinet, and St. Patrick's Day celebrations could be under threat.
Soccer chiefs are considering if Ireland's European championship qualifier should be played in a closed-doors stadium in Slovakia on March 26.   Already, Ireland's rugby home tie against Italy on Saturday has been canceled. The game against France on Saturday, March 14 is still on, but the situation leading up to it is being monitored on a daily basis.
The two confirmed cases on the island of Ireland are under isolation in hospital.  They both traveled back from a stricken area of northern Italy.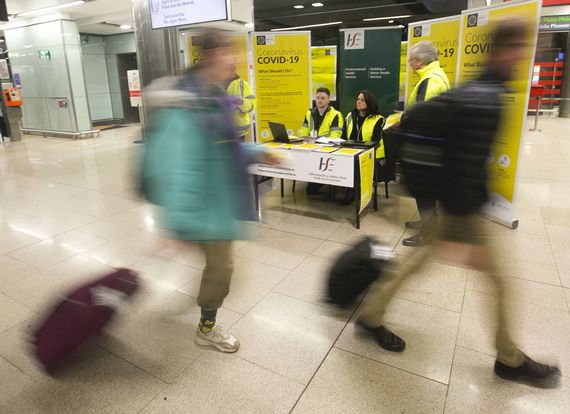 2
They include a woman who flew into Dublin and traveled by train to Belfast and the latest victim, a teenage boy student who is under treatment in Dublin's Mater Hospital.
More than 400 students and 30 teachers at his school, Scoil Chaitriona in Glasnevin in Dublin, are off for two weeks after public health officials ordered it to close. 
Among them are Sinn Féin leader McDonald's children.  She revealed the detail on her party's Twitter page.  She added that she would be unable to attend public meetings organized by Sinn Féin in Cavan and Galway and that as a result they would be postponed and rescheduled for a later date.
She tweeted, "Home with the kids after a confirmed case of the coronavirus at their school. I'm postponing meetings in Cavan + Galway as I'd like to stay close to home. Stick to the medical advice, wash your hands with warm soapy water. Stay safe."
Read more: Coronavirus forces postponement of Sinn Féin rallies 
On the decision to cut Ryanair flights, chief executive Michael O'Leary said, "Our focus at this time is on minimizing any risk to our people and our passengers.
"This is a time for calm. We will make sensible cuts to our schedules over the coming weeks to reflect weaker bookings and changing travel patterns."   
As the government set up a special Cabinet committee to deal with the coronavirus threat, chaired by Taoiseach Leo Varadkar, Health Minister Simon Harris warned the virus may be "with us for a considerable period of time."
Harris defended the Health Service Executive's handling of the first confirmed case of the virus, and the decision not to name the school.  It was said in official statements as being "in the east of the country."
Harris described the decision, which has been widely criticized on social media, as proportionate and evidence-based. 
"It is our job to provide information that is in the public interest; it is not our job to provide information the public is interested in. That is a different test," he said.
A leading international virologist warned on Tuesday that Ireland should cancel its St. Patrick's Day celebrations to prevent further spreading.
Speaking to RTE's Sean O'Rourke on Tuesday, Professor John Oxford said the Irish should follow the lead of the Chinese government which canceled Chinese New Year festivities.
"Every little place has a parade, on top of that you're getting lots of visitors in from abroad, from all over the place," Oxford said of Ireland.
"If I were in (the government's) shoes I would say, 'We must postpone it.'  It's not the end of the world for one year. Don't have it this year because of the things going on, after all the Chinese postponed the Chinese New Year, which is immense. They took it so seriously.
"I would take advantage of the situation you're in so that you could prevent a big outbreak, by taking these actions, I would go ahead and stop the parades."
WATCH: Prince William jokes about spreading coronavirus during Dublin visit