MI5 has been sent 20 percent of its forces to Northern Ireland with fears with the IRA bombing in Derry is just beginning of things to come is there is a no-deal Brexit.
British security service MI5 has more than 700 officers stationed in Belfast as part of a huge intelligence operation to combat the threat of dissident republican terrorism, according to a quality London daily newspaper.  That's about 20 percent of MI5's total strength.
An investigative report in the London Times said the spy agency's main target in Northern Ireland is the so-called New IRA, a group of about 40 hardliners that detonated a car bomb outside a courthouse in Derry in mid-January.
Nobody was killed or injured, but a group of young people had a lucky escape when they passed close to the car minutes before the bomb exploded.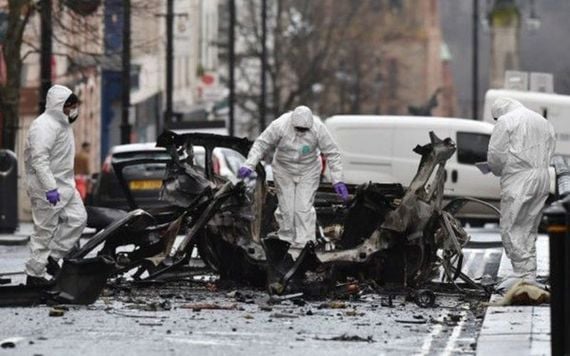 4
Read more: Paddy bashing back in fashion in London over Brexit woes
The strength of MI5 in Northern Ireland was revealed just days before Westminster again debated Brexit and MPs voted on Tuesday of this week on a number of amendments to Prime Minister Theresa May's plan for Britain to leave the European Union.
Time is running out with less than two months to go before the March 29 deadline.
With fears of a no-deal Brexit growing, despite political claims from all parties that they don't want that, concern is mounting that there will be a hard border in Ireland which will require security protection against the threat of dissident republicans.
Read more: Theresa May has "ripped apart the Good Friday Agreement" after Commons vote
Although there have been New IRA arrests and convictions on both sides of the border, Barbara Gray, acting chief constable of the Police Service of Northern Ireland, told the Times, "The threat is nothing like we experienced in the past but these people are intent on violence and they are not going away."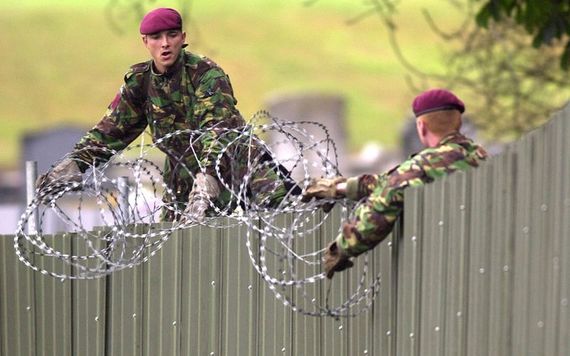 4
Former PSNI chief Hugh Orde told RTE Radio on Sunday that a hard border would have huge consequences in terms of security, and customs officers would become a target if Britain exits the EU without a deal.
He added, "At the moment you see anything that starts to create the perception of a hard distinction between north and south, it creates a catalyst that allows people to exploit that position and certainly dissident republicans would be in that category.  A hard border, if I was the chief of Northern Ireland's police force, would worry me greatly."
One of the main obstacles to an agreement between Britain and the EU is a backstop protecting the Good Friday Agreement and guaranteeing no hard border will return if there is a no-deal Brexit.
4
There was an agreed Brexit deal between the EU and Britain but it was overwhelmingly defeated in the House of Commons more than two weeks ago; hence new continued attempts this week in Westminster to get it back on track.
However, the approaching March 29 deadline and the looming likelihood of a no-deal Brexit has given rise to increasing fears of a hard border with, according to Taoiseach Leo Varadkar, the prospect of soldiers and police at the frontier.
Varadkar's deputy, Tanaiste and Foreign Affairs Minister Simon Coveney, told the BBC's Andrew Marr on Sunday that Ireland and the EU, which had agreed to a series of compromises in the negotiations with Britain, were agreed that the backstop would remain part of the withdrawal agreement.  He said the European Parliament would not ratify a Brexit deal that does not have the backstop.
Read more: "IRA" claims Derry car bomb attack, issues warning to British forces
Do you believe that Ireland could be headed back to the bad days of "The Troubles"? Let us know your thoughts in the comment section below.