Barry Keoghan has just received his first-ever Oscar nomination for his incredible performance in Martin McDonagh's "The Banshees of Inisherin," but the Dublin star has not always had it easy. 
Keoghan has been open about his challenging upbringing and discussed his childhood in foster care during an appearance on RTÉ's "The Late Late Show" in 2018. 
"My mother - the drugs hit the area and it affected all the families and she was one of them that got caught," Keoghan told show host Ryan Tubridy.
"The families were good to us, that we went to, and we went to a few of them, Keoghan said.
Keoghan said he spent seven years in foster care between the ages of five and 12, moving between 13 different foster families, but agreed that he had "positive" experiences.
"Every family was good to us. As a kid, you don't know what's happening. You get attached and then boom, let's move," Keoghan said, adding, "we don't have a hometown."
Keoghan said it was "great" that he and his brother were kept together.
"It's only when you get older that you can get a bit of perspective on it," Keoghan remarked.
Keoghan was 12 years old and living with his nanny Patricia when his mother passed away.
"She was very young, she was 31," Keoghan said of his mother, adding, "I have great memories of her. I'm very proud of her."
Keoghan brought his nanny Patricia and aunt Lorraine along for his special appearance on RTE in 2018.
"I love him," his tearful granny told Tubridy. "I'm very proud."
More recently, Keoghan revealed in a 2022 interview with the Irish Independent that he says a prayer to his mother before every acting audition. 
Keoghan added that he had been on a mission to "break the stereotype" about his upbringing and the area he comes from. 
"I used to think, 'Wouldn't it be amazing if I ended it in Hollywood, given everything that's been dealt?' There was a fight and the commitment to try prove people wrong. 
"Not that anyone was nasty to me, but I had a good perspective. I thought, given where I came from, it's not normal to break into Hollywood but wouldn't that be good if I tried? I want kids to think that."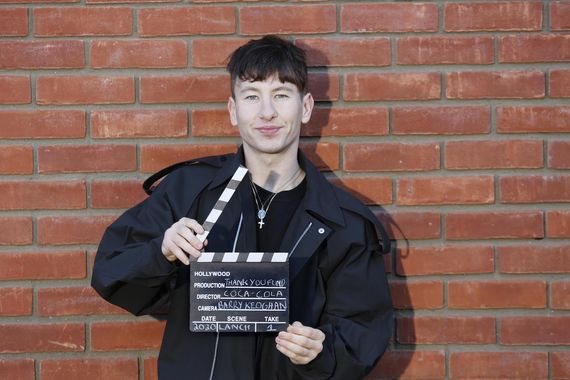 2
Born in Summerhill, Dublin on October 18, 1992, Keoghan discovered his love of acting at O'Connell School on North Richmond Street, where he starred in a play at the age of 13. 
"I got the whiff of the spark, getting the chance to get on stage and having people laughing with me, rather than me just messing about in class," Keoghan told the Irish Independent. 
"In first year, I did a play, 'My Babysitter Is An Alien.' That was the first time I ever acted and I just loved the feeling of it." 
Keoghan said he had trouble concentrating in school but said teachers were generally good to him, adding that he wasn't allowed to take part in plays if he misbehaved. 
Keoghan also told the Irish Independent that he gained his film education by sneaking into the Cineworld Parnell Street, which eventually got him barred from the cinema. 
His acting career began humbly in 2011 when he answered a casting notice posted on a Dublin shop window for the crime film "Between the Canals." He played the small role of Aido in the film which was released in 2011.
Afterward, he began studying at the Dublin acting school The Factory. He has previously recalled "not even having €2.20 to get the bus to The Factory" at the time.
At 18 years old, Keoghan appeared in three episodes of the classic Irish soap opera "Fair City. Later, he appeared as Wayne in six episodes of the hit Irish crime series "Love/Hate," where he infamously shot a cat during the opening scene of the show's fourth season.
He followed up his "Love/Hate" run with appearances in several shorts before starring alongside fellow Dublin native Colin Farrell in the critically-acclaimed 2017 film "The Killing of a Sacred Deer." That same year, he appeared in the Oscar-winning "Dunkirk."
In 2018, Keoghan featured in the independent film "American Animals," as well as the Irish film "Black 47."
The budding Irish actor appeared in two episodes of the Emmy-winning "Chernobyl" in 2019, the same year he starred in the BAFTA nominated "Calm with Horses."
In 2021, Keoghan featured in "The Green Knight" and "Eternals," before appearing in "The Batman" in 2022.
He is now starring in "The Banshees of Inisherin," which scooped three Golden Globe awards, including for Best Picture, and picked up nine Oscar nominations, the most ever for any Irish film. 
Keoghan has been with his partner Alyson Sandro since at least September 2021 - the two welcomed their first child, a son named Brando, in August 2022. Keoghan dedicated his first-ever acting nomination to Brando.