A leading US Catholic church figure has slammed Irish leader Leo Varadkar for his gay orientation, attacked Irish clergy as weak and said decades of sex abuse scandals in Ireland's Catholic Church are "peripheral"
A celebrated New York pastor with a worldwide audience on EWTN, the global Catholic network, has slammed Ireland's leader Leo Varadkar for "publicly living in perverse contempt for the sacrament of holy matrimony."
When asked about his comments by IrishCentral, Father George Rutler agreed that he was speaking specifically about Vardkar's sexual orientation and the fact that he may well marry his partner, Matthew Barrett.
Vice President Mike Pence invited me and Matt to his home at the Naval Observatory this morning. It's great to be back here for a really warm reception. pic.twitter.com/Wkh2Ic8lWP

— Leo Varadkar (@campaignforleo) March 14, 2019
Read more: Irish leader Varadkar brings partner to VP Pence breakfast in Washington, DC
He also stated what has happened to the church in Ireland is a warning to Catholics in the United States.
Father Rutler is pastor of Saint Michael the Archangel Church in Manhattan, a significant posting.
Asked by IrishCentral if the decades-long pedophile priests scandal had not been the reason for the falloff in worshippers in Ireland, he disagreed saying it was "peripheral."
Read more: Irish sister exposed priests' sexual abuse of nuns back in 1994
Instead, he blamed very weak church leadership and a type of "cultural Catholicism which was susceptible to passing trends."
He also claimed the Druids that Saint Patrick had banned had returned and "danced in the streets" when abortion was legalized.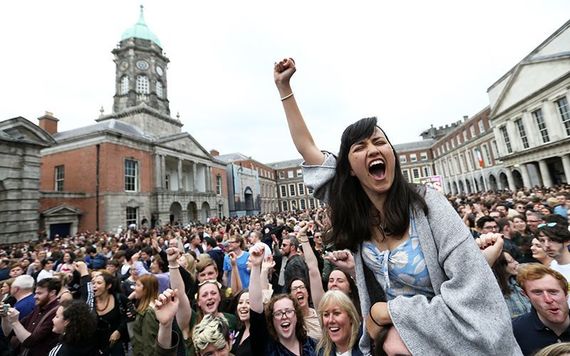 4
Rutler delivered his remarks in a column in the parish bulletin on St. Patrick's Day but it has just been circulated. His column also has a wide audience on the internet.
He stated in it that the Irish had failed to heed the warning of John Paul II when he was in Ireland, in 1979, and that only 130,0000 had turned up for Pope Francis when 1.2 million had thronged for John Paul.
He stated America was also in danger, but he felt that an increasingly immigrant congregation would keep it stronger. He stated he had also noticed younger people coming to church services instancing a successful young professional Mass in his church.
Read more: American Irish Catholics now more liberal but faith is strong for many, IrishCentral poll reveals
Rutler (73) is also a well-known media figure. Since 1988 his weekly television program has been broadcast worldwide on EWTN. The global Catholic television network, Father Rutler was an Episcopal priest for nine years. He was received into the Catholic Church, in 1979.
Here is the relevant section of his bulletin:
"The largest number of people who claim Patrick for their patron are Nigerians, converted by heroic Irish missionaries. The number of baptized Catholics in Nigeria has soared from 19 million in 2005 to 53 million today. There are two thousand priests and nearly 4,000 religious, along with a boom in vocations.
"By contrast, despite many worthy witnesses, the majority of Irish people failed to heed the warnings of Saint John Paul II when he became the first pontiff to set foot on the soil of Eire in 1979.
"He preached to 1.25 million faithful at a Mass in Phoenix Park, Dublin. Last year, Pope Francis offered Holy Mass in the same place, and fewer than 130,000 showed up. Four months later, the Druids returned and defiantly danced in the streets when abortion was legalized.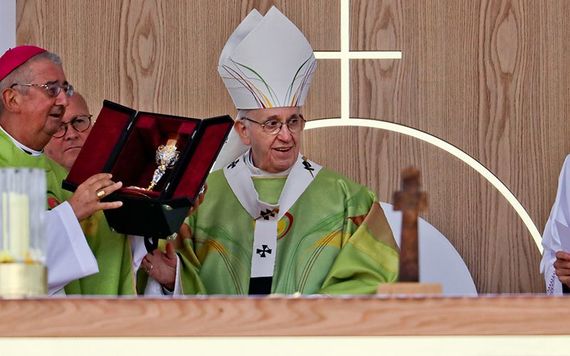 4
"The Taoiseach (Prime Minister), was elected while publicly living in perverse contempt of the sacrament of Holy Matrimony. The chief seminary of Maynooth has the lowest numbers of students since its foundation in 1795. Its rector of fifteen years abandoned the Faith and now conducts an esoteric cult in Arizona.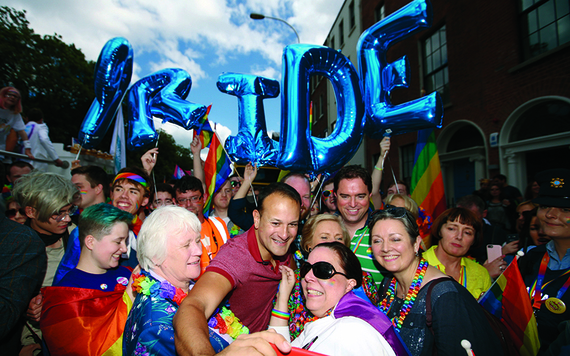 4
"An Irish commentator and playwright recently called Ireland "The Most Anti-Catholic Country on Planet Earth."
"This would seem to be hyperbolic, given persecution in Muslim lands, China and North Korea, but it bespeaks the adolescent rebellion of a population moved by an anger unlike the cool detachment of calculating governments.
"This is a warning to Catholics in the United States because such is what happens when religion is only a political and ethnic sentiment. The Saint Patrick's Day parade in New York City has become a bibulous charade of Saint Patrick.
"While contingents advertise their contempt for his Gospel, Nigerians honor Saint Patrick in a different way. A few weeks ago, Nigerian soldiers under attack by the Islamic terrorists of Boko Haram did not masquerade as leprechauns drinking green beer. In a Zambia forest, they knelt and chanted as their chaplain raised aloft for adoration the same Blessed Sacrament with which Patrick had faced the Druids."
What do you make of this Catholic priest's comments? Let us know in the comments section below. 
Read more: Three clerics with the Irish Christian Brothers named as sexual abusers