The most senior Catholic cleric ever charged with child sex abuse has been convicted of molesting two choirboys in Australia.
A jury unanimously found Cardinal George Pell, Pope Francis' top financial adviser and the Vatican's economy minister, guilty on one count of sexual abuse and four counts of indecent assault against two boys at St Patrick's Cathedral in Melbourne in late 1996.
Read More: My sainted surgeon was a pedophile who preyed on defenseless children
The 12-member jury gave their decision on December 11 last year but the court had until this week forbidden publication of any details about the trial according to the Associated Press.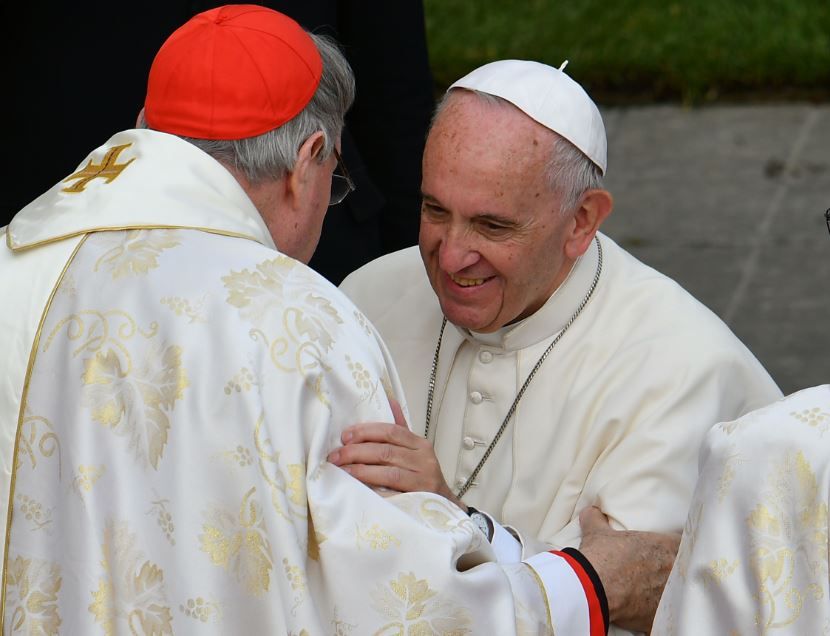 3
The decision deals a further blow to the Catholic hierarchy's credibility after a year of global revelations of abuse and cover-ups.
Pell, now aged 77, was accused of cornering the boys. then aged 12 and 13, in a small room at the back of the cathedral after he caught them drinking the sacramental wine following Sunday mass.
He then forced them to perform a sex act on him.
Read More: Irish sister exposed priests' sexual abuse of nuns back in 1994
The jury also found Pell guilty of indecently assaulting one of the boys in a corridor more than a month later.
Pell faces a potential maximum 50-year prison term after a sentencing hearing began today.
3
He lodged an appeal last week of the convictions.
Details of the trial had been suppressed because until Tuesday, Pell had faced a second trial in April on charges that he indecently assaulted two boys aged 9 or 10 and 11 or 12 as a young priest in the late 1970s in a public pool in his hometown of Ballarat.
Prosecutor Fran Dalziel told the court on Tuesday that the Ballarat charges had been dropped and asked for the suppression order to be lifted.
The move came days after a judge ruled out two key prosecution witnesses in the Ballarat case.