Guinness is one of the most famous brands in the world. When it comes to mind we mostly think of Dublin, St. James's Gate and the Irish, but, in fact, the United Kingdom and Nigeria are the world's largest consumers of the black stuff.
Then comes Ireland, at number three, closely followed by Cameroon. Guinness is also brewed in Kenya, Uganda and Namibia. So how did Arthur Guinness' porter win over Africa? It's all down to a very secret recipe, dated December 1801, according to Guinness archivist.
CNN's "In 24 Hours" traveled to Dublin this month to reveal the secrets inside Guinness' recipe books.
According to Archive Manager Eibhlin Colgan at St. James' Gate, Dublin, the fact that Nigeria overtook Ireland as the world's second biggest Guinness market a decade ago stems from a recipe kept under lock and key. The recipe – dated December 14, 1801 – is a mix of roasted, malted barley, hops, yeast, and water which makes up Guinness West Indies Porter, "a beer born to travel."
Colgan admits, "It really is one of the most precious documents that we hold."
When asked if Guinness would ever reveal the recipe she said, "As we've kept this recipe secret for over 200 years, we're going to keep it that way."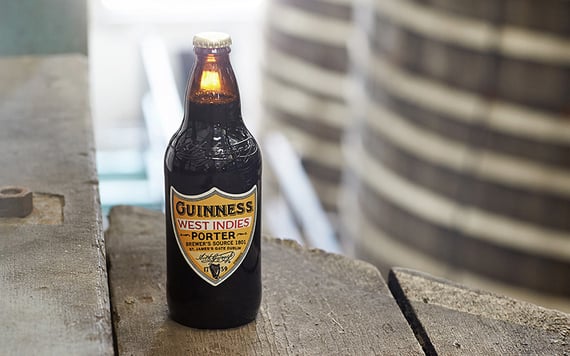 2
Read more: History and genealogy treasures online at Guinness Storehouse
While they say that the best pint of Guinness in the world is found in Ireland and many say the black stuff doesn't travel well, this really is just lore. As CNN put it, "Guinness didn't get to be the global powerhouse it is today by only catering to taste buds lucky enough to be on Eire's soil."
In 1803, Arthur Guinness II, took over his father's company and Guinness began to expand, initially along the routes of the British Empire.
What they were exporting was brewed specially to survive long sea journeys. West Indies Porter was more hoppy than Draught and stronger too.
In 1817 eight barrels of porter were exported to South Carolina. Ten years later, in 1827, Guinness was being consumed in Africa and by 1858 it had made its way to New Zealand. Guinness went global very early on.
Although the British Empire fell, Guinness carried on. In 1962, just two years after Nigeria gained its independence from the United Kingdom, the first successful brewery outside of Ireland or the UK was opened in Lagos. Others soon followed.
In his book "Guinness: The 250 Year Quest for the Perfect Pint," historian Bill Yenne discussed the popularity of Guinness abroad with brew master Fergal Murray, who worked at the Guinness brewery in Nigeria in the 1980s.  Murray said, "I've talked to Nigerians who think of Guinness as their national beer.
"They wonder why Guinness is sold in Ireland. You can talk to Nigerians in Lagos who will tell you as many stories about their perfect pint as an Irishman will. They'll tell about how they've had the perfect bottle of foreign extra stout at a particular bar on their way home from work."
Read more: What you need to know about Guinness
Today, Guinness Foreign Extra Stout is the modern descendant of the original West Indies Porter. Similarly, it is stronger, heavier and punchier than the Guinness available in Ireland. It measures 7.5% ABV. This is the Guinness you'll find in Africa, Asia and the Caribbean most often.
Guinness also recently introduced a new 6% ABV version of Guinness West Indies Porter, in 2014. This was modeled on the original 1801 recipe.
In 2004, Guinness sales in Africa beat those in the United Kingdom and Ireland, making up about 35% of the global take. In 2007, Africa surpassed Ireland as the second largest market for Guinness worldwide, behind the United Kingdom, and sales have only climbed since then (by about 13 percent each year).
How amazing to think that from Dublin's St. James's Gate and the perfect pint of stout a global empire has grown. Today Guinness is available in over 100 countries worldwide and it is brewed in almost 50.
It's little wonder that the folks at Dublin HQ have one of two secrets.
In case you missed it, here's one of Guinness' world famous adverts from 2014. The brilliant ad depicts the elegant Sapeurs of the Congo, everyday heroes from Brazzaville, in the Republic of Congo. Enjoy:
H/T: Smithsonian Mag.