Over 1500 readers responded to our latest poll on Catholicism.  
In a time when the Catholic Church is mired in scandal, IrishCentral readers have voiced their opinions on Catholicism loudly.
Read More: St. Patrick was never canonized a saint by the Catholic Church
In our latest poll published earlier this week, 1601 people responded to our questions regarding Catholicism and the Catholic Church.
The overall trend of answers? IC readers appear to be drifting away from the Catholic Church and adopting more liberal and modern views towards Catholicism.
In reviewing the hundreds of open-ended comments portion of the survey, there was a healthy variety of answers. Some people were flat out not Catholic, while others only loosely associate with the Church, and some have turned away completely, disillusioned by what some referred to as the "hierarchy" and "scandals."
Read More: Melania Trump honors Irish nun for courage with prestigious award in Washington, DC
Take a look at the results from our Catholicism and Catholic Church poll here:
Mass attendance
For our question of "How often do you attend Mass?" the top two results were nearly opposite answers. 31.92 percent of respondents said 'Weekly,' while 38.66 percent said 'Never.'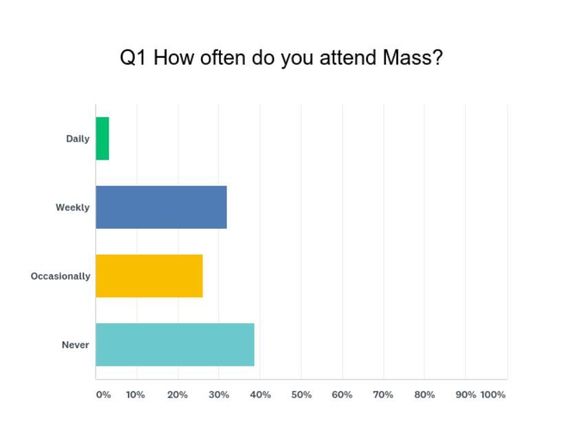 11
Going to confession
Next, we asked how often our readers attend confession, which is one of the seven sacraments in Roman Catholicism. This had a much different split than our first question - 67.33 percent said they 'Never' go to confession.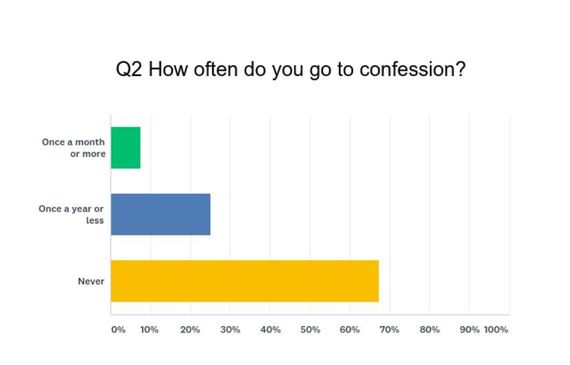 11
Read More: The Irish and Ash Wednesday - Lent, meatless Fridays, hot-crossed buns
Receiving holy communion
Next, we asked about another sacrament - the receiving of the Eucharist. Similar to our first question, the two most opposite answers had the largest share of respondents. 33.98 percent of respondents said they receive communion 'once a week,' while 40.97 said they 'never' receive communion.
11
Views on priesthood
Question four may be a sign of the times! A staggering 79.36 percent of respondents said that yes, they believe priests should be able to marry.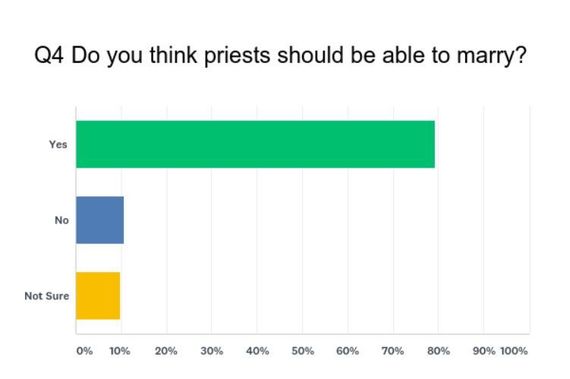 11
Read More: A forgotten child in a shoebox coffin is lifted up by love
Women as Catholic priests
Another question that had a runaway winner as the answer - 68.52 percent of respondents believe that yes, women should be allowed to become priests.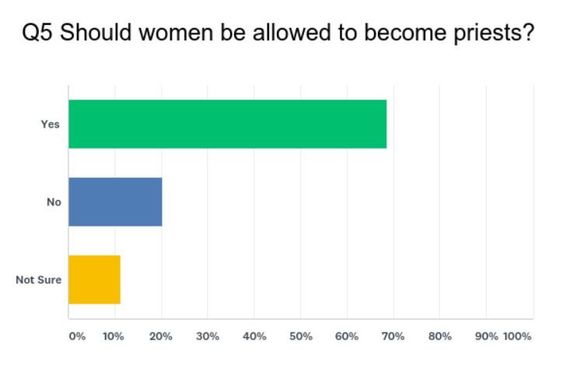 11
Views of Pope Francis
Compared to some of our earlier questions, this question was a bit more split. More than half, 54.97 percent, have a 'favorable' opinion of Pope Francis, while 25.14 percent are 'not sure.'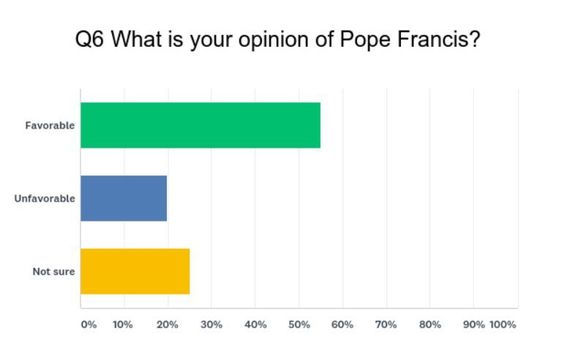 11
Read More: The truth about St. Patrick's life from kidnapping to Irish Catholicism
The impact of the sexual abuse scandals in the Church
Perhaps surprisingly, this question didn't have an as clear cut of an answer. 58.07 percent said that 'yes,' the sex abuse scandal has changed their opinion of the Catholic Church, but more than a third, 36.25 percent, said that the scandals have not changed their opinion.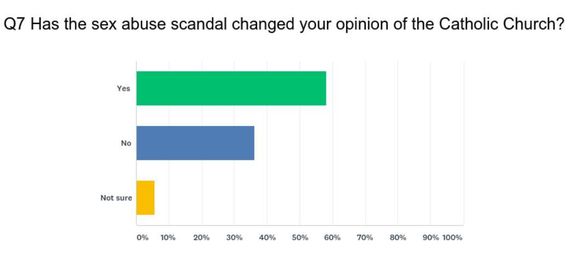 11
The Church's response to sexual abuse scandals
This question had more of an overwhelming winner - 75.11 percent of respondents do not believe the Catholic Church is doing enough in response to the sexual abuse scandals.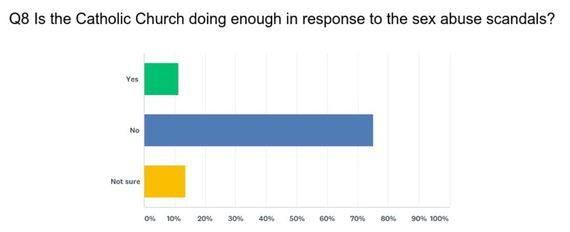 11
Read More: Irish sister exposed priests' sexual abuse of nuns back in 1994
The next generation of Catholics
Despite many of the split answers previously, nearly two thirds, 60.45 percent, are raising or have raised their children as Catholic. 
11
The future of Catholicism
And, ultimately, what is the future of the Catholic Church? Seems to be stable with more than half of respondents saying that they have not considering converting away from Catholicism.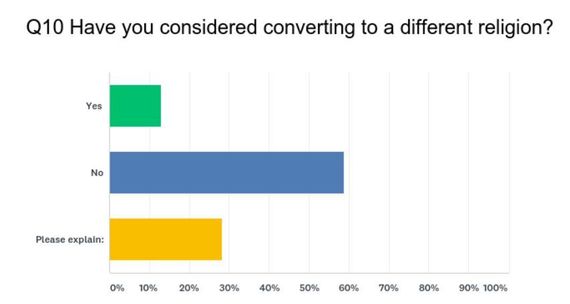 11
Read More: Irish American cardinal first ever bishop defrocked in history of Catholic Church
What are your thoughts on the modern Catholic Church? Let us know in the comments