Sister Orla Treacy received an International Women of Courage Award
Irish nun Sister Orla Treacy has been awarded the prestigious International Women of Courage Award in the United States by Secretary of State Mike Pompeo and First Lady Melania Trump.
Read More: Irish sister exposed priests' sexual abuse of nuns back in 1994
Sister Treacy, a native of Bray in Co Wicklow, was one of ten recipients of the prestigious award which was presented at an event on Thursday in Washington, D.C.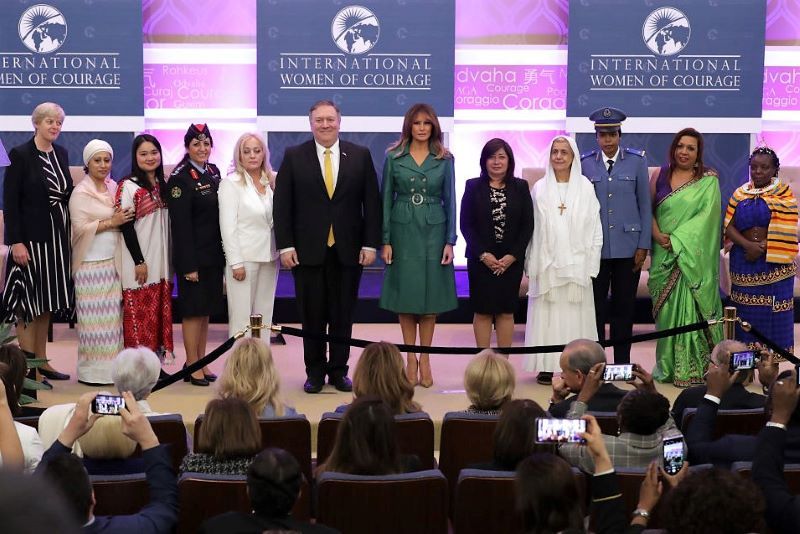 3
Sr Treacy was nominated by the US Embassy to the Holy See for her charitable work in South Sudan.
At the ceremony, she was recognized for her "noble efforts to address the plight of girls in a region besieged by conflict, her commitment to provide school for girls being forced into early marriage and denied an education, and compassion for teaching and pastoral service."
3
Read More: The Irish nun who survived the Hiroshima atomic bomb
A member of the Loreto congregation, Sr Treacy works in South Sudan where she and other nuns established a mission and a women's boarding school in the remote region of Rumbek over a decade ago.
Now, Sr Treacy serves as the head administrator of the Loreto Rumbek Mission in Maker Kuei, and oversees a boarding secondary school for girls, a co-educational primary school, and a women- and children-centric primary healthcare facility.
Read More: Ghost of 19th century nun appears in Galway photos
Speaking with The Irish Times last year, Sr Treacy said of her experience in South Sudan: "We have been threatened at gunpoint, we have been insulted, all number of problems because she is a woman and should be sacrificed for the sake of the greater good."
"Technically it's a boarding school but I call it a women's refuge because you're constantly trying to protect these girls from forced marriage."
"I work with people who live very much on the margins: life and death, hunger and despair. Every day they live on the edge. And yet in that, you can still glimpse love and hope every day."
In 2017, Al Jazeera English visited Sr Treacy and her school in Rumbek: