A bizarre caricature of US President Joe Biden was published in The UK Times on Thursday, April 13 during the Irish American President's much-hyped visit to Ireland.
"My cartoon Thursday @TheTimes," Peter Brookes, a longtime cartoonist for The Times, said in a tweet on Thursday.
"Where the emphasis of Blarney Biden's visit lies," he added, along with the hashtags #JoeBiden and #Ireland.
The cartoon features a caricature of President Biden dressed as a leprechaun and holding a pint of Guinness, which is particularly strange as Biden is famously a teetotaler.
It was published the same day President Biden delivered a historic address in the Houses of the Oireachtas (Irish parliament) in Dublin.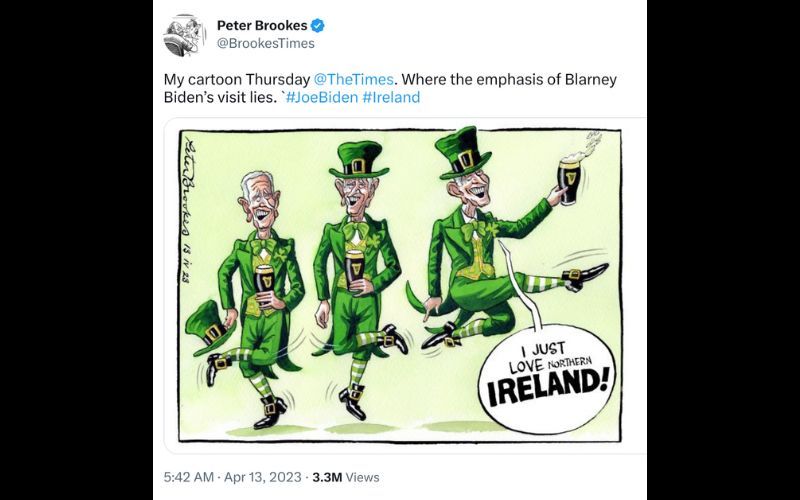 2
According to The Times, Brookes has been a cartoonist for the UK publication since 1992 and has won the British Press Awards cartoonist of the year prize eight times, most recently in 2017. 
As of Friday afternoon, Brookes' tweet had racked up more than 3.3 million views, as well as thousands of responses, many calling the artist out for his "racist" and "lazy" cartoon.
Among those who responded to the caricature of Biden was EPIC, The Irish Emigration Museum, who invited Brookes to pay a visit "to get a real understanding of Ireland and its people."  
Hey @BrookesTimes, how about a visit to EPIC to get a real understanding of Ireland and its people? #ThisIsNotUs https://t.co/T6hrEUuSYm

— EPIC The Irish Emigration Museum (@EPICMuseumCHQ) April 14, 2023
The museum, based in Dublin, is fresh off of its #ThisIsNotUs campaign, which was featured here on IrishCentral in March and encouraged people to delve beyond Irish stereotypes, especially in the lead-up to St. Patrick's Day.
"For some time the museum has campaigned to highlight the absurdity of the outdated and tired tropes so often associated with Ireland and its diaspora," Nathan Mannion, Head of Exhibitions and Programmes at EPIC The Irish Emigration Museum, told IrishCentral on Friday.
"Our rich cultural heritage cannot be reduced to a handful of common negative stereotypes and it is sad to see caricatures that would not look out of place in a 'Harper's Weekly' or 'Punch' cartoon in the 19th century still being propagated today."
There were plenty of other responses, mostly negative, to Brookes' cartoon of Biden, which came in stark contrast to the warm welcomes the President enjoyed in Belfast, Louth, Dublin, and Mayo.
Sinn Féin Senator Niall Ó Donnghaile tweeted: "The President of America doesn't even drink alcohol - but sure nothing beats lazy stereotypes & a bit of good aul paddywhackery eh @thetimes?"
UK-based Labour Cllr Mairéad Healy, a native of Derry, tweeted: "British broadsheet papers wheeling out their predictable racist Irish tropes. Ah well, it's better to be envied than to be pitied. #Specialrelationship."
William Crawley, a BBC presenter, replied saying: "Surely, in 2023, we should have moved beyond ethnic jokes, discriminatory tropes and lazy stereotypes?"
Another BBC presenter, Andrea Catherwood, said: "Quite the Punch circa 1870s vibe here (and of course Biden is teetotal). I wonder if a U.S. President, say, Belgium and looked up some distant relatives would the English care so much?"
Best-selling Irish author Sheila O'Flanagan tweeted: "That's a tired old trope, I'd have thought a political cartoonist could've and would've done better."
Lisa McGee, the creator of smash-hit "Derry Girls," simply tweeted: "Are you lads all okay?"
Siobhán McSweeney, one of the stars of "Derry Girls," was enraged, tweeting: "GET THIS TAKEN DOWN NOW @thetimes. Apology needed asap. This is an absolute disgrace."
IrishCentral contacted The Times for comment on Friday afternoon.