The rain poured and the American flags rustled in the stiff breeze, but still, thousands of people lined Clanbrassil Street in Dundalk, Co Louth to cheer on US President Joe Biden on a wet and dreary Wednesday evening. 
A palpable excitement built through Dundalk on Wednesday afternoon, April 12, as Biden's arrival neared. As 7 pm drew nearer, crowds greeted every security vehicle that passed down the town's main thoroughfare with a cry of excitement in the mistaken belief that Biden had arrived. 
Eventually, though, Biden did arrive - to the delight of the sodden crowd. 
Biden is greeting people outside McAteers the Food House in the Dundalk, Ireland pic.twitter.com/39boTWvO5X

— Jennifer Jacobs (@JenniferJJacobs) April 12, 2023
As if to add to the budding excitement, Biden took his time exiting his vehicle as his security detail made last-minute arrangements, but he finally emerged, drawing a huge cheer from the waiting crowd. 
The President stopped to greet well-wishers and admirers during his Dundalk "walkabout," enthusiastically taking selfies with several people.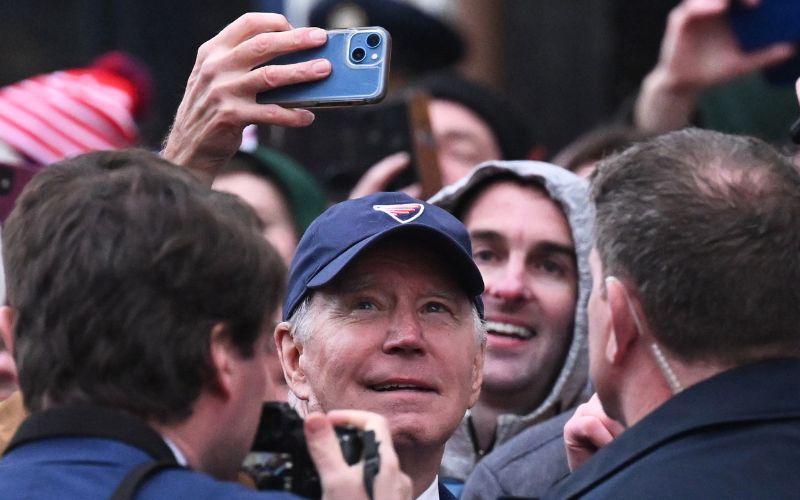 3
Biden's first stop was at McAteers The Food House, a popular delicatessen on Clanbrassil Street. 
He spent roughly 15 minutes in the establishment, ordering a number of different cakes and speaking at length about his Irish heritage. 
Jerome McAteer, who runs the establishment with his husband Bobby Wain, told IrishCentral he was "so happy and delighted" to have hosted the President. 
"He's really nice, he's like the most normal person in the world," McAteer said. "He's brilliant. I'm so happy and honored."
"He bought a dog mug because he's dog mad," McAteer continued. "We have a wee Down's syndrome boy who works for us and he gave him a tip of a tenner." 
View this post on Instagram
McAteer revealed that he only discovered that Biden would be visiting his establishment last Friday after a scouting party had sampled a number of different locations in Dundalk. 
"The hardest thing was keeping it a secret." 
Patricia Moriarty, who has worked at The Food House for the past 14 years, said staff presented Biden with a gift box and added that the President was happy to pose for selfies with everyone. 
"I got a fantastic selfie with him," she said. 
Asked if any photos of Biden would be going up on the walls, McAteer replied: "You better believe it. There might be two or three."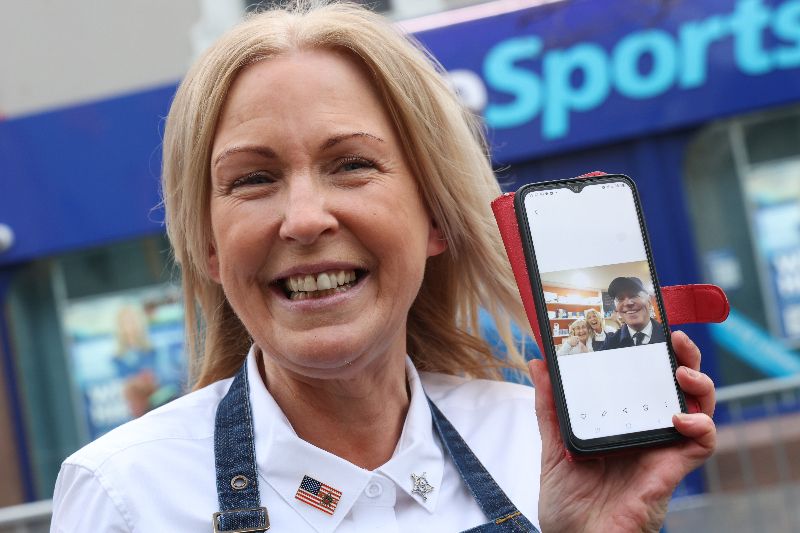 3
Biden eventually reemerged from the delicatessen and greeted fans once more before heading to the Windsor Bar, where he was joined by his distant Irish relatives, including his fourth cousin John Owen Finnegan and his fifth cousin Andrea McEvitt. 
Knock Knock - He's outside! @POTUS is at the Windsor Bar Dundalk to meet invited guests.#ProudToBeLouth pic.twitter.com/JwmhjUmrPz

— Louth County Council (@louthcoco) April 12, 2023
In a speech, Biden told the pub that Louth held a special place in his late mother's heart and added that visiting Louth felt like "coming home."
"I wish our mom, Catherine Eugenia Finnegan Biden, were here today. She'd be so damn proud. You know, Louth held such a special place in her heart, it really did.
"And today, we carry her home in our heart. For real. We think about her all the time. And coming here feels like coming home, and it really does.
"Every time I've come, the welcome, the people on the streets. They're just so, so gracious to us."
The President continued: "Earlier today, I had a chance to visit another special place: Carlingford Castle. High in the hill, the castle that was likely one of the last glimpses that the Finnegan family saw when they set sail for America. And they set sail with courage and hope, and they crossed the sea.
"And through generations, the Finnegans brought this island home from Ireland to Scranton, Pennsylvania, where we were raised, where I was raised, I should say, and my mother lived."
View this post on Instagram
Later in his remarks, Biden noted: "More than anything in my experience, hope is what beats in the heart of all of people, but particularly in the heart of the Irish. 
"Hope. Every action is about hope. It can make things better. And hope that built both our nations and has been passed down, generation to generation, by our families. And it's hope that continues to this day."
Biden's visit to the Windsor Pub was his last engagement on a busy first day in the Republic of Ireland; he later returned to Dublin by motorcade. 
Driving back to Dublin just before Biden departed Louth, it was striking to see so many people line out in the freezing cold on every bridge crossing the M1 motorway in the hope of catching a glimpse of the US President. 
If Wednesday is anything to go by, Biden is set for one hell of a homecoming on Friday night in Ballina, Co Mayo.