US President Joe Biden is not due on stage in Ballina until 9 pm on Friday, April 14, but the Mayo town has been quivering with feverish anticipation since the early hours of Friday morning. 
In truth, Ballina has been in a state of high excitement ever since it was announced that Biden was coming to town. 
The President may have visited his other ancestral homeland in Co Louth on Wednesday and taken part in a number of historical political engagements on Thursday, but his return to Ballina on Friday evening has always felt like the true centerpiece of Biden's Irish homecoming. 
Stepping through the streets of the picturesque town early on Friday, it would be easy to mistake it for a town in the heartlands of the United States, such is the volume of US flags hanging on every street. 
Just outside the town, families could be seen making last-minute adjustments to the picnics they had brought from home as they prepared to leave their cars and make the long walk into the now-pedestrianized center of Ballina. 
One young child took advantage of the lack of vehicles in the town center, driving his toy police car, complete with two US flags, down the center of Tolan Street, Ballina's main thoroughfare. 
Great interview with @donie #CNNNewsCentral #specialagentHarry @rtenews @hughjrouse #Ballina2023 #POTUS pic.twitter.com/KnBY8RRwUK

— Margaret Loftus (@MaggieLoftus) April 14, 2023
The atmosphere is nothing short of festival-like as locals prepare to welcome the US President on Friday night. 
Red, white, and blue balloons could be seen outside several shops and restaurants, while almost every shop, restaurant, and pub in the town center has placed some form of American flag in their display windows.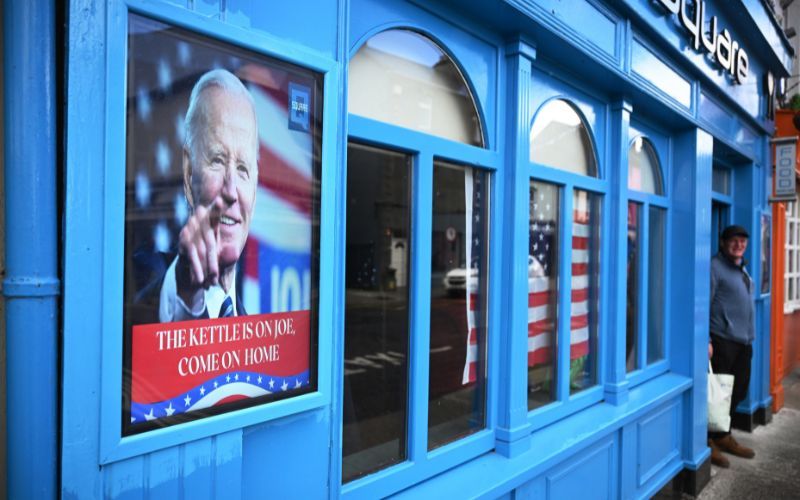 4
Pop music blares from the spot where Biden will make his eagerly-awaited appearance later on Friday, while locals chat animatedly in the street about the evening to come. 
The significance of the visit is not lost on locals. 
Oliver Murphy, the proprietor of Oliver's Menswear on Tolan Street, described Biden's upcoming visit as "fantastic" for the Mayo town. 
"The most important man in the world will be here in Ballina. His great-great-grandfather came from Ballina and we're so pleased to have him come again." Murphy told IrishCentral on Friday.
"We're delighted to showcase our town to the Americans and the world and please God, we'll get a lot of industry and visitors in here as a result." 
Murphy said last week's announcement that Biden would be visiting Ballina has "changed the town completely."
"We have it all tidied up, painted, and footpaths have been scrubbed. Everything is looking so well." 
He added that Biden's visit would leave a legacy that will remain with Ballina for generations. 
"They'll talk about it for the next 100 years, the same way we talk about President Kennedy's visit now."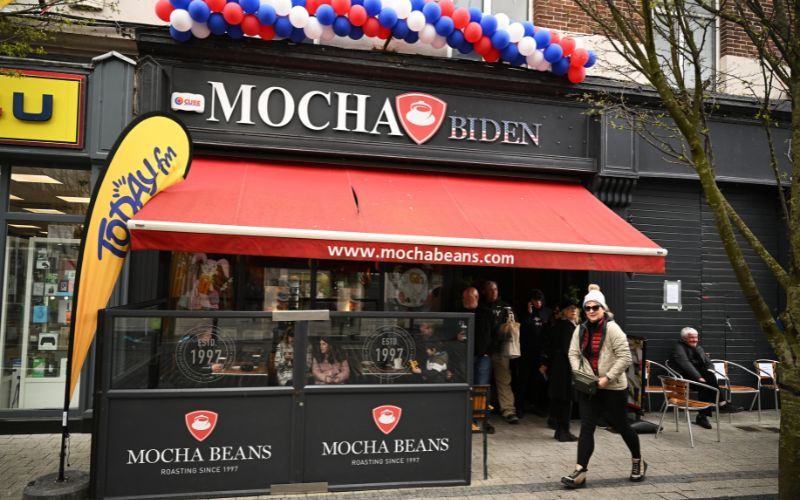 4
Kieran Fox, a butcher who works at Mark Forbes & Sons Butchers in Ballina, said Biden's visit is "just like the Pope coming."
"How many towns in this country would give their right arm for a US President to come to town?" Fox told IrishCentral. 
"A lot of people have put a lot of effort into it. Everyone has been so upbeat. I haven't heard one person say a bad word about it. Everyone is just looking forward to it. This will go down in history."
Shirley Elliott, a South African native who has been running an animal rescue charity shop on Tolan Street for the past six years, said there has been a tangible change in mood since Biden's visit was announced. 
"I'm so happy. I think it's just great for the town. The payback later will probably be tourism and people coming into Ballina." 
Biden will address tens of thousands of people when he takes the stage in front of the steps of Ballina's St. Muredach's Cathedral on the banks of the River Moy on Friday evening. The special event will also feature musical performances from The Chieftains, The Coronas, and The Academic, while Irish American fiddle star Eileen Ivers revealed that she's also been invited to play.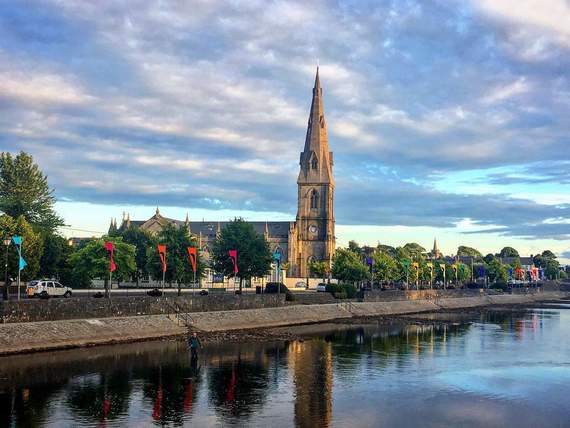 4
Situated between the Ox Mountains and the Atlantic coast, Ballina is an ideally scenic location for such a high-profile visit and locals are hoping that it will boost tourism in the West of Ireland for years to come. 
The whole of Co Mayo appears to have embraced Biden's visit. 
In Swinford, a town around 20 miles from Ballina, US flags could be seen flying from a number of houses and establishments alongside the green and red of Mayo. 
Elsewhere, "Welcome Home Joe" signs are visible in villages and towns across the county. 
Ballina - and Mayo - appear ready to throw Biden the homecoming of a lifetime.