Irish food produce is revered around the world for its high-quality standards and sustainable production methods.
Iconic Irish food brands: 
Exports of dairy, Ireland's largest food export sector, exceeded $4.45 billion (€4 billion) in 2018, as they did in 2017.
Kerrygold
Of all Ireland's popular food brands, Kerrygold is perhaps the most iconic.
Kerrygold is a symbol of national pride providing Irish consumers with a sense of belonging and seeing the familiar golden foil in shops around the world strikes an immediate connection to home.
Kerrygold butter was born in 1962 when the Irish Dairy Board chose the name from a list of 60 alternatives which included "Leprechaun' and 'Tub-o-Gold."
19
Exports of Irish butter topped $1.14bn (€1bn) for the first time in 2018.
Avonmore
The Avonmore Creameries Federation was founded in 1966 when 36 smaller co-operatives joined forces to form what is today known as Avonmore, Ireland's number one milk brand.
The aim was to deliver the finest quality, freshest products without compromise, and to this end, the newly formed company established their own brand new milk processing facility in Ballyragget, Co Kilkenny, close to the Avon River from which Avonmore took its name.
Read More: This Irish castle has been named among the most beautiful on Earth
Products under the Avonmore brand include a variety of milk, cheeses, soups,  custard, creamed rice and butter spreads. 
19
Glanbia
Glanbia is an Irish global nutrition group which owns the Avonmore brand. It also produces products in sports nutrition, cheese, dairy ingredients, specialty non-dairy ingredients and vitamin and mineral premixes sold or distributed in over 130 countries. 
Headquartered in Kilkenny, the group was founded in 1997 out of the merger between Avonmore Foods and Waterford Foods, the latter also a former co-operative since the 1960s, and has an annual turnover of $2.68 billion.
19
Its global performance nutrition division has a portfolio of nine brands – Optimum Nutrition (ON), BSN, Isopure, Nutramino, ABB, thinkThin, Amazing Grass, Body & Fit and SlimFast. Glanbia's brands are in the top three performance nutrition brands in more than 20 countries.
19
Optimum Nutrition (ON) is one of the most highly regarded sports nutrition brands in the world and fitness enthusiasts will likely be familiar with many of the brand's products.
Glanbia completed the acquisition of SlimFast in 2018 for $350 million and announced the takeover of Watson, a non-dairy ingredient solutions business based in Connecticut, for $89 million earlier this year.
Glanbia is also the principal cream supplier to Baileys Irish Cream.
HB Ice Cream
The HB brand is synonymous with ice cream in Ireland. Originally an acronym for both Hughes Brothers and Hazelbrook Farm, HB Ice Cream was founded in 1926 as Hughes Brothers by James, George and William Hughes at Hazelbrook Farm in Rathfarnham, Dublin.
Ireland's number one ice cream brand has brought us a number of much-loved favorites over the years such as "Brunch" and "Ice Berger" to global classics like "Magnum" and "Cornetto."
19
And who can forget growing up with a "Loop the Loop," "Twister" or "Calippo," which are still going strong among Irelands newest generation of ice cream lovers?
Today HB is part of the Unilever Group's Heartbrand ice cream brand.
Kerry Foods
19
Kerry Foods is a leading player in the global food industry and markets some of the best known and best-performing brands in the chilled food sector since commencing operations in 1972.
From humble beginnings in a green field in Listowel, Co. Kerry, Kerry Group's annualized sales are approximately $7.34 billion (€6.6 billion).
Some of its familiar brands include Denny, Dairygold Butter and Charleville Cheese.
Denny
In 1820, Henry Denny set up shop in Co. Waterford and since then Denny has been a staple of fridges all over Ireland.
Denny has gone down in history as the inventor of the rasher, bringing bacon curing methods from Co. Waterford to the world and there isn't a full Irish breakfast served in Ireland without Denny products. 
19
From "Henry Denny Cured Rashers," to "Denny Gold Medal Sausages," or their unique slow-cooked Irish carved ham, for those ham sandwiches, Denny's place amongst Irelands iconic foods is richly deserved.  
Dairygold
Kerrygold isn't the only delicious Irish butter spread on the market, in fact, Dairlygold has been producing butter for over 30 years to generations of Irish butter lovers.
19
Charleville Cheese
Charleville is one of Ireland's favorite cheese labels holding a leading position in the branded cheese category.
The north Co Cork town is a center for the food processing industry, with the Golden Vale brand also produced there.
19
Brennans Bread
With the famous motto of, "today's bread today," meaning the bread on the shop shelf will have left the bakery early that morning, Brennan's bread has been an Irish favorite for over forty-five years.
The brand has more than 40 different variations available from the best-selling family pan to the delicious farmhouse soda.
19
Johnston Mooney & O'Brien
Founded in 1835, Johnston Mooney & O'Brien (JMOB) is one of Ireland's oldest companies and the countries oldest bakery. The brand has been synonymous with the best in baking tasty bread and morning goods every day for Irish families.
In 1930, JMOB introduced the first sliced loaf to Ireland, ushering in a whole new era of convenience.
19
Ballymaloe Foods
Ballymaloe has a wonderfully storied history,  not just as a food brand. 
The brand is named derived from Ballymaloe House, a 19th-century Georgian manor in Shanagarry, Co Cork, which has been run as a restaurant by the Allen family since 1964, and as a hotel since 1967. 
19
Ballymaloe came to prominence due to the matriarch of Irish cuisine, Myrtle Allen, who was the first Irish woman to receive a Michelin star and is credited with being at the forefront of the revolution that promoted the amazing possibilities in Irish food.
Read More: Are these the best of Irish brands in 2019?
"Ballymaloe Original Relish" is an old favorite recipe from the restaurant which was developed in the 1940s but came into commercial production in the 1990s when Myrtle's daughter, Yasmin Hyde began making the sauce in her kitchen. The relish is the signature product from Ballymaloe and is sold around the world.
Tayto 
Tayto crisps (known as potato chips in the US) are a cultural phenomenon in Ireland. So popular is the brand name that Irish people generally refer to any type of crisp as "Taytos," in the same way that a vacuum cleaner is referred to by the brand name "Hoover," or sticky tape as "Sellotape."
Tayto even has its very own theme park and zoo named after it called Tayto Park in Ashbourne, Co Meath.
19
In fact, a survey of Irish people living abroad has shown that their most missed food is Tayto crisps!
The 'Diaspora Decides' study from Checkout Magazine has put the snack back in pole position - having been pushed off in favor of Kerrygold butter.
Batchelors Beans
The ultimate quick fix meal for any Irish person is the sacred beans on toast recipe! But beans on toast just isn't the same without Batchelors Beans and its famous secret sauce.
Batchelors has been an Irish family favorite since 1935 and whose range also includes peas and pulses which are the perfect addition to any meal.
19
Flahavan's 
Flahavan's has been fueling Irish breakfasts with its porridge oats for over 200 years.
The Flahavans family mill is located in Kilmacthomas, Co. Waterford and there has been an oats mill at the site since the late 1700s. 
The first family connection to the Flahavan's name can be traced back to about 1785 when Thomas Dunn took over the mill. Dunn was the great-great-great-grandfather of John Flahavan who is the Managing Director of the company today.
19
Jacobs
There is hardly a cup of tea served in Ireland without a sweet treat from biscuit maker Jacob's sat on the accompanying saucer. From the yellow wrapped "Club Milk" to the classic "Digestive," biscuit or trying to solve the age-old mystery of figuring out just how do they get the figs into the "Fig Rolls," Jacob's have been in Irish homes for over 150 years.
The brand has its roots in a small biscuit bakery in Bridge Street, Co. Waterford when brothers William Beale and Robert Jacob founded W & R Jacob in 1851.
19
It later moved to Bishop Street in Dublin, with a factory in Peter's Row and opened a facility in Aintree, Liverpool in 1914 which remains the primary producer of Jacob's products in the UK, including "Cream Crackers" and "Twiglets."
Jacob's Bishop Street premises was one of several prominent Dublin buildings occupied by rebels during the Easter Rising of 1916.
Unfortunately, in 2009, after 156 years of making biscuits in Ireland, Jacob Fruitfield shut its Tallaght plant. Two hundred and twenty jobs were lost while the company retained around 100 staff in a variety of roles.
Butlers Chocolates
Ireland's chocolate isn't as well known as big brands such as Lindt, Godiva or Toblerone but certainly cannot be beaten for quality or taste.
Founded in Dublin's Lad Lane in 1932 by a pioneering woman called Marion Butler, Butlers chocolates are luxury personified.
19
The company is one of the few remaining family-owned chocolate producers in its market, producing various chocolate assortments, truffles, fudge, toffee, chocolate bars and seasonal novelties.
The company also has a very successful Butlers Chocolate Café network in Ireland where customers can drink delicious coffee with their rich chocolates.
Butlers Chocolates are available in over 40 countries and 60 airports around the world.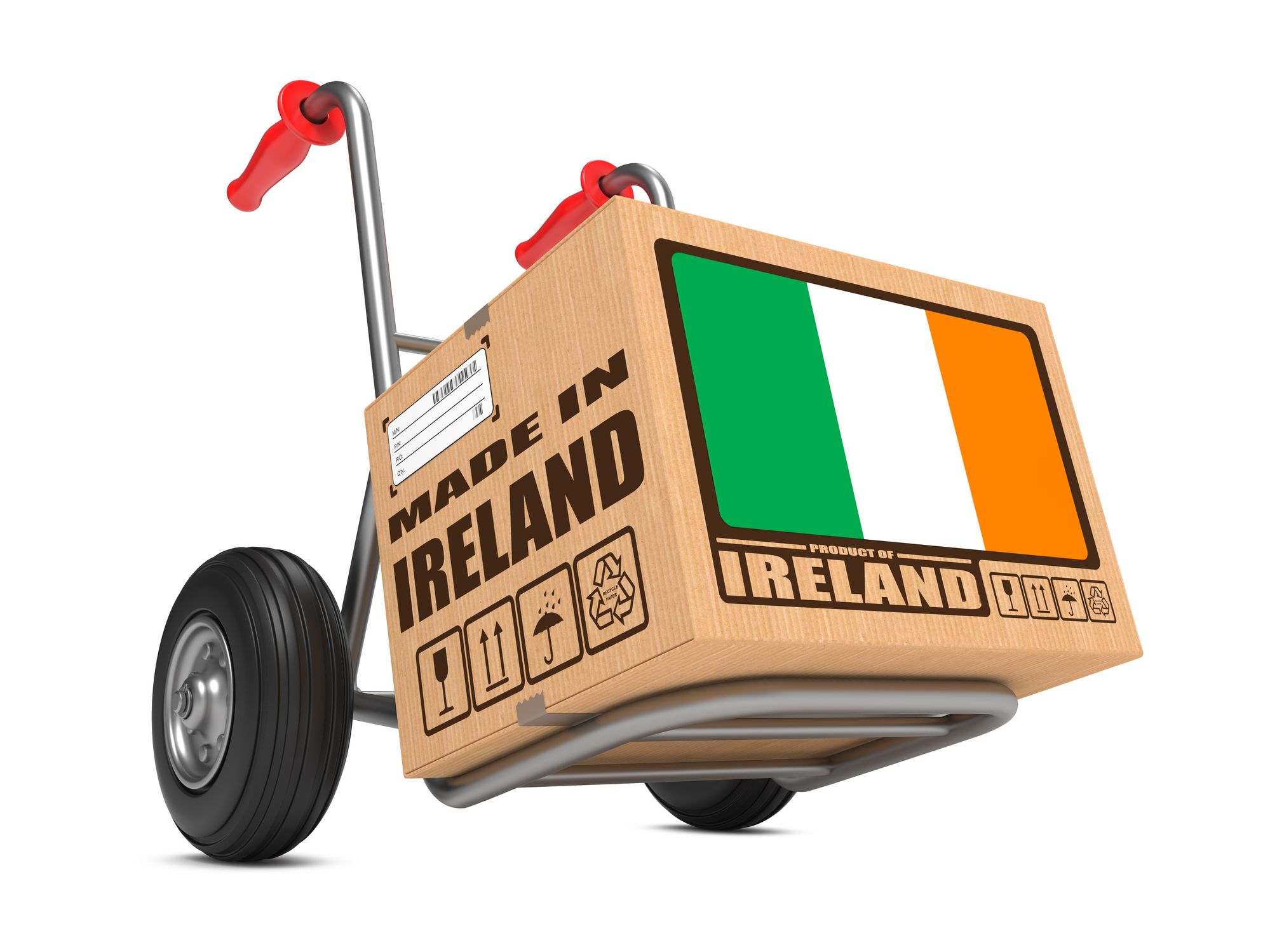 19
You can follow IrishCentral's International Irish throughout July by following the hashtag #InternationalIrish or by following us on Facebook, Twitter, Instagram or LinkedIn.
Check out the IrishCentral business section here. 
Read More: Everything you need to know about Guinness, Ireland's favorite brand