As polls show 58% of Americans, including 30% of Republicans want to see President Donald Trump impeached, every day the Vice President inches closer to the White House.
Vice President Mike Pence always reminds me of a parish priest, hanging back behind President Donald Trump flashing that beatific smile, you almost expect him to produce the collection plate and pass it around.
Pence has somehow floated above the fray in the disastrous Trump presidency, leaving little imprint on the major issues of the day.
When your boss is displaying serious mental issues that is not the worst policy and Trump has had little reason to accuse Pence of disloyalty but that may be about to change - because of two numbers.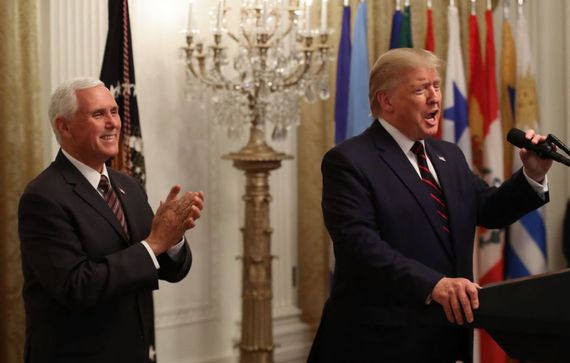 3
That is the Washington Post poll on Tuesday showing that 58 per cent of Americans, including over 30 per cent of Republicans, favor an impeachment inquiry concerning President Trump. Then there was the Fox Poll on Thursday showing  51 per cent of Americans would remove him from office.
Read more: Nancy Pelosi to present Richie Neal with Irish American Democrats' award
Suddenly there is a trickle of water appearing over the dam that has held back the flood of revulsion that could sweep away Trump's support in an instant.
As the Washington Post noted "Remarkably, nearly 30 per cent of Republicans favor an impeachment inquiry" and "almost one-fifth of Republicans say they favor a vote recommending his removal." Those poll numbers were similar to other national polls on the issue released this week.
Whoa, Nelly.
Those are dramatic figures and reveal how much Trump is in trouble.
The shoes keep dropping. Two Ukrainians who were arrested fleeing the country were clients of Giuliani who likely told them to bolt because they were Rudy's dirt diggers in Ukrania and doled out massive illegal foreign funds.
We know those two will spill all on Rudy and what they know about what Trump and Giuliani were up to in Ukraine and I.  think we may soon see Rudy walk the perp walk like so many prisoners he ordered to when Manhattan US Attorney.
Add in the daily rants. clueless handling of the Syria crisis and you begin to get a glimpse into how incoherent and dangerous Trump foreign policy is.
 As we rightly focus on the human toll caused by Trump's erratic decision in Syria, it's equally hard to overstate the national security disaster he's unleashed out of simple ignorance and selfishness. 

He's a dangerous man. This is on a GOP who's empowered him.
— David Jolly (@DavidJollyFL) October 10, 2019
Very sad to see great ally - the Kurds - being assaulted by Turkish-Erdogan military using American-designed equipment.

Expect Congress to act soon against Turkey's invasion & aggressively push back. Hope Trump Administration will join this effort.https://t.co/IKfuE35ddG

— Lindsey Graham (@LindseyGrahamSC) October 10, 2019
As Turkish troops stream across the border bent on the mass killing of Kurds who stood with the United States against ISIS you have to wonder where Trump is getting his orders from. Who benefits when two pro-American groups clash in Syria? Why President Putin, of course.
-Saddam gassed the Kurds; Reagan kept arming him.
-Bush Sr. promised we'd support Kurds if they fought Saddam, then let them be slaughtered.
-Trump took credit for Kurds defeating ISIS, now pulls out of Syria so they can be slaughtered by Turkey.
-And today is Putin's birthday. https://t.co/rfOOOGk73g

— John Fugelsang (@JohnFugelsang) October 7, 2019
Trump once told former ally Steve Bannon on Breitbart Radio that his position on Turkey was influenced by the existence of the Trump Tower complex in Istanbul.
In Britain, the so-called "men in grey suits" visit an incumbent Tory prime minister and tell him or her they have to go. In America, it might well be Mike Pence reporting early next year that the president no longer has the votes to defeat impeachment and would lose a trial in the Senate.. The rampant corruption will bring him down.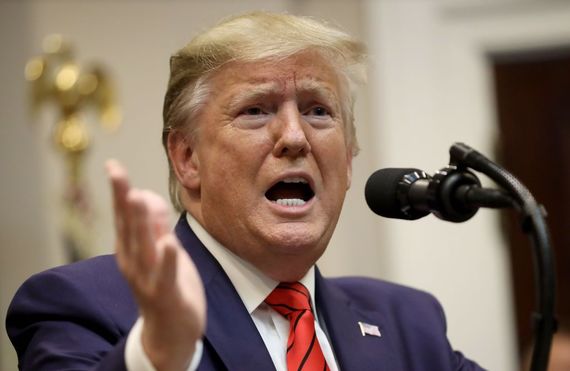 3
Mike would no doubt impart the message gently, solemnly and with oodles of comforting bible scripture.
But the wise men and women dwell in the certainty of the impeachment process now and Pence knows just how close he is to the Oval Office each day as more and more revelations emerge. He may be about to attain the kingdom of heaven AKA the presidency.
How does President Pence sound? Heavenly to his supporters, no doubt.
What do you think? Will President Donald Trump be removed from office? Let us know your views in the comments section below.