Edward Crawford throws Independence Day party attended by 1,500 guests. Celebrates his own Irish family and Ireland's strong relationship with the United States.
Ireland's new United States Ambassador to Ireland, Edward Crawford, was joined by his family, Taoiseach (Prime Minister) Leo Varadkar, and 1,500 guests including politicians, diplomats and friends of Dublin's US Embassy as he celebrated his first July 4th, at his residence in the Phoenix Park.
At a lively Independence Day garden party, decked in red, white and blue, with a lively swing-band for entertainment Crawford, a billionaire-businessman and entrepreneur, was introduced to his guests by his son, Matthew, who said his father has "realized his dream" in becoming the Ambassador to Ireland.
Irish parent's dream come true
The new Ambassador's parents both emigrated from Ireland in the 1920s and entered the United States through Ellis Island to build their American dream.
Matthew said his grandmother, from Cork, has "instilled in [the Ambassador] the very values she had learned growing up here in Ireland. Hard work, loyalty, friendship, and a bit of luck."
He said "She would be very proud; no, I say she's looking down today and is very proud.
"She would not be surprised that he has come back to her home to ensure that Ireland and America continue the important bond that she had treasured so much." 
Introducing his father to the stage he said, "know that you're getting a strong, smart, and caring leader who will always do the right thing."
The 81-year-old Ambassador said "I've been thinking about this for many many years and I've worked very very hard and I was excited when President Trump asked me to come to Ireland and enhance the relationship between America and Ireland.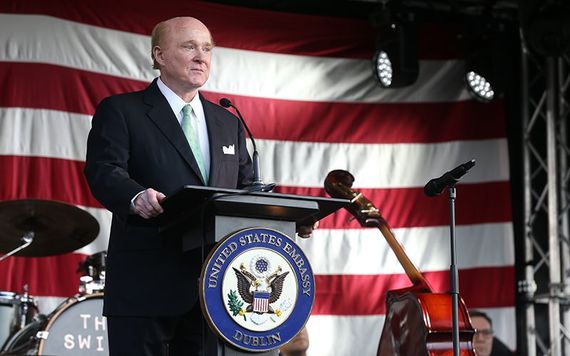 3
He joked "Looking out here it looks like a pretty good relationship already. I hope I don't get in the way of it but I'm going to try my best."
The Ambassador went on to introduce his wife, Mary, son Matthew and his wife Debbie and three grandchildren Colin, Kate, and Clare to the crowds, welcoming them on stage and thanking them for their support.
It seems that Crawford's heart was always set on coming back to Ireland, where his parents had left almost 100 years ago.
Ireland, Ambassador's only choice
He told the crowds "I've dreamt about serving America and when I was approached about the potential of becoming an ambassador by someone you know the name of, this is before he was even elected we talked about this because I had known him for some time. And he said, or his friend representing his conversation, but he was sitting there. And he said "What country would you be interested in to become an ambassador. Would you do that? Would you take the time now?"
"I said "Well, yes. Matt's ready I think we'll do that."
"And he said, "Name the country." And I said "Ireland."
"He says, "No you have to give us three choices".
"And I said, "Yes, Ireland, Ireland, and Ireland".
Ireland and the USA's strong relationship
The Ambassador continued "So, we are here and I'm going to do everything I can to, again, enhance the relationship between America and Ireland. It's undeniably one of the strongest relationships."
The Ambassador said "I am reminded of the fact that when Ireland in '29 I think America was one of the first countries in the world to recognize Ireland as a country. So, we're very proud of it. There is allegedly, or at least we talk about it, 30 million people in America that think they have some sort of Irish heritage, that's a 10% plus. [sic]"
The position of US Ambassador of Ireland has remained empty since Kevin O'Malley served under President Barack Obama. Since January 2017 Reece Smyth, Chargé d'Affaires, has taken on the role of managing the US Embassy.
Crawford explained the delay, thanking Smyth for his service.
"It took 17 months from the day I began this process, this odyssey to be stand on this stand, 17 months to get through the government process."
Referring to Smyth's role he said, "I'm very proud of what he's accomplished and I'm getting an Embassy and a group of people so I want to do what I can to live up to my commitment to myself, to the President and to others."
Introducing An Taoiseach Leo Varadkar to the stage Crawford said "I'm very honored, my family is very honored that you would take the time to come out and be with us tonight. He is a great leader. He's taken Ireland through some very difficult times. We need him in place for the future and given the opportunity I'm going to work closely with him to, again, enhance this relationship and make sure Ireland ends up in the right place at the right time."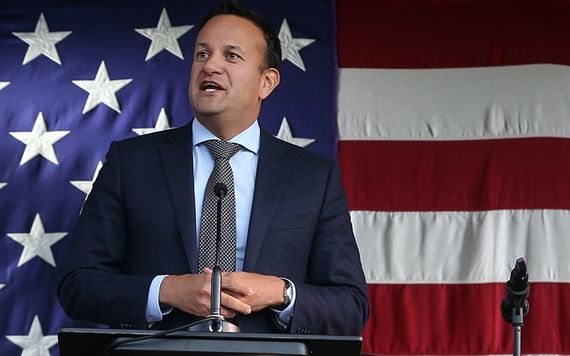 3
Irish celebrate July 4th
Varadkar welcomed the Crawford family to Ireland and said he believes the Ambassador is "going to do well here."
"You're only here a few days and you're only here a few days and you're already throwing the best part of the summer," he joked.
The Taoiseach also referred to Crawford's Irish roots and their parent's journey to America. He said "I can only imagine what it would mean to them to see their son return to Ireland as the United States Ambassador. The fulfillment perhaps of another dream."
Varadkar concluded by saying"
"Ireland has benefited so much from the courage and generosity of the American people and for that, we are forever grateful.
"Every year on the 17th March you join with us to celebrate our national day and it is my honor and indeed our honor to join with you this evening to return the compliment and celebrate your national day.
"So happy Independence Day and Happy Fourth of July. Thank you very much."
Read more: This July 4th it does not feel so good to be an American