US President Joe Biden said he visited Ireland in April to make sure that "the Brits didn't screw around" with the Good Friday Agreement.
Biden, who visited Ireland and Northern Ireland in April shortly after the 25th anniversary of the signing of the Good Friday Agreement, made the comments at a Democratic National Committee reception in New York City on Wednesday, May 10.
"I got to go back to Ireland for the Irish Accords, to make sure they weren't — the Brits didn't screw around and Northern Ireland didn't walk away from their commitments," Biden said, according to White House transcripts.
Reflecting on learning more about his Irish roots while in Ireland, Biden continued: "We've all been through — and whether you're Greek or Irish — you went through times when we weren't respected very much, when we were treated — that we were somehow fundamentally different than other people.
"And it wasn't just Irish or African Americans. A whole lot — a lot of people went through it."
Biden's "Brits" comments on Wednesday come a month after he met with UK Prime Minister Rishi Sunak in Belfast at the start of the president's Irish visit.
While in Ireland, Biden was keen to praise the recently announced Windsor Framework, introduced by UK Prime Minister Rishi Sunak and EU Commission President Ursula von der Leyen, which aims to resolve tensions over the Northern Ireland Protocol.
Responding to Biden's "Brits" comments, a spokesperson for Sunak said: "You will know that, obviously, the Windsor Framework was a culmination of substantive work between the UK and the EU, and at its heart, the UK priority was always protecting the Good Friday Agreement.
"We have been consistent on that point throughout and we are pleased that between the UK and the EU we have been able to reach an agreement that works for the people of Northern Ireland, and for the whole of the UK."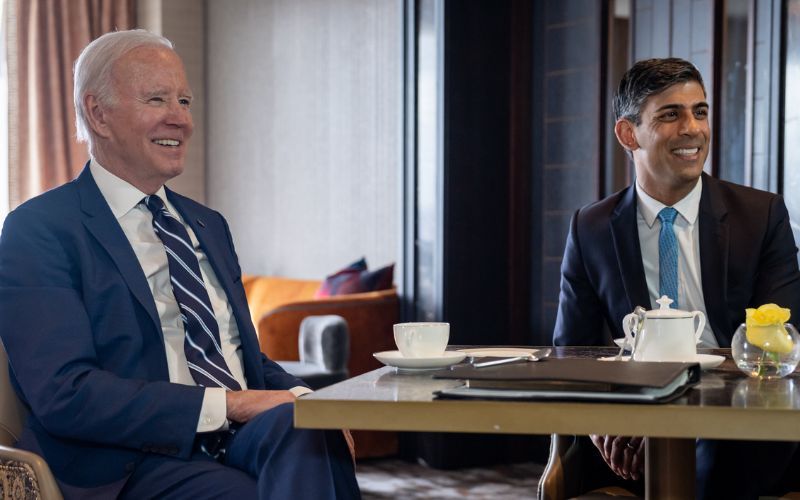 2
Predictably, Biden's "Brits" comments drew a strong reaction from Northern Ireland's Democratic Unionist Party (DUP.)
"It's unbelievable and frightening to think this man is the leader of the free world," East Antrim MP Sammy Wilson told the Evening Standard.
"If you believe that there should be a special relationship between the US and UK, then at least show us some respect."
Elsewhere, Naomi Long, head of Northern Ireland's Alliance Party, responded by saying: "Joe [Biden] has always been slightly gaffe-prone, I don't think that's news to anybody. But what really matters is what he does rather than what he says.
"I'll judge him on the basis of what he does and overlook the gaffes."
Biden's "Brits" comments also come after he was accused of being 'anti-British' during his Irish visit. Former DUP leader Arlene Foster claimed that Biden "hates the United Kingdom," while Wilson said Biden had shown "antipathy towards Protestants."
When asked about the accusations, NSC Senior Director for Europe Amanda Sloat said: "You know, I think the track record of the President shows that he's not anti-British."