The famed New York Police Department is the subject of a new photo book showing how its thousands of members keep the Big Apple safe and sound.  Irish photojournalist Mark Condren spent almost two years bringing the book to life.
A picture is said to be worth a thousand words, which means there are many to choose from when describing a new coffee table photo book that captures members of the New York Police Department on the job. 
Extraordinary, daring and gripping are three that instantly come to mind when flipping through the pages of "NYPD: Behind the Scenes" by Irish photojournalist Condren, which was launched last Friday evening at a reception hosted by Consul General Ciaran Madden at the Irish Consulate.
Condren, a native of County Cork, spent nearly two years embedded with the NYPD to produce his book, which showcases the men and women of the force keeping New Yorkers safe and how they operate in the city that never sleeps.
The photos, not one of them staged, capture any and every scenario imaginable: officers giving chase in a dangerous part of Brooklyn, keeping patrol on the famous Mulberry Street in downtown Manhattan, rookie cops celebrating their graduation from the Academy, the Harbor Unit cruising around the city in a police boat…there are more than 100 photos in the book, and the detail Condren captured is stunning.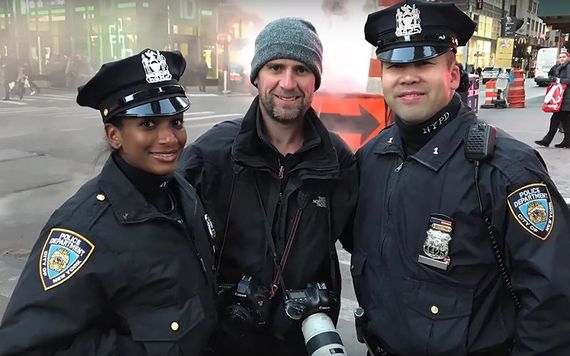 7
He's an award-winning photographer employed full-time by the Irish Independent newspaper and producing not one but two books about police officers – his first spotlighted the work of the gardai in Ireland – has been a labor of love.
Condren's wife is a member of the guards, and his father is a retired sergeant.  Condren was on hand to photograph his Dad's last day on the job in Castletownroche, a rural village in County Cork.
"I had the photos sitting in a computer and I thought I had to do something with them," Condren said during an interview with the Irish Voice. "So, I got permission from the garda [Irish police] commissioner to do a book and that's how it came about."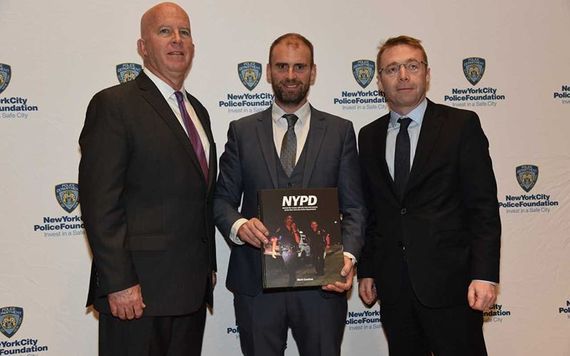 7
The success of that project, which took about 18 months to complete, prompted Condren to think about doing a similar work focusing on the NYPD. 
"I have always been fascinated by the NYPD and I wondered what it would be like to be one of the officers," he says. 
It took some time for Condren to make contact with NYPD Commissioner James O'Neill, but once they met O'Neill was sold on the idea.
"I showed him the book I did on the guards in Ireland and he said that we had to do one of those for the NYPD.  He was totally supportive of the project and what I needed to do to get it done," Condren said.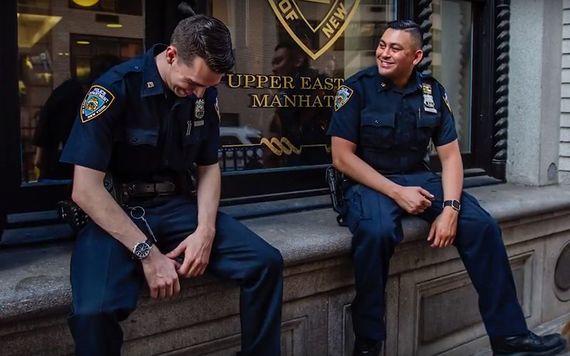 7
What the job required was approximately 16 trips to New York over a two-year period, each one lasting for up to two weeks.  Condren was given all access to every unit of the NYPD.  Some of the situations were joyful – officers turning on fire hydrants and having fun with thankful kids looking to cool off – and others were stressful – being on the scene for multiple gun calls.
"There were times when the anxiety was running high," Condren says.  "I was at stabbings, gun calls, and other dangerous situations.  The bravery of the NYPD officers is remarkable." Condren stayed in the background and out of harm's way, his camera capturing the unfolding scenes as discreetly as possible.  The officers were more than happy to cooperate in any way they could.   He produced "thousands" of shots, he says, and whittling them down to a book of just 100 was no easy feat.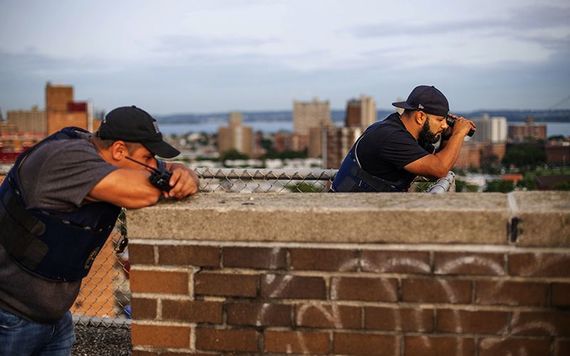 7
"There were legal issues, and then it was a question of having the pictures flow together as a narrative.  There was lots of back and forth but in the end, it all worked out."
One of the things Condren learned about the NYPD is its capability to handle anything and everything.  "It's just a massive force. They have units for everything. There's nothing they can't do," Condren says.
Read more: NYPD cop gives Irish tourist $20 toward her "Hamilton" Broadway ticket
"I was out one night in the Bronx on a gun call, and the next thing I heard was a call coming in on the radio about a beehive problem. There's a beehive NYPD unit in Manhattan. I couldn't believe that! But sure, enough we went to the call and there it was."
Friday's launch at the Irish Consulate was chock full of NYPD officers and officials, including O'Neill, and members of the New York Police Foundation, which will benefit from the book's proceeds.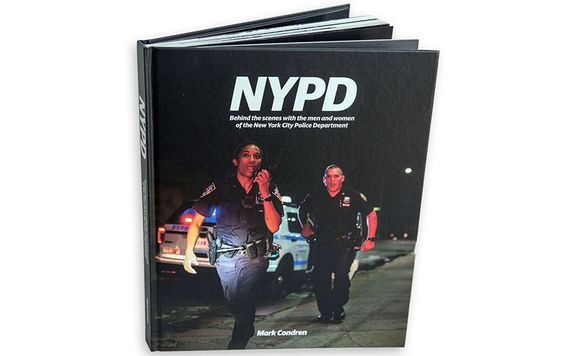 7
"What I like most about these photos is that they capture such a wide array of the many functions of New York City's police," O'Neill said in a press release prior to the launch.
"Because so much of it might seem routine to us in the moment. Because in that instant, it is sometimes difficult to recognize the gravity of a singular situation – or to maybe realize what a positive, lasting effect a simple interaction with a young person in an impoverished neighborhood might have on that boy or girl. There are images here of heartbreak and heroism, and of melancholy and surprising beauty. And every one of them freezes in time what it is that NYPD cops do better than anyone else, anywhere.
"I thank the New York City Police Foundation for its unparalleled support of our members, and photographer Mark Condren for directing his lens – and his talent – toward our cops. They deserve every bit of credit and attention he has afforded them."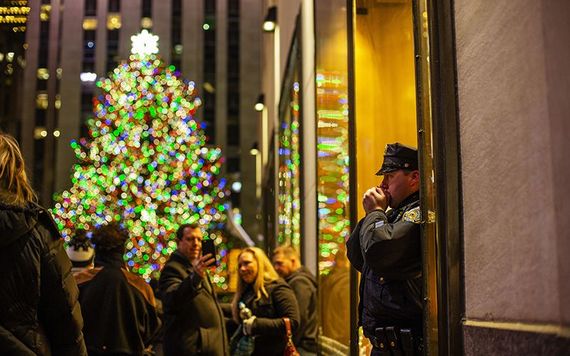 7
"This book portrays a beautiful glimpse into the tireless work of NYPD police officers who keep New York City safe every single day. The New York City Police Foundation supports public safety initiatives that help strengthen the relationship between New Yorkers and law enforcement, and this book is a wonderful example of just that," said Susan Birnbaum, New York City Police Foundation president and CEO. "We are proud to support this effort and celebrate the work of the NYPD and are grateful for the collaboration with Mark Condren who captured so many incredible images."
Condren couldn't be prouder of the finished product, which will also be launched by Taoiseach Leo Varadkar in Dublin on December 10.  "The book has gotten a great reception and we're hoping that the public really takes to it," he says.
Read more: NYPD -- No Irish Need Apply seems to be the new reality
* "NYPD: Behind the Scenes" is available to purchase for $49.99 through the New York City Police Foundation at www.nycpolicefoundation.org.  It is also on sale at the 9/11 Memorial Museum in downtown Manhattan.