Ahead of Herstory's week-long celebration of Ireland's newest bank holiday and Irish women, we look back at their years of light shows and digital celebrations.
This February, Ireland will celebrate a new bank holiday dedicated to the country's female patron saint, Saint Brigid. This momentous and welcomed event comes after the group Herstory's long campaign to celebrate Brigid, Ireland's Celtic Goddess and Matron Saint, and Imbolc, the ancient festival of spring. 
Over the years, Herstory has marked February 1, St. Brigid's Day, with incredible light shows across Ireland. Below we take a look at some of the spectacular highlights from over the years as we look forward to this year's upcoming celebrations. 
Here are some of the highlights of St. Brigid's Day celebrations by Herstory over the years: 
Ériu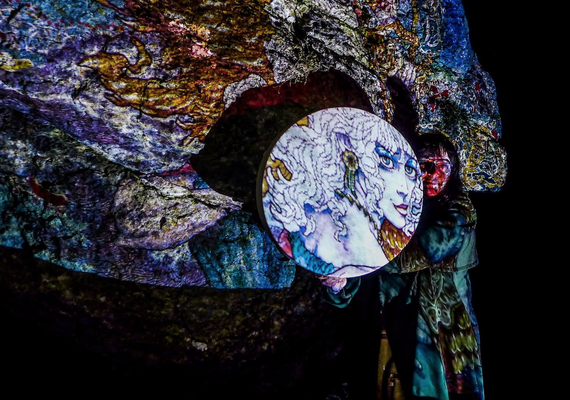 7
The founding goddess of Ireland (yes our nation is named after a goddess!) by Jim Fitzpatrick illuminating Uisneach for the inaugural Herstory Light Festival in 2017. Uisneach is the sacred feminine center of Ireland and indigenous elders journey here to start their world pilgrimages for peace. Photo by Killian Kennedy.
7
To celebrate the suffrage centenary in 2018 we lit up the buildings in Dublin city where the suffragettes smashed the windows in protest 100 years ago. This is Markievicz by Jim Fitzpatrick lighting up the GPO.
Mother and baby homes
On St. Brigid's Day 2021, Herstory journeyed into the very heart of Ireland, to help to heal the heartbreak of the Mother and Baby Homes scandal. Iconic buildings were illuminated to witness and honor all who suffered. This pilgrimage of light is captured in Solas, a cathartic film by Peter Martin
Brigid's Fire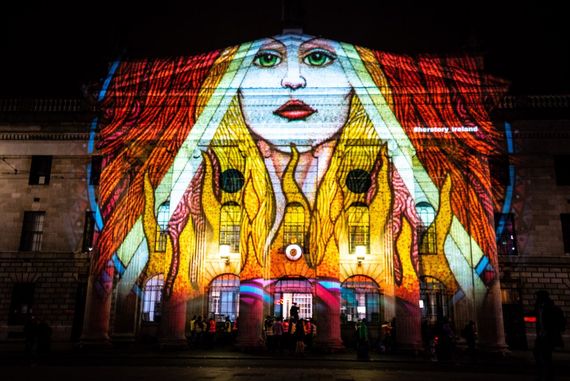 7
Brigid's Fire by artist Courtney Davis blazing on the GPO for the 2020 International Herstory Light Festival.
Is Mise Bríd
Is Mise Bríd is a spectacular film by Peter Martin and curated by Herstory Poet in Residence Laura Murphy.
Student Power
Student Power was a collaboration with the Irish Second–Level Students' Union aiming to amplify the voices of youth activists with art created by students from the National College of Art and Design CAD and Colaiste Dhulaigh, in Dublin.
Mary Magdalene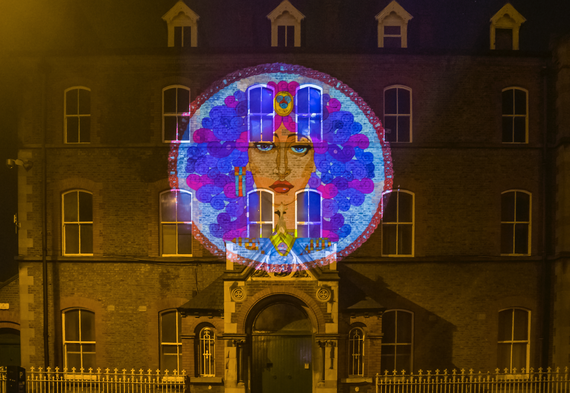 7
Mary Magdalene by Jim Fitzpatrick lighting up the Magdalene Laundry on Séan McDermott street for Stand 4 Truth.
Mo Mowlam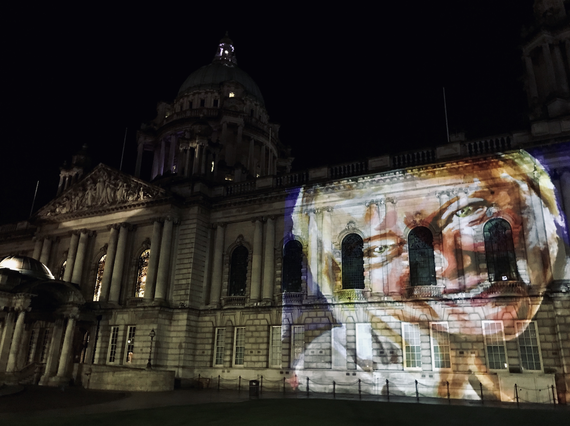 7
On St. Brigid's Day 2020, Herstory lit up Belfast City Hall in honor of Mo Mowlam and the peace heroines of Northern Ireland with new portraits created by students and artists across Ulster.
Titanic Museum
7
The iconic Titanic Museum aglow with astrophysicist Dame Jocelyn Bell Burnell.