"Dance First," the new Samuel Beckett biopic, will screen out of competition at the 2023 San Sebastian Film Festival in Spain on September 30.
Irish actor Gabriel Byrne stars as the older version of Samuel Beckett in the new film, while fellow Irish actor Fionn O'Shea features as the younger version of the Irish Nobel Prize winner.
In its synopsis of "Dance First," production house Film Constellation, says: "Beckett lived a life of many parts: Parisian bon vivant, World War II Resistance fighter, Nobel Prize-winning playwright, philandering husband and recluse.
"But despite all the adulation that came his way he was a man acutely aware of his own failings. In 1969, having been awarded the Nobel Prize for Literature, an embarrassed Beckett simply wanted to be rid of it.
"This film revolves around this turning point, the internal debate raging within Beckett as to which of the people in his life most deserve to be the beneficiaries of his shame."
Joining Byrne and O'Shea in the "Dance First" cast is Aidan Gillen as James Joyce and Sandrine Bonnaire as Beckett's wife Suzanne Deschevaux-Dumesnil.
Other Irish actors featured in "Dance First" are Lisa Dwyer Hogg, Bronagh Gallagher, Gráinne Good, and Barry O'Connor.
The title of the movie comes from the line "dance first and think afterwards" from Beckett's famous play "Waiting for Godot."
Speaking to The Guardian as the movie was finishing filming in Budapest last September, Byrne said the biopic is "an attempt to put flesh and blood on someone who people know very little about.
"He was a man who had a sense of humor, who was deeply emotional, who was a failure in his own eyes for a great deal of his life, then had to contend with world success after being given the Nobel prize, and who lived the last part of his life alone in a very simple room in a nursing home."
The Guardian noted that Byrne "bears only the slightest resemblance" to the noted Irish writer.
"Physically I can sketch him [Beckett] but with this film, we are not looking for an impersonation of Beckett, rather a sense of who he was," Byrne said.
"What you want is people to believe the man, not focus their attention on the wig or the makeup or the false nose."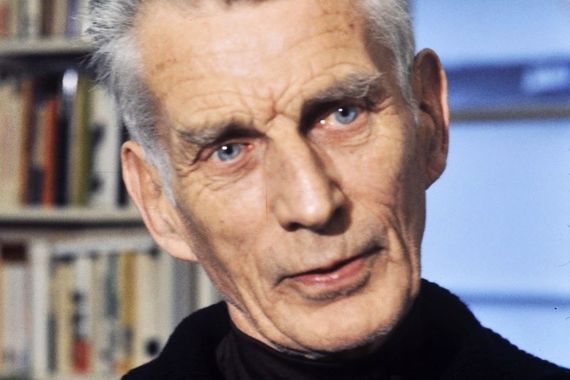 2
Dublin native Byrne, 73, is best known for his roles on the big screen "Miller's Crossing," "The Usual Suspects," and "Hereditary." In 2009, he won the Best Performance by an Actor in a Television Series - Drama Golden Globe for "In Treatment."
More recently, he toured the one-man show version of his autobiography "Walking with Ghosts" to much acclaim.
When asked why he took on the role of playing on of Ireland's most famous playwrights, Byrne told The Guardian: "The interesting thing is, before this film came along, I was curious about him as a literary figure, but I never found him to be an emotional writer. Likewise Pinter. I thought that, in their work, the emotion was subsumed to the writing itself.
"Then, I started to read 'Godot' for this part and I thought: 'My God, this is actually really funny! It's about real emotions – loneliness, connection, friendship.' I had missed all that, mainly because I had never seen a good production of the play. I saw Robin Williams and Steve Martin do it in New York and it was awful. Anyway, I'm now converted."
"Dance First" was directed by James Marsh, the director of "The Theory of Everything." Marsh previously won an Oscar for "Man On Wire," the documentary he shared with Simon Chinn. It was written by Neil Forsyth, who wrote "Guilt" for the BBC. 
"Dance First" will premiere in cinemas and on Sky Cinema in 2023.