A 76-year-old Irish man who was given up at birth met his maternal aunt in person for the first time in an emotional reunion in a Donegal pub earlier in April. 
Oliver Bonnes, 76, met his maternal aunt Patricia McGranaghan at the beginning of April in the Tir Connail pub in Raphoe, County Donegal, just days after Patricia's 86th birthday. 
Oliver, from Belfast, wasn't looking for a new family when he gave a sample of his DNA to Ancestry.com in December 2017, but the widowed father of four soon discovered an Irish-American family in New York. 
Oliver was born in Northern Ireland in 1947 to an unwed teenager named Mary Josephine Brady and was later adopted by a childless couple in Randallstown, County Antrim. 
In early 2018, Oliver's son Nicky helped him track down his long-lost family, including three half brothers, an aunt, two uncles, and 38 first cousins. His mother Mary had sadly passed away by the time Oliver tracked down his family. 
Recalling his first phone call with Oliver's cousin Michelle McGranaghan Pabon in April 2018, Nicky told IrishCentral that he had been warned that he may have difficulties making contact with his new family. 
"When you make that phone call, I wouldn't blame anybody for feeling very wary," Nicky told IrishCentral. "We definitely didn't want to be turning anybody's world upside down or be upsetting the memory of their family members." 
"We just wanted to say this is what's happened. He's here and this is the life he's had." 
Michelle, who is Patricia's daughter, told IrishCentral that her family's first reaction was denial. 
"There was a lot of denial. We come from a strict Catholic family, so when I told my mom about Oliver, she definitely wasn't accepting at first," Michelle told IrishCentral. 
However, when Nicky was able to produce certain facts about Mary, including her middle name, the family accepted the story and eventually began planning for a reunion. 
Patricia organized the reunion for October 2018 in the Grandstand Pub in Maspeth but was unable to attend after coming down with a bout of pneumonia. 
Michelle revealed that her mother has "really bothered" that she never got to meet her newly-discovered nephew, with plans for a second reunion pushed back due to the Covid-19 pandemic. 
However, the families kept in touch during the pandemic, regularly video calling so that Oliver and Patricia could get to know each other better. 
With Patricia's 86th birthday on the horizon, Michelle and her husband decided to bring her to Ireland so that she could finally meet her nephew in person, five years after first discovering him. 
"She was turning 86 on March 30 and all she wanted to do was to go to Ireland and meet her new nephew," Michelle said. 
"My mom is the closest thing to his mom. My mom gave him a picture of his mom that he had never seen and it was very touching. They told stories and we passed the day telling stories and laughing and cheering to our new family.
"The day of the reunion was emotional for everyone. There were a lot of tears being held back. It was just a very special day for all of us." 
Michelle said her mother has not stopped talking about the reunion ever since. 
Nicky Bonnes, meanwhile, described the reunion as an "emotional" occasion. 
"It meant so much to my father," he said. "You could definitely feel a connection - a real close link. It was nearly unspoken."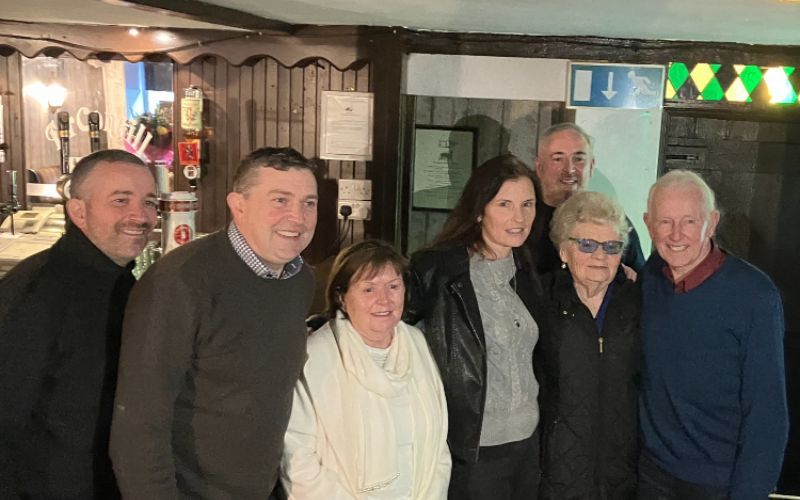 2
The reunion was nearly canceled after Oliver's half-brother Padraig suffered a severe stroke and was placed on life support. 
Thankfully, Padraig is now able to breathe on his own once again but has a long road of recovery ahead, Michelle said.
Nicky and Michelle have also made plans for another reunion in June when more than a dozen of Michelle's family are set to visit Oliver's home in Belfast. Both are looking forward to an "Irish celebration". 
Both Nicky and Michelle spoke happily about their newfound family ties, with Nicky stating that he has developed a particularly close relationship with his father's brother Padraig. 
Michelle, on the other hand, described Oliver and his family as "the nicest people you would ever want to meet". 
"It was easy to like them and have them join our family."