Oliver Bonnes, from Belfast, spent years searching for information on his birth mother from Cavan, and his quest had the ultimate happy ending with the discovery of a whole new family of brothers and cousins in New York. 
Oliver Bonnes, 71 years old, wasn't looking for a new Irish American family when he sent a saliva sample off to Ancestry.com in December of 2018.  The possibility of having a half-brother, an aunt and a Brady bunch of first cousins in New York?  The thought never crossed his mind.
The widowed father of four, born in Northern Ireland in 1947 to an unwed teenager named Mary Josephine Brady from Co. Cavan and adopted by a childless couple in Randalstown, Co Antrim, was simply hoping to confirm who his birth mother actually was.  
But thanks to Ancestry.com, a dedicated son who unlocked some family mysteries and an Irish American cousin from New York who eagerly engineered a reunion, Oliver Bonnes has more blood relatives in America, Ireland and England than he ever could have dreamed of – three half-brothers, an aunt, uncles and 38 first cousins, many of whom gathered on Sunday at the Grandstand pub/restaurant in Maspeth, Queens to meet their long-lost Irish relative for the first time.
Read more: A County Clare family reunion – a hooley any Irish family would cherish
It was a day full of emotion for all involved.  "It's quite unbelievable…it's just overwhelming really," Bonnes told the Irish Voice while surveying the scene at the joyous party which was organized by his new first cousin Michelle Pabon, daughter of his birth mother's youngest sister Patricia Brady McGranaghan and the person Ancestry.com said was "extremely likely" to be a first cousin to Bonnes based on DNA evidence.
Nicky Bonnes, Oliver's son and the sleuth who helped his dad stitch all the genealogical clues together, also made the trip to New York for the family reunion, as did two other sons, Justin and his wife Ciarrai, and Rory and his wife Caoimhe.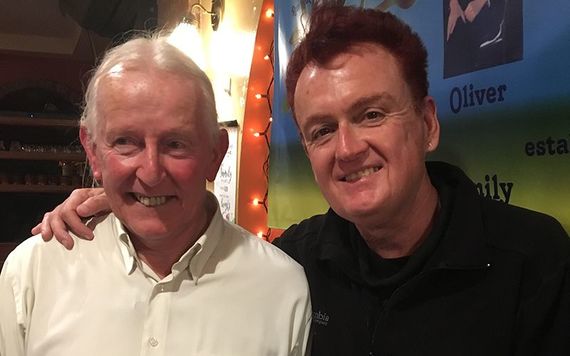 6
Sunday's gathering of about 35 new-found relatives lovingly planned by Michelle and the American wing of the Brady clan featured home-made videos and photos of the Brady family tree, shamrock cookies with the words "Brady family reunion" etched in the icing, key rings with the Brady coat of arms, plenty of food and drink, and a session that brought everyone together in song. 
How did this most unlikely of reunions happen?  One thing is for certain: Oliver Bonnes and his sons wouldn't have been in New York last weekend if not for the marvel of modern technology coupled with a few drops of spit.
Read more: Catholic priest fathered a son, DNA test reveals
He had been trying for several years to find out more about the circumstances surrounding his birth.  Some of the details remain unknown because of the heart-wrenching fact that his mother, Mary Josephine Brady, took the secret of Oliver's birth to the grave.
Mary was in her twenties when she became pregnant.  She had been living and working in Ballinamore, Co. Leitrim, having left her hometown of Cranaghan in Co. Cavan in search of work.
Her mother Rose had passed, and her father was unaware of her plight.  Not one of her siblings knew that she was pregnant either.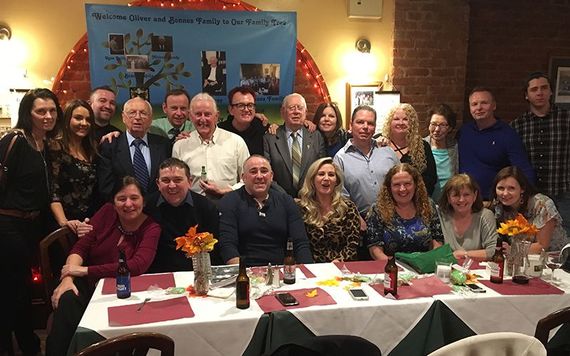 6
Mary then went to Northern Ireland to work for a Quaker family and gave birth to Oliver Joseph on May 10, 1947, in Belfast.  The family wished to adopt the boy, but Mary was adamant that the son she had to surrender would be raised by a Catholic couple.
It was several weeks before Oliver was adopted by Sam and Sadie Bonnes, owners of a farm in the village of Randalstown about 20 miles outside of Belfast but without children of their own.  Though he never knew his birth mother, Oliver is heartened by the fact that he got to spend the first days of his life with her.
"It must have been very difficult for her to give her baby up," he says.  "But my story could have been so much worse. Many women who got pregnant out of wedlock in those days were sent to homes and had terrible lives. Many of the children died. Look at what happened in Tuam," he adds, speaking of the horrific mother and baby home in Tuam, Co. Galway where hundreds of infants were buried in a septic tank.
Oliver's childhood was perfectly fine. His adoptive parents loved and nurtured him; he was their only child. 
Read more: DNA test reveals truth for one man after Irish nuns lied
But Oliver had wanderlust and wanted to see more of the world. He traveled to London, Canada, and San Francisco, where he lived from 1969 to 1974.  It was there where he met Maura Fallon from Co. Longford.  The two married and returned to Randalstown to raise a family. 
"I liked San Francisco very much but I wanted to come home," Oliver said.  "I didn't think it was a good place for kids to grow up."
Oliver and Maura had four sons and raised them on the Bonnes farm.  Life was fine for the young family, but Oliver always sensed that a secret was kept from him.
"I figured that I was adopted but my parents never told me," he said.  "And I never asked.  My parents did eventually tell Maura that I was adopted."
Years went by before he found out that his birth mother was named Mary Josephine Brady.  What he didn't know was that Mary, after giving birth, eventually left Belfast to move to London, where she worked as a chambermaid in the posh Grosvenor House Hotel and quickly settled into life in the British capital, making friends and eventually meeting the man who would become her husband, Frank Haughey.
Frank and Mary married in the late 1950s, moved to Birmingham and had three sons in quick succession.  Liam and Sean Haughey remain in the city of their birth, and Padraig Haughey, now 59, lives in New York.  
Padraig, who met his half-brother Oliver for the first time at Sunday's party, told the Irish Voice that his mother Mary "was a wonderful woman, a special person."  She worked in a canteen while raising her kids, and each summer she and Frank sent their boys back to the Brady homestead in Cranaghan, Co. Cavan so they could bond with their Irish cousins.
Unsurprisingly, Mary never mentioned to her children that years earlier, she had given birth to a son in Belfast. "We just had no idea at all.  It was a total shock when we found out earlier this year," says Padraig.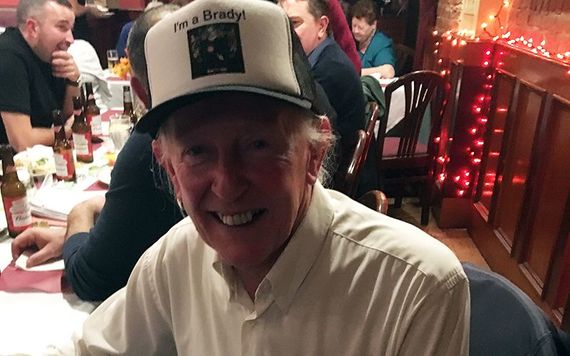 6
"It came out of the blue but it's fantastic. It's amazing. To have a brother...it's been surreal."
Mary Josephine Brady Haughey passed in Birmingham in December of 1998.  She was 79 years old.  Her complete life story, though, was far from finished.
Oliver worked in the haulage industry in the North, and several years back he and Maura purchased a burned down the pub in Randalstown that they renovated.  The financial crash of 2008 that crippled Ireland had a severe effect on their finances, so Oliver and Maura took over the running of their bar, Laverty's, by themselves, every day, to make ends meet.  Maura passed away in 2014, and Oliver continues to run Laverty's.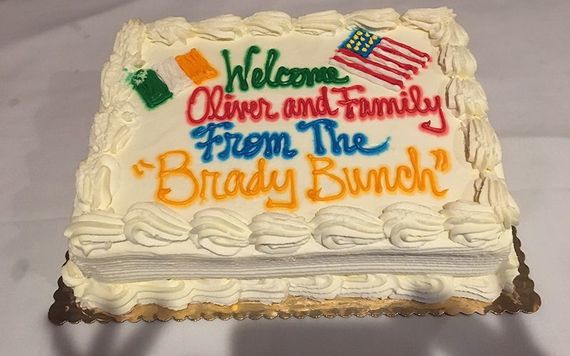 6
All the while, he made several attempts to discover more about his birth mother.  He eventually obtained his birth certificate in 2016 and decided to press on with his quest.
Enter Nicky Bonnes, Oliver's eldest son who lives close to his father – all four of the Bonnes sons have remained in Randalstown, and Oliver has 12 grandchildren.  It was just before Christmas last year that Oliver saw an ad on TV for Ancestry.com. He decided he had nothing to lose, so he paid £60 to send off a saliva sample.
The results showed that he was 99 percent Irish, but more tellingly, that there were two close DNA matches on file: a woman named Michelle Pabon, who was very likely a first or second cousin, and someone identified as ESP762 who was also a similar match.
In a further twist, two other matches from Oliver's biological father's side made contact via Ancestry.com.  (Regarding his paternal roots, Oliver knew that he was named after his father but little else; he intends on researching that side of his family too.)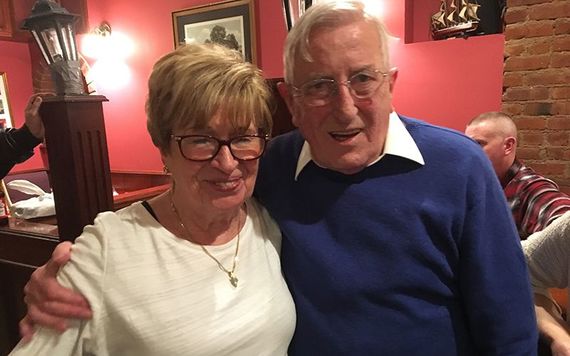 6
Nicky took the lead in working with the two distant paternal cousins, Karen Elias and Robert Shalvey, amateur genealogists who were extremely helpful with matching various DNA records of others who turned up on Oliver's test as distant cousins.  At the end of weeks of exhaustive work that turned up potential Brady relatives traced to Cavan, Elias and Shalvey told Nicky that he should try and contact Pabon directly because she hadn't logged into her Ancestry.com account in several months.
Pabon is a 52-year-old public school teacher in Queens, married with three grown children. An intensely proud Irish American and a regular visitor to Ireland, she is the daughter of Mary Brady's youngest sister, Patricia, and the late Hugh McGranaghan of Co. Donegal.
It was two Christmases ago that her twin brother – she is one of five – gave her an Ancestry.com test kit.  She sent it off and never thought a thing about it.  Looking for lost relatives was the last thing on her mind – she knew all there was to know about her family, or so she thought.
"I just did the test for fun and filled out my family tree, and that was it," she told the Irish Voice.
A phone call from Northern Ireland in March of this year changed everything for Oliver, Michelle and a host of other Bradys in America, Ireland, and England.   Nicky found Michelle's phone number via whitepages.com and made the call. 
Her husband answered and at first thought it was spam, but the accent on the other end of the line made him reconsider. He handed the phone to his wife.
"I was really afraid that Michelle would hang up on me, which by the way I would have totally understood," Nicky says.   "These kinds of phone calls can be really shocking."
Nicky had no idea how shocking the story of his father was going to get.  He discussed the findings of his genealogy research with Michelle, asking her if she knew of a Mary Brady from Co. Cavan.  Indeed, she did. Mary Brady was her maternal aunt.
Nicky wondered if Mary's middle name was Josephine.  Michelle was unaware but vowed to find out.  She asked her first cousin Padraig Haughey, Mary's middle son in New York, and sure enough, Josephine was it.
Read more: I took a DNA test and was shocked at what I discovered
That and other evidence led to an irrefutable conclusion: Oliver Bonnes had a large new biological family, including three half-brothers and dozens of first cousins. 
"It's just mind-blowing," said Nicky.  "I mean, we just never expected this. We're just thrilled, to be honest, but it was a total surprise."
The Bradys of New York, Cavan, and England also got a huge surprise: they had a new brother/nephew/cousin with four sons of his own. 
"I found it unbelievable at first.  We were stunned. The Brady family always grew up so religious," said Michelle.  "So, I asked my mom and she said not in a million years would Mary have gotten pregnant and had a child out of wedlock.  I told her about the call from Nicky and the details and she became very accepting. My mom is sad that her sister had to take such a secret to her grave."
The families came face to face via Skype for the first time this past Easter and planned to meet in person over the summer. Michelle and two other New York-based Brady cousins, James Corry and Maura Mahon, traveled to Randalstown to meet Oliver and his sons in the summer, and everyone got on famously.
Touchingly, Oliver reunited with two of his three half-brothers, Sean and Liam, in Birmingham in July.  They visited their mother Mary's grave, something that only a few months ago would have been inconceivable to Oliver.
"It was incredibly touching," he says.  "And to have met my two brothers at the same time…I can't put it into words really."
Coming face to face with brother number three, Padraig, on Sunday, and all the new cousins were more than Oliver could have ever wished for.  He had traveled to New York before, but never for something as momentous.
"It's so emotional. I was so nervous. I couldn't stop thinking about it. Everyone is so lovely," he said.
Michelle, speaking for the Bradys, returns the sentiment.  "We welcome Oliver and his family. They've been great, and we are happy to have them as part of our family, she said.
Happiest of all, Michelle and Oliver agree, is the late Mary Josephine Brady Haughey, now that her whole family has finally come together.
"I believe," Michelle said, "that Aunt Mary would be thrilled with how things have worked out."
Have you had any successes tracing your own Irish family roots? Let us know in the comments section below. 
Read more: Who were the Black Irish, and what is their story?