The Old Jail Museum of Jim Thorpe, Pennsylvania, where seven Irish coal miners with the Molly Maguires were hanged, is for sale by its owners of 23 years, Betty Lou and Thomas McBride.
The Old Jail Museum of Jim Thorpe, Pennsylvania is one of the foremost memory keepers of the Molly Maguires, the Irish coal miners of Carbon County who spearheaded one of the first labor movements in American history and paid the price dearly, in many cases with their lives.
After nearly 24 years as a faithfully restored museum, it is now for sale by its owners, Betty Lou and Thomas McBride.
Read More: Anniversary of execution of 20 Irish Molly Maguires, biggest US federal execution ever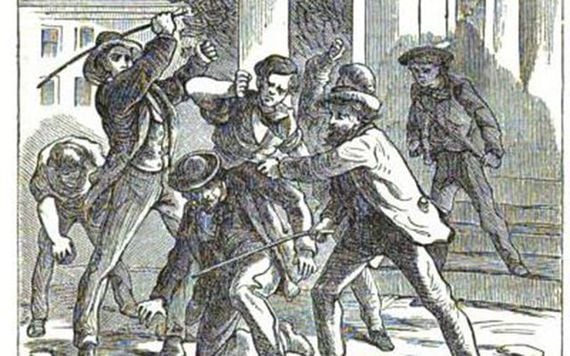 7
Seven Mollies, as they were called, were executed in the old jail of Jim Thorpe, formerly known as Mauch Chunk. On June 21, 1877, now known in local history as the Day of the Rope, five men, Alexander Campbell, Edward Kelly, Michael Doyle and John Donohue were hanged at the same time on gallows erected inside the Old Jail Museum cell block that day.
Then, on March 28, 1878, Thomas P. Fisher was hanged, and on January 14, 1879,  James McDonnell and Charles Sharp were hanged as well on the same gallows.
7
The building served as Carbon County's official jail from 1871 through to 1995, when a more modern jail was built in Nesquehoning and the Jim Thorpe building went up for sale.
7
According to a recent report in the Times-News online, when Thomas bought the jail for $160,000 in 1995, Betty wanted nothing to do with it. But gradually, she became a fierce advocate for spreading the story of its history and the Molly Maguires, as the McBrides dedicatedly restored the old jail and turned it into one of Jim Thorpe's - known as the little Switzerland of the Poconos - premier tourist attraction.
Read More: How the Molly Maguires fought America's first labor war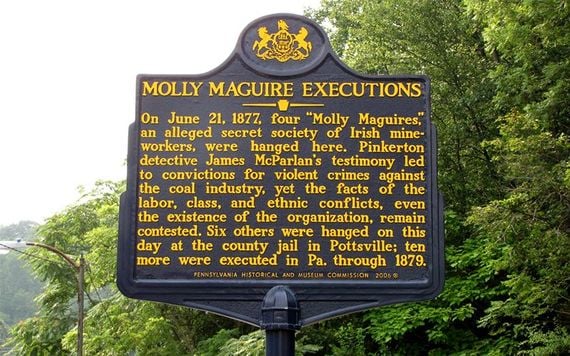 7
The building has over 72 rooms, including jail cells, a courtroom, and the warden's family quarters and kitchen. One of it's best-known elements is a handprint, believed to be from one of the hanged Mollies. Per the Old Jail website:
Before their hanging, the men proclaimed their innocence and today historians believe many of the condemned men were falsely accused of murder.  Before his hanging one man put his hand on the dirty floor of his cell and then placed it firmly on the wall proclaiming, " This handprint will remain as proof of my innocence."  That handprint is visible today for everyone to view even though past wardens tried to eradicate it by washing it, painting it, and even taking down part of the wall and re-plastering it. The handprint was originally thought to be Alexander Campbell's, but after research, it is now thought to be Thomas Fisher's.
The Old Jail is for sale for an asking price of $750,000. And while the McBrides told the Times-News that there have been some offers thus far, their main priority is that it goes to someone who will continue on their legacy of honoring the Mollies and telling their story.
7
"It's going to be very hard emotionally to let go," Betty said. "I thought we'd only be here 5-7 years because we're project people. We fell in love with the people. It became a challenge. How can we be a little bit better this year? How can we make things more interesting? I think we've rounded it out to a really nice business."
Read More: Exploring the legend of the Molly Maguires 
And her biggest hope is to find a buyer who will perpetuate that business.
7
I would like to keep it in tourism in some way," she added. "If someone walked in and handed us cash, would we take it for a non-tourism purpose? I don't know the answer to that right now. I think that is why we haven't sold it before this. We keep not wanting to make that choice if it comes to it."
Get the full story at the Times-News, and learn more about the Historic Old Jail via their website.