Ireland's Great Hunger expert refers to two specific reports cases of cannibalism during a 2012 New York conference on world food shortage.
Cannibalism was likely practiced in Ireland during the Famine, Professor Cormac O Grada of University College Dublin told a New York conference on world hunger at Fordham University.
O Grada, a leading expert on Ireland's Great Hunger, said there were many rumors about it in Ireland, but one documented report involved a John Connolly in the west of Ireland who came before the court on theft charges.
Read more: 800 Irish famine dead to be memorialized with Celtic Cross on Boston island

In the course of the prosecution, it emerged that the family was in such desperate straits that his wife had eaten some of the flesh off the leg of the dead body of her son.
The son's body was exhumed and it was discovered that his flesh was indeed missing. Connolly was immediately discharged, O Grada noted, as the desperate condition of the Irish Famine victims was taken into account.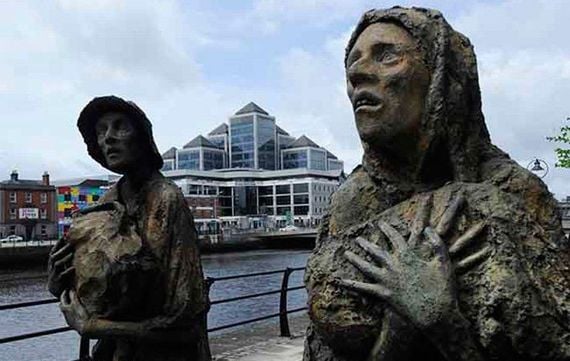 3
Another case of cannibalism was reported in The Times on May 23, 1849. In Mayo, a starving man was reported to have "extracted the heart and liver...[of] a shipwrecked human body…cast on shore". 
The 2012 conference, entitled "
The Fight against Hunger: the History and Future of the Irish Role in Humanitarian Assistance
," also heard from Concern CEO Tom Arnold and renowned Third World expert physician Dr Kevin Cahill. It was organized by the UCD Clinton Institute and The Institute of International Humanitarian Affairs at Fordham.


Brendan Rogers, Director General of Irish Aid for the Irish government, stated that he was optimistic that in our current modern times, hunger could be ended by expanding on three policy areas.

They were linking relief rehabilitation and development together, strengthening international partnerships and using a combined approach to tragedies and building up local institutions and communities to help manage crises.

"If we work together on those three fronts I firmly believe that within a generation we can eradicate acute malnutrition and we can seriously reduce the extent and impact of natural and man-made disasters," he said.

Tom Arnold, Concern's CEO, stated he was careful never to use the word famine when talking about huge hunger and malnutrition problems as he did not want to sensationalize the problem of world hunger in any way.
Read more: Closing Famine museum, a "slap in the face to the Irish Catholic community"
* O Grada's book "Famine: A Short History" is available from Princeton.
* Originally published in 2012.