Ordinary but extraordinary people's lives of the last generation of Irish to move to America chronicled as the "Golden Door" has been closed and immigration is no longer an option.
A new book "Irish Transatlantics 1980-2015" by Ide B. O'Carroll chronicles the end of the Irish-born coming to the US. 
The 1965 Immigration Act essentially finished European migration and the current anti-immigrant mood in the United States makes it almost impossible to see immigration reform so there is no other analysis but that the last generation has arrived.
Twenty million or so Irish emigrated to America over the centuries and now the "Golden Door" is shut firmly in our face.
What of that last generation then? As usual, economic circumstances in Ireland meant that many had only one option: to leave.
They arrived in America full of hope.
It seemed likely that immigration reform would occur, that Presidents Bush, Clinton, Obama, Senator John McCain and Ted Kennedy were for it so what could go wrong?
Plenty as it turned out.
The Irish themselves had their own lobby. First the Irish Immigration Reform Movement (IIRM) in the 1980s, a grassroots group that won the Donnelly and Morrison visa programs and the Irish Lobby for Immigration Reform (ILIR), in 2006, which attempted the same success.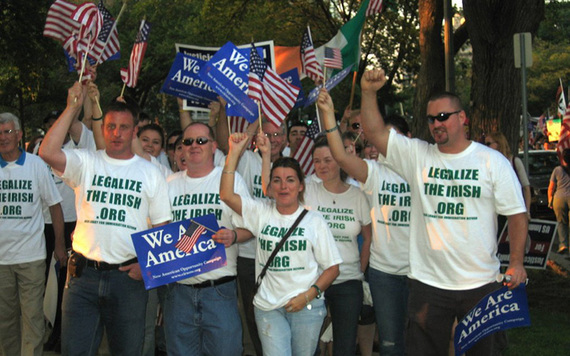 4
At the inaugural ILIR meeting, an undocumented woman quoted in Irish Voice newspaper stated: "I'm not running from anything in Ireland, and I don't want to be running away from here. I want to stay and I am going to work to stay. That is why I came here tonight. We will save ourselves."
It was a noble sentiment but unlike when the IIRM were operating so successfully, the shadow of 9/11 and a simmering hostility to immigrants had begun to assert itself. Nonetheless, a bill passed the Senate. It seemed within touching distance.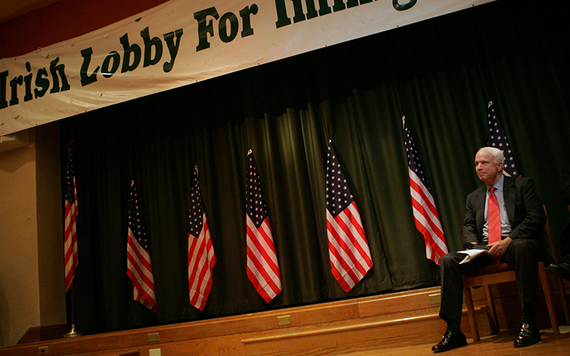 4
But legislative inertia and downright bad timing ruined the rising hopes. As bills crashed to defeat, many Irish gave up and returned home
For others, it was a hard station, but they stayed in situ, undocumented, many to this present day.
The book "Irish Transatlantics 1980-2015" is by Dr. Íde B. O'Carroll, a nationally known expert on Irish immigrant issues who teaches at the University of Massachusetts.
4
She deliberately does not use the term "immigrant" in the title. She is correct in that because of modern advances such as Skype, WhatsApp, low airfares, Facebook and other communication platforms contact with home is a given.
Many of the interviews in the book also formed part of the NYU Irish Oral History Project, which is a vital chronicler of these times.
She has profiled 20 people who represent the emigrants of the late 20th century. Many, like Boston attorney Greg Glynn, did great work for their fellow Irish on immigration.
What is intriguing for many of those who moved back to Ireland eventually, like Glynn, is the immediate tension they say they felt that somehow they were looked upon differently now back home, that their American experience did not matter. It is a deep Irish insecurity about its own diaspora and O'Carroll notes it well.
The stories are uplifting. There are women like Catherine Kelly once illegal and terrified, who found a way. There's Rose Fine, a New York-based Irish Jewish Catholic actress, who ended up running her own coffee shop business in Brooklyn.
Professor Larry McCarthy had an extraordinary rise from penniless immigrant to being head of New York GAA and a Professor of Sports Management.
Ordinary but extraordinary people are featured -- the last of the Irish. What was unimaginable has come to pass, which makes this book a truly historical chronicle.
Read more: Is No Irish Need Apply coming into play with the US Green Card lottery?