Eunice Kennedy was born on July 10, 1921. Below, a look at the Kennedy's lasting legacy.
When you are born ahead of your time you have two choices, wait until they catch up or drag them along kicking and screaming. There's no question which choice the late, great Eunice Kennedy made.
Read More: Dark secrets about the Kennedy family you didn't know
The cigar smoking, indefatigable, devout Catholic from America's first family (who died in 2009, aged 88) was certainly no shrinking violet. When her conscience demanded she take action she was utterly unstoppable. Growing up in the long shadow of her famous brothers, she had ample time to see how political power was created, wielded or denied. The hard lessons were never lost on her.
But it was a cause that was very close to home that really gave her life its character and ignited in her the same passion for social justice that animated her brothers. Growing up she had witnessed first hand how the medical establishment had betrayed her beloved older sister Rosemary, who was born with an intellectual disability at a time when it unarguably placed her life in danger.
3
Shamed by Rosemary's condition in the way many people of the period often were, in 1940 Joe Kennedy arranged for the first of her several prefrontal lobotomies, which immediately failed and left her permanently incapacitated.
Rosemary spent the rest of her life in a gloomy institution in Wisconsin with very limited contact with her famous family, and there is no question that her sad fate helped inspire her gifted sister to work hard to reform how we treat, engage and talk about people with intellectual disabilities in America and throughout the world.
Read More: How much is the Kennedy family worth?
Whilst Joe Kennedy groomed his sons for the White House and the Senate, his Stanford educated daughter Eunice used her family's prominence and her brother's political power to launch a hugely successful worldwide civil rights movement on behalf of children and adults with intellectual disabilities.
As Pulitzer Prize-winning author Eileen McNamara writes, it was often faith and anger that drove her. It was Eunice Kennedy's misfortune to be born a woman in a house run by the paternalistic Joe Kennedy in 1922; but it was also her misfortune to be born in the United States between the world wars, where women were seen as adornments, helpmeets and housewives, not political leaders.
Nor did her own struggle end with the turn of the century or the many successes of the women's movement. As Eileen McNamara notes in her outstanding new portrait of the famous Kennedy sister, 'Eunice, The Kennedy Who Changed The World,' even when she died in 2009 the paper of record, The New York Times, omitted her name and misidentified her two sisters Rosemary and Kathleen in the obituary photograph, reversing their names.
"Invisible or interchangeable," McNamara writes. "That was the lot of Joseph P. and Rose Fitzgerald Kennedy." It's a withering comment, but it's irrefutable. To Joe, to the family and the press, they were simply adornments. But Eunice was having none of it. "Dear Daddy, I know you are very busy," she wrote to her father in Hyannis Port in the late 1950's, "I also know you are advising everyone in that house on their careers so why not me?"
You can tell from her plaintive tone that she was wounded. She had every right to be. Joe was consistently putting the boys first and, although he loved all of his family, that basic arithmetic would never change.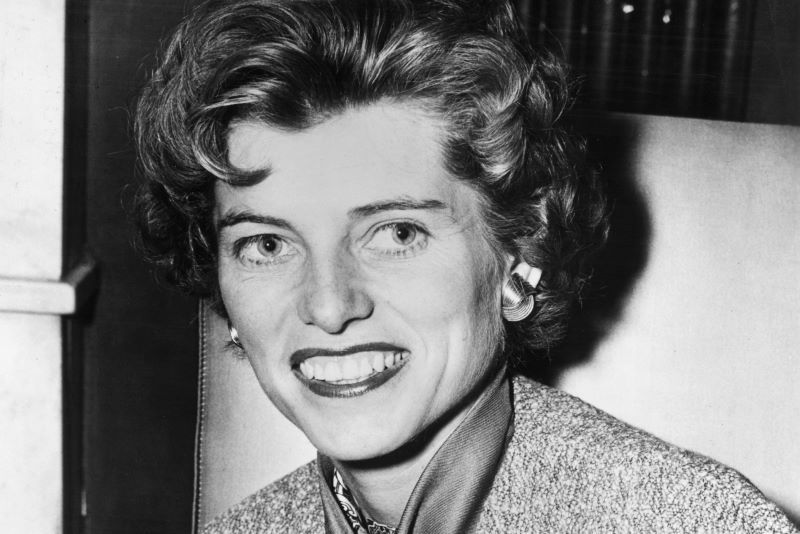 3
Read More: Scandalous, rebellious, and tragic life of JFK's sister Kick remembered
It can be hard now to imagine how curtailed Eunice's career was by her sex. Growing up, her parents had treated the boys of the family not only as leaders but, she writes, as young gods. "We yearned to please them and be acceptable," she writes years later.
Where some women would think to overturn the tables, Eunice and her sisters thought only of keeping the peace and hoping for some scraps of attention. It was the tenor of the times. But it was Eunice, writes McNamara, who would leave behind the most lasting legacy.
In 'Eunice, The Kennedy Who Changed The World,' McNamara successfully rescues her subject from the fringes of her brothers lives and places her back where she belongs, at the center of her own story.
Being overlooked herself for years, it's no wonder she later became a champion for others in a similar boat. In a way, it became her style. Over and over again she gave credit to her brothers for visionary initiatives that had been hers, McNamara writes.
Read More: JFK's words remind us of the true meaning of St. Patrick's Day
Turning a Chicago parks program into the Special Olympics, by its fiftieth anniversary it had served more than 4.9 million athletes from 172 countries with more than 1 million coaches and volunteers.
What had begun as a private passion to redress the wrong that befell her older sister eventually transformed her families directionless charitable foundation into what McNamara calls an engine for scientific research at universities from Stanford, to Wisconsin to John Hopkins.
But in particular Kennedy helped to change the way the nation and the world talks about people with intellectual disabilities, working to free them from the Victorian era institutions they were warehoused in, only to be quickly forgotten, and instead sourcing new national community-based group homes that offered educational inclusion that would change the lives of millions.
Anger drove her, as did her faith, and her lifelong belief that every life, no matter how compromised, had value, McNamara writes. She left her fingerprints on transformative legislation like the 1990 Americans with Disabilities Act, which bars discrimination against the disabled in every area of public life, a life-transforming gift to millions.
Read More: John F. Kennedy establishes the Peace Corps on this day in 1961
Hundreds of books have been written about her brothers, but none have been written on the family member who made its most enduring mark, McNamara writes. 'Eunice, The Kennedy Who Changed The World' is her attempt to alter that fact.
In the almost 30 years she worked at The Boston Globe newspaper McNamara says she did not know Eunice Kennedy Shriver, although she did get to know her famous brother Ted, who repeatedly used the same word to describe his passionate sister: formidable.
The longstanding taboo that the Irish have over mental health issues was carried overseas to the Kennedy clan. Joe Kennedy neglected to tell his wife of the surgery he had approved for his eldest daughter Rosemary, and when it failed he did what so many Irish men of the period did to troublesome women, he disappeared her into an institution where she could neither be seen or heard.
It was only when he was felled by a stroke in 1961 that Eunice felt safe enough to defy her father's edict and bring her sister back out of the shadows. In a way the restoration was twofold, she was not only redressing her father's choice but her own McNamara writes.
When Rosemary had been banished, like a princess in a fairytale, she hadn't spoken up to protest the decision. The sister that she loved and had taught to sail, the one she had hiked the Alps with and had danced with at debutant balls, was being written back into the life of the family after decades in seclusion.
There was a "mania" in Eunice's efforts to expiate that familial guilt for the rest of her life, McNamara concludes, and that effort benefited not only her conscience or her families but the entire world.
Read More: Latest addition to the Kennedy clan named after her great-grandfather
She didn't see herself as a saint and didn't want to be seen as such. Instead, she identified with mavericks like the pilot Amelia Earhart, any woman who displayed true grit and determination in a male-dominated world. And in finding a way out of the box her family and country had placed her in, she helped free millions.