Senior civil servant Lee Hegarty was reportedly compensated in 2012 after claiming to be "offended" by the Queen's portraits in the government offices
The Queen's portraits have reportedly been removed from the Northern Ireland Office at Stormont in Belfast after a senior civil servant was awarded compensation after claiming to be offended by the photographs.
Read More: When a London Irishman broke into Queen Elizabeth's Buckingham Palace chambers
The News Letter reports that on July 7, Lord Maginnis told the House of Lords that Lee Hegarty, a senior civil servant at the Northern Ireland Office (NIO), had been awarded £10,000 ($12,000) in 2012 after claiming he was offended by the presence of photographs of Queen Elizabeth and her husband in the government offices.
Lord Maginnis said: "This individual, who had worked in the NIO for between 15 and 20 years, claimed that under human rights legislation it was unfair to him to have to work where he was offended by portraits."
"The portraits were removed and the offended party, a Mr. Lee Hegarty, was consulted on what should replace them."
"He suggested that the portraits of Her Majesty the Queen and the Duke of Edinburgh should be replaced with photographs of, at best, the Queen meeting people during engagements in Northern Ireland."
"One such photograph features Her Majesty the Queen shaking hands with the former deputy first minister, Martin McGuinness, at the Lyric Theatre in Belfast."
4
Read More: The Irish lord who captured Queen Elizabeth's heart
Maginnis went on to say that while he did not mind Hegarty's choice of replacement, he took issue with the compensation the civil servant received with permission from then-secretary of state Theresa Villiers.
"I have been told to look at the annual accounts to find out where the money came from – but it is not to be found. That should concern us."
Lord Maginnis added: "This is scandalous. It is an indictment of the Northern Ireland Office and of this government."
"We have lost all sense of reality when a portrait of Her Majesty can cause offense to a civil servant but we do not bat an eyelid when we deny closure and justice to unfortunate people who have been abused in the most outrageous manner imaginable."
"I urge the Northern Ireland Office not only to restore the original portraits of Her Majesty and the Duke of Edinburgh but to expedite payment of the comparatively paltry compensation due to the people who are more deserving than this opportunistic civil servant who, surely, must now be compromised in his position in the Parades Commission because of his bigoted stance over the Royal Family."
Read More: Longford man loses appeal over Queen Elizabeth Dublin bomb hoaxes
While Lord Maginnis primarily took issue with Hegarty's "secret" compensation, others are now questioning the removal of the Queen's portraits which The Independent reports have been replaced with landscapes.
A government spokesperson said on July 31: "The Northern Ireland Office takes its responsibilities under Fair Employment legislation very seriously and seeks to ensure a good and harmonious working environment for all staff; the requirements of which are set out in the 1989 Fair Employment Code of Practice."
"In line with the Equality Commission of Northern Ireland's Guide, Promoting a Good and Harmonious Working Environment, the Northern Ireland Office is sensitive to the display of 'posters, pictures, portraits or other displays that are more closely associated with one or other of the communities' and will consider any concerns raised by employees. I can confirm that the department takes steps to ensure no such images are displayed in Stormont House."
"Information on employees' personal data is sensitive, in order to comply with Data Protection Act requirements, and so I am unable to comment further."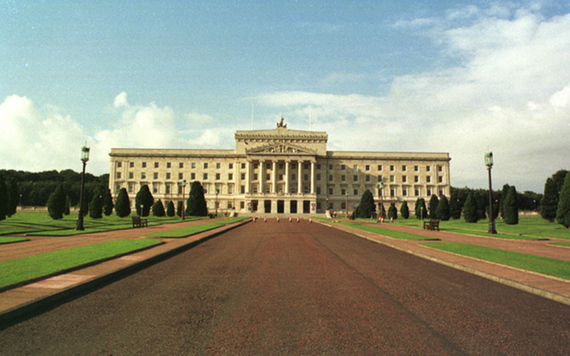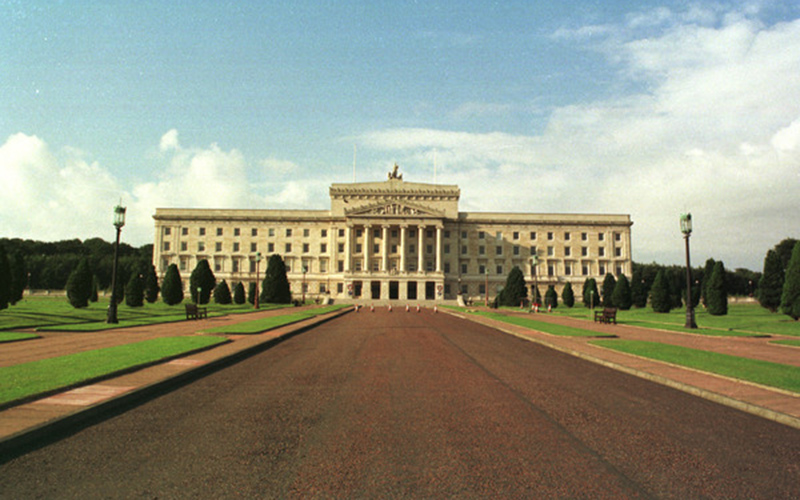 4
Read More: No-deal Brexit could lead to evacuation of Queen Elizabeth from London
Prime Minister Boris Johnson's response
Lord Empey, an Ulster Unionist Party politician, told The Independent he raised the issue with Prime Minister Boris Johnson during his visit to Belfast earlier this week.
Lord Empey said the Prime Minister "immediately looked puzzled and looked around in each direction for some guidance from officials on either side of him. One intervened with a comment about it being a personnel issue."
"There was no definitive response from him but the matter has been squarely laid on the table and we shall see what emerges," said Lord Empey, who added that he plans to pursue the "rather bizarre" matter further.
"'I think both he and the new Secretary of State will be on a steep learning curve to understand the nuances of Northern Ireland."
The Independent also reports that in a separate interview, Lord Empey said: "This case goes back to 2012, it was actually secretary of state Theresa Villiers who was in office when the case was settled, so it's not a new issue, but we made the very simple point that while respecting, of course, the fact that people here have different identities and aspirations, nevertheless if you are working in a UK Government department, it's not unreasonable to expect to see at some stage a photograph of the head of state."
4
On Thursday, as removal of the Queen's portraits at the NIO made headlines, Northern Ireland's Secretary of State, who was named to the position after Karen Bradley was removed, tweeted:
Proud to have a picture of Her Majesty The Queen on the mantle
piece of my private office at Stormont. I was delighted to see it there when I arrived last Friday. pic.twitter.com/wYbgNwRvWO

— Julian Smith MP (@JulianSmithUK) August 1, 2019
What do you think - should the Queen's portraits be removed from the Northern Ireland Office at Stormont in Belfast? Let us know in the comments