A US military veteran told a rally against President Donald Trump in Galway Tuesday night that it was important for ordinary Irish people to show that they rejected his divisive and confrontational policies
Former US Army paratrooper Tarak Kauff (77) said such protests should not be seen as "anti-American" but they demonstrated that ordinary people rejected what President Trump stood for on the eve of his visit to Ireland.
Dozens of people congregated in the incessant rain in Galway city center on Tuesday evening to hear a variety of speakers condemn the US first citizen for his policies in relation to the environment, wars in the Middle East, minorities, women's issues, and immigration.
Read more: Irish American businessman claims that Trump doesn't know how trade deals work
"People are out here because they are standing up for peace, the environment, for humanity, for the very world that their children will grow up in. It's not a matter of being against Americans. It's a matter of standing up for something which is so valuable, which is the planet we live on," Kauff told IrishCentral after addressing the crowd at Eyre Square.
"I have spoken to a lot of people since I came to Ireland. I have not spoken to anyone who doesn't despise Donald Trump. It's universal. People may like America and Americans, and say they need American businesses, but they despise this man. He's a despicable human being."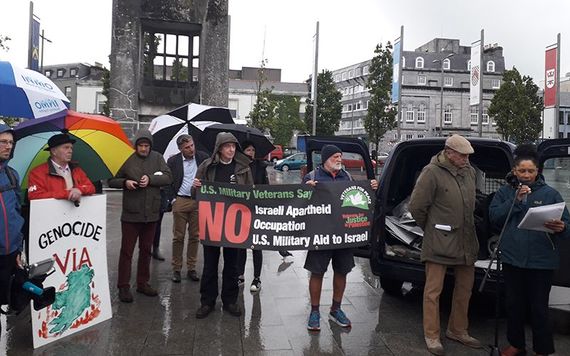 4
In March, Kauff and fellow US military veteran Ken Mayers (82) were arrested after trying to inspect a US military plane for weapons at Shannon Airport, which has been used by the US military despite Ireland's status as a "neutral" country since 2001.
The former Army paratrooper has had his passport confiscated by the Irish authorities pending a legal case and has been warned to stay away from Shannon Airport, the venue for the main protest against President Trump's visit to Ireland over the coming days.
Read more: Where to protest Donald Trump during his visit to Ireland
"I'm not shocked by the Irish Government's attitude to Shannon, but it's wrong. You have 80% of the people in this country who want Irish neutrality to be real. To be real, you don't let the US military use Ireland, just as you didn't let the Nazis during World War Two. They wanted to, but Ireland would not allow it," said Kauff, a member of Veterans for Peace.  
"It's a sham. It's hypocrisy. It's a farce. The Irish authorities say the US has told them that there are no weapons on board. You believe the United States? Hello! Something like three million US troops have passed through Shannon. It makes the Irish Government legally complicit in war crimes, under international law."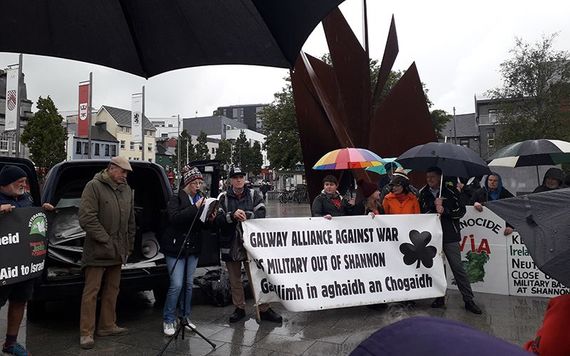 4
Kauff, from Woodstock, New York, said that many Americans did not believe in participating in wars all over the planet and claimed that Trump was now "the most unpopular President" the US has ever had.
A younger US military veteran, Will Griffin, recalled stopping off at Shannon on his way home from tours of duty in Iraq and Afghanistan over a decade ago.
"I came back from Iraq through Shannon in 2007," he told the Galway crowd. "It was unusual for us to have to leave our weapons on the plane. We wanted to buy Irish whiskey and we had no idea that we were violating Irish neutrality. We were not trained to think, we were trained to obey, to follow orders.
"A lot of war crimes happened because people just followed the chain of command. I would say that the Republican Party in the US is probably the most dangerous organization on the planet right now."
Cameron Keighon of the Amach LGBT organization in Galway said it was important to show solidarity with the LGBT community who were becoming increasingly marginalized in the US.
Read more: President Trump's security could cost Irish taxpayers $11 million
"More and more protections and rights are being eroded in the US," he said. "The LGBT community here in Ireland has fought for years for equality and respect. In the US, Trump has helped to create a climate of hatred and intolerance."
A number of speakers, including event organizer Dette McLoughlin, condemned President Trump for his misogyny and sexism.
"Far from making America great again, he is making sexism acceptable again," she said. "We are here this evening to speak out against sexism and misogyny. It is not acceptable that a misogynist is leading a global superpower such as the US."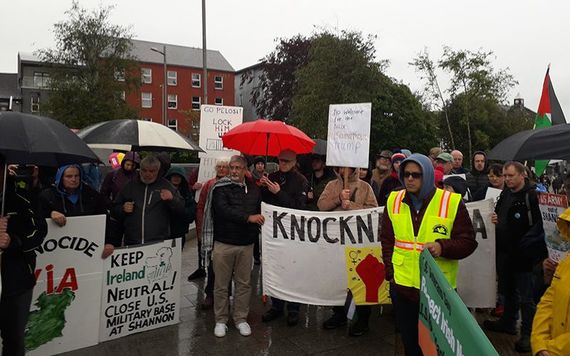 4
Trade union representative Mark Lohan said that President Trump did not have the support of organized workers' groups in both the US and Ireland.
"This is not an anti-American protest," he said. "It's an anti-neo-con, anti-neoliberalism protest, and we are standing in solidarity with all of those who suffer because of Donald Trump."
Former UN Humanitarian Coordinator in Iraq, Denis Halliday, said the protests in Galway, Shannon, and Dublin this week provided a chance for ordinary Irish people to demonstrate that they did not share President Trump's values.
"We want no part in our own Government's collaboration with Mr Trump," he said. "Shannon is, after all, a US military base so it's appropriate that the Taoiseach (Leo Varadkar) is going there to meet him. We want to stop the wars in the Middle East, stop the obscene trade in arms and weapons, and to protect Irish neutrality."
A heavy Garda deployment has been put in place around both Shannon Airport and Doonbeg for the visit of President Trump to County Clare.
President Trump is set to arrive in Ireland on Wednesday, June 5.
Read more: President Trump is beloved in this Irish town he saved from financial disaster
* Ciaran Tierney won the Irish Current Affairs and Politics Blog of the Year award at the Tramline, Dublin, in October 2018. Find him on Facebook or Twitter here. Visit his website here - CiaranTierney.com. A former newspaper journalist, he is seeking new opportunities in a digital world. 
All photos courtesy of Ciaran Tierney, digital storyteller.
This article was submitted to the IrishCentral contributors network by a member of the global Irish community. To become an IrishCentral contributor click here.