Steve Bannon's Irish ancestor was a DREAMER, claims comedian and TV host Trevor Noah. 
The Daily Show host Trevor Noah called out Steve Bannon on his Irish immigrant roots last night.
Before Donald Trump invented his brand of "America First" economic nationalism mixed with anti-immigrant sentiment, Steve Bannon brought these ideas to a mass audience with his alt-right news website Breitbart.
In an interview with CBS this Sunday, Bannon told his interviewer that "America is built on our citizens ... look at the 19th century, the control of borders. Economic nationalism is what this country was built on."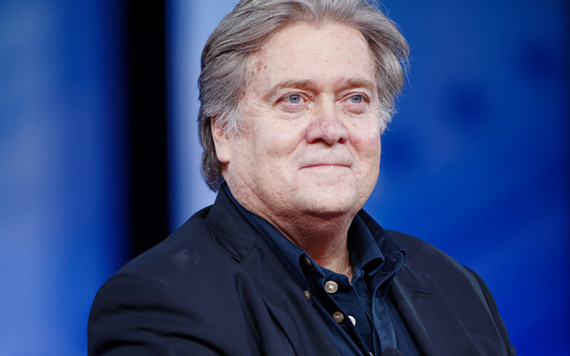 3
Noah, however, was distinctly unimpressed and pointed out that Bannon's great-great-grandfather arrived in America at a time when there were few restrictions on immigrants - a far cry from the situation today.
"Lawrence Bannon, arrived in the U.S. from Ireland by the 1850s, at a time when America's borders were so open that Irishmen could walk into the country with no passports, no visas, no background checks of any kind."Noah continued, "So in many ways, Steve Bannon's great-grandfather was a DREAMer.
"Yeah, and his great-grandson is a f***ing nightmare."
Read more: Steve Bannon a disgrace to his Irish Catholic roots
Bannon has previously spoken about his Irish Catholic, Kennedy-loving family background.
"I come from a blue-collar, Irish Catholic, pro-Kennedy, pro-union family of Democrats," Bannon told Bloomberg before the election.
"I wasn't political until I got into the service and saw how badly Jimmy Carter f***ed things up. I became a huge Reagan admirer. Still am."
Since then he's been hired and fired from the Trump White House but he remains one of the most powerful people in America.
3
He's returned to Breitbart but the President still calls him regularly - once his Chief of Staff is out of earshot.
"I feel jacked up," Bannon bragged recently to the Weekly Standard.
"Now I'm free. I've got my hands back on my weapons. Someone said, 'it's Bannon the Barbarian.' I am definitely going to crush the opposition. There's no doubt. I built a f***ing machine at Breitbart. And now I'm about to go back, knowing what I know, and we're about to rev that machine up. And rev it up we will do."
H/T: Occupy Democrats