US President Joe Biden rang Ireland's Peace Bell and planted an Irish oak tree at Áras an Uachtaráin on Thursday afternoon, April 13 as his three-day visit to Ireland continued. 
Biden is the first US President to ring the Peace Bell, which was commissioned by former President of Ireland Mary McAleese to mark the 10th anniversary of the Good Friday Agreement in 2008. 
Biden rang the bell four times - once for Ireland, once for the United States, once for his Irish ancestors, and once for peace - before shaking hands with Higgins. 
Suspended from oak trunks from Dublin and Antrim, the Peace Bell is commonly rung by visitors to Áras an Uachtaráin.
Joe Biden then rang the Peace Bell, which was installed to mark the 10th anniversary of the Good Friday Agreement in 2008.https://t.co/z6yLjzq6Zk

📺 Sky 501, Virgin 602, Freeview 233 and YouTube pic.twitter.com/uXdiCxEIXq

— Sky News (@SkyNews) April 13, 2023
Speaking after ringing the Peace Bell, Biden reiterated his hopes for the return of power-sharing in Northern Ireland.
"I hope that the government begins to function as it used to in terms of functioning as a representative body in the North.
"I think that's necessary and that's for you all to decide, not for me to decide."
Biden also talked about returning to Ireland and said it was great to have an "excuse" to come back. 
"I know it sounds silly but there's so many Irish Americans, like my relatives who got to America in 1844, '45, and '46, who've never been back here, and they talk about it," Biden said after ringing the Peace Bell. 
"It's just so great to always have an excuse to be back."
Biden recounted how his ancestors often made comparisons between Scranton, Pennsylvania, and the Boyne Valley in Ireland. 
Biden was also asked about the ongoing investigation into the recent leak of hundreds of classified Pentagon documents and said he was unable to provide an update at present. 
"I'm not concerned about the leak," Biden said. "I'm concerned that it happened. But there's nothing contemporaneous that I'm aware of that's of great consequence." 
Biden's ringing of the Peace Bell on Thursday was part of a larger visit to Áras an Uachtaráin, the President of Ireland's residence in Dublin.
Biden, who arrived an hour later than scheduled, was joined by his son Hunter and his sister Valerie, as well as a large delegation, including US Secretary of State Anthony Blinken, US Secretary of Agriculture Tom Vilsack, and US Ambassador to Ireland Claire Cronin. 
Biden attended a private meeting with President of Ireland Michael D. Higgins and later said that it "feels great" to be home.
 The US President signed the visitor's book, describing the Áras as "an incredible place" that is just like the White House. He also quoted an Irish proverb, "Your feet will bring you where your heart is."
Higgins presented Biden with a vinyl recording of Patrick Kavanagh's poetry from Claddagh Records, read by prominent Irish figures, including Higgins, Irish musicians Bono and Hozier, and Liam Neeson among others.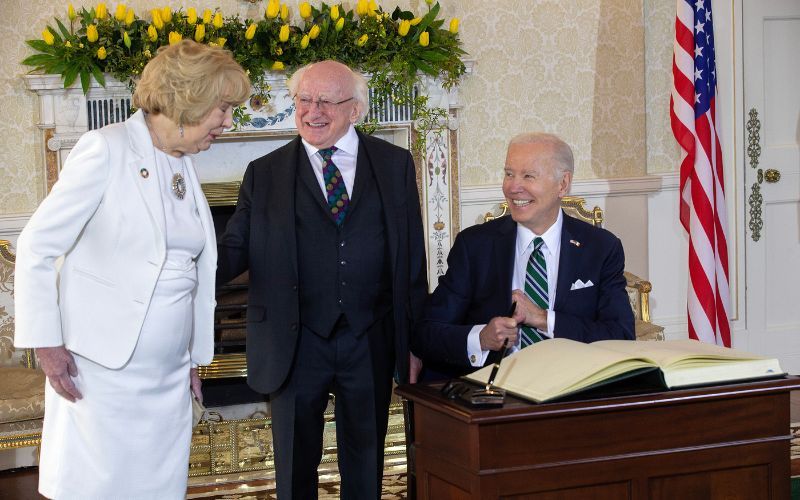 4
A military band performed both the American and Irish national anthems when Biden and Higgins reemerged from the Áras before Biden inspected a guard of honor. 
He was then introduced to an Irish delegation, including Tánaiste Micheál Martin, Defence Forces Chief of Staff Lieutenant General Sean Clancy, and Garda Commissioner Drew Harris before returning inside for a private meeting with Higgins. 
Biden became the fifth US President to plant an oak tree at the Áras, following in the footsteps of John F. Kennedy, Ronald Reagan, Bill Clinton, and Barack Obama.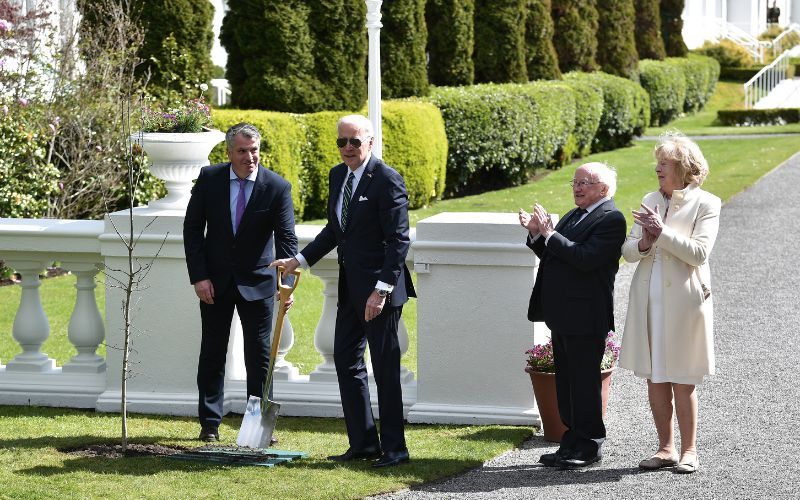 4
The US President asked Higgins whether his great-grandchildren will be able to climb the tree in the future. 
"Absolutely," Higgins replied. 
Biden paused to take a selfie with Newstalk reporter Henry McKean, who cheekily asked for one, before departing for an engagement with Taoiseach Leo Varadkar at Farmleigh House. 
The selfie 🤳 with Joe Biden. @NewstalkFM @SeanMoncrieff #JoeBiden pic.twitter.com/ZRfhiNev7K

— Henry McKean (@HenryMcKean) April 13, 2023
Despite his best efforts, Biden was unable to lure Misneach, Higgins's Bernese Mountain Dog, out for a photo opportunity on his way.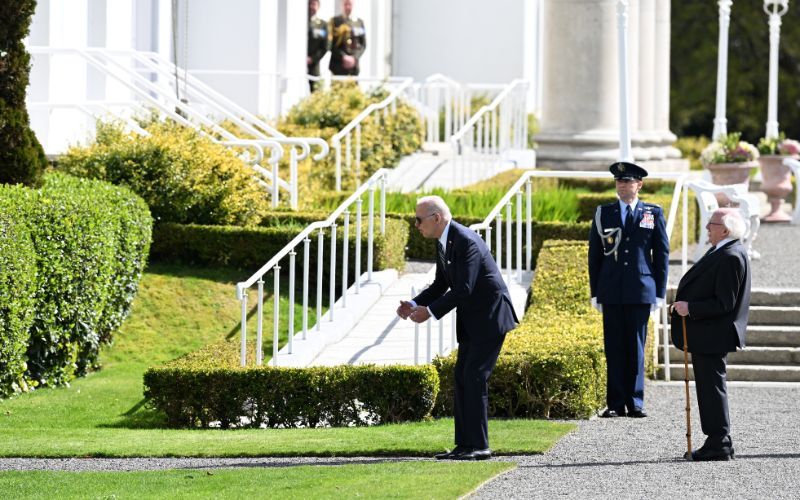 4
Elsewhere on Thursday, Biden will address a joint sitting of the Houses of the Oireachtas and will be guest of honor at a banquet dinner at Dublin Castle.