A quiet-spoken Scottish woman who has done wonders to help the survivors of Ireland's Magdalene Laundries find their voice said last week that there was still a long way to go before many of them can leave shame and fear behind them.
It was a remarkable week for the survivors of Ireland's notorious laundries. About 220 of the so-called "fallen women", many flying in from the US, UK, and Canada, were moved to tears when they were honored publicly for the first time at a special two day event in Dublin.
Others had traveled from all over Ireland to share their experiences in a public setting for the first time.
They heard the President of Ireland, Michael D. Higgins, tell them that their country had failed them. He described the treatment of vulnerable people who were locked up in institutions as a "deep stain on Ireland's past".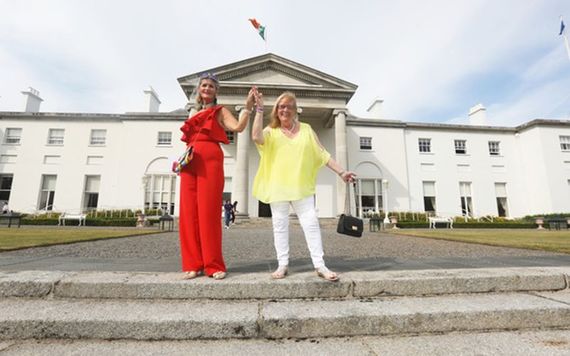 6
Many of the women cried openly when a huge crowd gathered to give them a sustained round of applause as they alighted from buses for a reception at the Mansion House. They were entertained by singers including Christy Moore and Philomena Begley at a special concert in their honor.
Read more: "Nuns took my childhood": This Irish woman escaped from a Magdalene Laundry as a teen in 1993
"Ireland failed you," said President Higgins. "Its authorities did not cherish you, protect you, respect your dignity or meet your needs, and so many in the wider society colluded with their silence."
An emotional Rachel Robinson watched the ceremony on television at home in Co Cork and wondered quietly how many women across Ireland were moved to tears by the scenes at the Mansion House and Aras an Uachtaran.
Rachel, who moved to Cork in 1993, is one of the unsung heroes of the Magdalene Laundry story. She set up a Facebook page, Solidarity With the Magdalenes, to give a voice to the survivors five years ago and has been amazed by how much their story has evolved.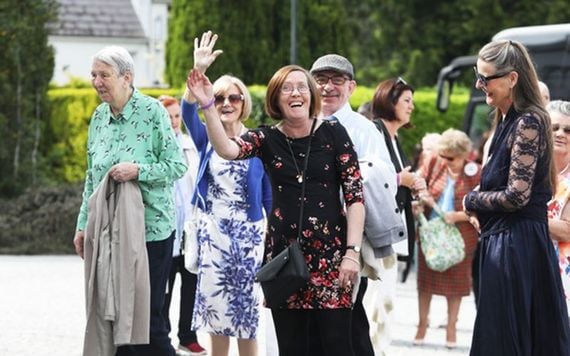 6
She believes there are thousands of women across Ireland, England, and the US who have never come to terms with their experiences in the laundries, where some of them worked as virtual slaves for decades.
Many have never told their family members of their experiences in Ireland's harsh institutions and may be still too ashamed or fearful to attend the kind of event which gave so much healing to participants in Dublin this week.
Read More: Remarkable film of Magdalene laundry women and nuns surfaces
Rachel set up the page to give the women a voice, to heal, and to share stories about their experiences and their campaign for redress. In the first couple of years, though, she was inundated with private messages because the survivors were too fearful to post publicly on the page.
While she was moved by this week's event in Dublin, she told Irish Central that there are still so many silent survivors dotted across the world. Many of them emigrated after leaving the laundries, where they were incarcerated and forced to work.
"When I first started the page, hardly anybody dared to 'like' a post or comment on it. There is still such a lot of shame about this. I really picked that up strongly when I started the page, but I persisted with it," said Rachel this week.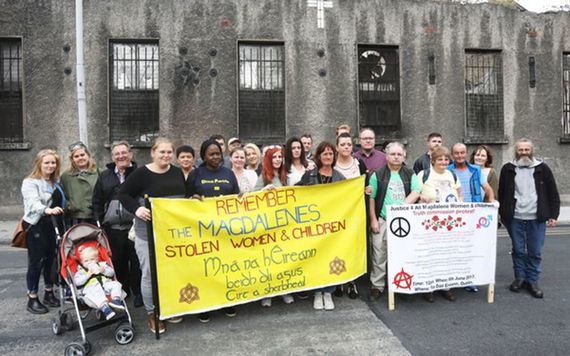 6
"A lot of the Magdalene women would have been very silent if and when they came on that page. It was only in the past year or two years that some of the women have become vocal. So many people wrote to me privately, but they didn't dare to post or reply publicly on the page."
Part of Rachel's motivation in setting up the page was the realisation that she could have been incarcerated herself. She became a mother at 16 and her parents almost sent her to a Mother and Baby Home in Scotland. She knew how cruel and harsh life could be in such an institution."
She was invited to address a meeting for Magdalene Laundry survivors in Cork a few years ago and was struck by how fearful many of the women were about speaking in public about their experiences.
Rachel said that this week's acknowledgement of their pain in Dublin was a brilliant event, but it was also important to remember that so many other women are living with the pain and shame of their experiences every day.
"This story is very much alive," she said. "These women and their families are very much alive. In Cork, I was struck by how afraid many women were to speak. I felt compelled to open up the page and make it public, to address the mindset of people who had 'dehumaized' these women and had no idea of what they were living with."
The women were given numbers when they were incarcerated in the laundries. They were told not to divulge their names or backgrounds to each other as they slaved away washing clothes for people across Irish society for months or years. Some of them did not want to leave when the laundries began to close in the 1980s and 1990s, because they had become so institutionalised.  
Rachel is passionate about her work. Through the page, she has come into contact with many survivors and their families from across the US and England. Many of them never discussed their years in the laundries before making contact with her page.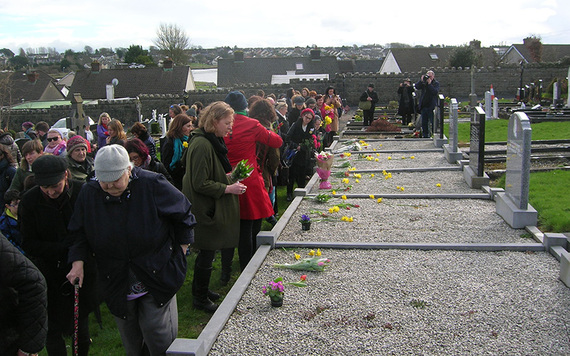 6
They have told her harrowing tales of cruelty, mistreatment, violent beatings, verbal abuse, and being placed in solitary confinement. Many have told her that they simply had to leave Ireland upon their release – there was too much shame attached to their incarceration for them to return to their hometowns or villages.
"Many of the women don't want to go on Facebook or attend events. If they have a family, they are very protective about their families. They might be tortured themselves, but they don't want to let their own families know that they were in the laundries," she said.
"Sometimes I get letters from the children of women who were in the Magdalene Laundries. They have seen the images on TV this week of the survivors being honored in Dublin, but their mothers are too broken to take about it or to want to attend an event."
Read More: Magdalene Laundries survivors share heartbreaking stories in new online collection 
Rachel says the women who attended the wonderful two day event in Dublin were those who were brave enough to go public, but many more just could not face their terrible past or admit what they went through to their own children.
"It was easier to set up the page because I wasn't a Magdalene survivor myself. I had the privilege to do that and not suffer any backlash. My heart was in the right place. I asked people to stand in solidarity with the Magdalenes, to let them know that we believed their stories. I felt compelled to do that, to show that there were so many of us who cared," she said.
"I wanted these women's voices to be heard in any way that was possible. Until they could speak, I saw my role as a person who could share blogs or newspaper articles to portray them in a positive light.
"Many women would contact me privately to say that they liked a post but were too afraid to reply to it publicly. Men in the US or England often write to me as well about their mums. There were only 220 officially in Dublin this week, but there are still lots of voiceless women out there who are too scared to come forward."
This week, President Higgins paid tribute to the bravery of the survivors who had the strength to come forward and begin to tell their stories. They began to force Irish society, and the institutions which had conferred immunity on themselves, to look them in the eye and listen to their personal histories.
6
Read more: 2,000 Irish children were illegally adopted in US from Magdalene Laundries
Rachel sees great power in sharing experiences and telling stories. Two women who were locked up together in Galway had a tearful reunion in Dublin when they exchanged details about their lives after meeting for the first time in over 30 years. When they were incarcerated together, they did not even know each other's names.
"The authorities tried to 'dehumanize' them to such an extent that they didn't even know each other's names," said Rachel.
"It can be a big strain on your emotions. For some, it's just too much. If you have got a family, it can be too much to deal with. People do blank things out, because they want to mind themselves. But people are also getting braver now. They are finding their voices. Now they have found their voices, I don't think they'll ever be quiet."
Check out the Solidarity with Magdalenes Facebook page for more.
 Ciaran Tierney is a journalist, blogger, and digital storyteller, based in Galway, Ireland. Find him at CiaranTierney.com.
This article was submitted to the IrishCentral contributors network by a member of the global Irish community. To become an IrishCentral contributor click here.