Tens of thousands of people marched through Dublin on Saturday, calling for the liberalization of Ireland's abortion laws.
Organizers claimed over 40,000 participants and said it was the biggest rally of its kind in the history of the state, and the first since Taoiseach Leo Varadkar announced earlier last week that an abortion referendum will likely be called in May or June of next year.
Live from the 6th annual "March for Choice". 82 percent of Irish people polled want abortion laws in Ireland to change. Read more here: http://irsh.us/2hDGNqx

Posted by IrishCentral.com on Saturday, 30 September 2017
The referendum is to repeal the Eighth Amendment which was added to the Constitution in 1983 and gives equal weight to the life of an expectant mother and the child in the womb.
Terminations are currently only permitted when the life of the mother is at risk.  The maximum penalty for accessing an illegal abortion in Ireland is 14 years in prison.
Read more: Ireland will hold an abortion referendum in 2018
The Abortion Rights Campaign, which organized Saturday's March for Choice, says there needs to be a full repeal of the Eighth Amendment and access to free, safe and legal abortion "for all who need or want it."
The march started on Parnell Square in Dublin and took approximately 45 minutes to pass the Spire on O'Connell Street less than a quarter mile away before reaching Merrion Square where a number of speakers addressed the crowd.
Pro-life groups also took to the streets in a counter protest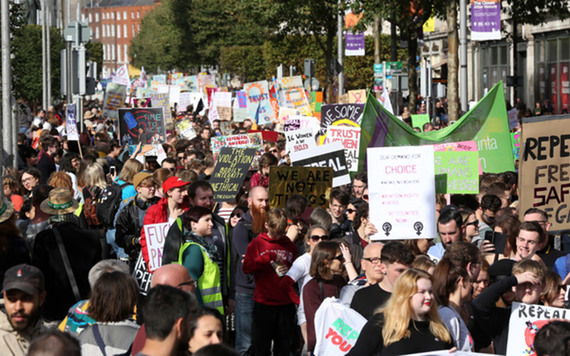 3
Participating groups included the Abortion Rights Campaign, the Coalition to Repeal the Eighth and the Union of Students in Ireland, as well as an array of left-wing political groups.
Chants of "My body my choice" and "Hey hey, Leo, the Eighth Amendment has to go" were heard as protesters let off smoke bombs and held aloft signs reading: "Get off the fence Leo" in relation to the Taoiseach's stance on the issue.
Anti-abortion activists staged small counter-events in Dublin and across Ireland calling for the Eighth Amendment to be preserved, indicating protests from both sides are likely to intensify in the lead-up to the referendum.
Pro-choice rallies also took place across the world in solidarity
3
A pro-choice rally was staged outside the Irish Embassy in London, with campaigners highlighting the numbers of Irish women who have traveled to Britain for an abortion in the last three decades.   
Mara Clarke of the Abortion Rights Campaign said at the Dublin demo that the organization had financially helped 801 women last year from Ireland who could not afford to pay for an abortion in Britain.
She expressed confidence that the Irish public will vote in favor of liberalizing abortion.  "I can't wait for our service to be obsolete," she said.
How would you vote on an abortion referendum in Ireland?  Let us know in the comments section below.