Ireland's Great Hunger Museum at Quinnipiac University in Hamden, Connecticut has until June of 2020 to source funding that would keep it open says Quinnipiac University's President Judy Olian.
Quinnipiac University's President Judy Olian faced a barrage of criticism last week after the Irish Voice/IrishCentral exclusively revealed that the museum will close if it cannot financially support itself.
Olian was due to meet on Tuesday with her Quinnipiac predecessor, Dr. John Lahey, who led the university for 31 years before retiring last June and was the driving force behind the 2012 creation of the museum, home to the largest collection of Irish Famine art in the world.
7
The Irish Voice has also learned that the push to shutter the museum is led by William "Bill" Weldon, chairman of Quinnipiac's Board of Trustees and the former chairman and CEO of Johnson & Johnson.  Weldon, according to multiple sources, excluded Lahey from the process of selecting his  predecessor, and sees the Great Hunger Museum as "not essential."
Read more: Quinnipiac's Irish Famine Museum seeks public financial support
Weldon, who was described by The New York Times in 2011 as "the most complacent chief executive in America" due to multiple missteps with Johnson & Johnson products including Tylenol and Benadryl, is a 1971 graduate of Quinnipiac.  Sources said he sees "only the bottom line," and is not invested in Quinnipiac's reputation as an institution of cultural importance, particularly in relation to the Irish Famine.
7
The Irish Voice also spoke to Brian Burns, the attorney, and philanthropist who donated a number of pieces of art to the Great Hunger Museum. He says he is "beyond furious" that the university could close the facility down and criticized the "short-sighted" new leadership.
On Monday, Olian sent a letter to "Faculty, Staff, and Students," to "provide some context and shed light on where we are" in relation to the Great Hunger Museum as there had been "some press" in relation to the issue.
7
"Our core mission at Quinnipiac University is to excel in scholarship and education to prepare students for 21st-century lives and careers in the midst of unprecedented change and complex societal challenges – challenges that include keeping education affordable for individuals of every background and economic circumstance. To that end, we are in the midst of a comprehensive and inclusive strategic planning process to determine where additional investments or reallocated resources are needed – in people, programs and facilities. This includes Ireland's Great Hunger Museum," Olian wrote.
"The board of trustees and I established a goal of financial self-sufficiency for the museum by June 2020. Accordingly, the museum is seeking to raise philanthropic support as well as self-generated funds to continue operations amidst the many vital learning and scholarly imperatives of the university."
For the first time, Olian acknowledged that the Great Hunger Museum is a reflection of Quinnipiac's "values."
"The board and I have an unwavering commitment to educating our students and the general public to be enlightened citizens and champions of inclusive excellence. The lessons embodied in the art of the museum – lessons about hunger, oppression, political repression and immigration – are a reflection of Quinnipiac's values," she wrote.
"These lessons are taught in Quinnipiac's curriculum and centers in many forms, including through Ireland's Great Hunger Institute at the university, the Albert Schweitzer Institute, our religious affiliates, and the Lender Family Special Collection Room (An Gorta Mór) at the Arnold Bernhard Library, all of which are integral components of the Quinnipiac University learning and development ethos. These lessons will continue to be prominently discussed and debated at our university, and I encourage you to join me in doing so," she concluded.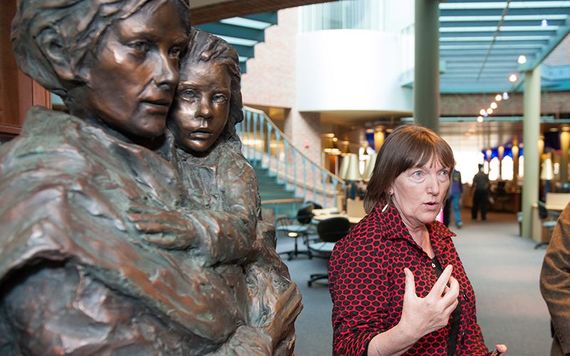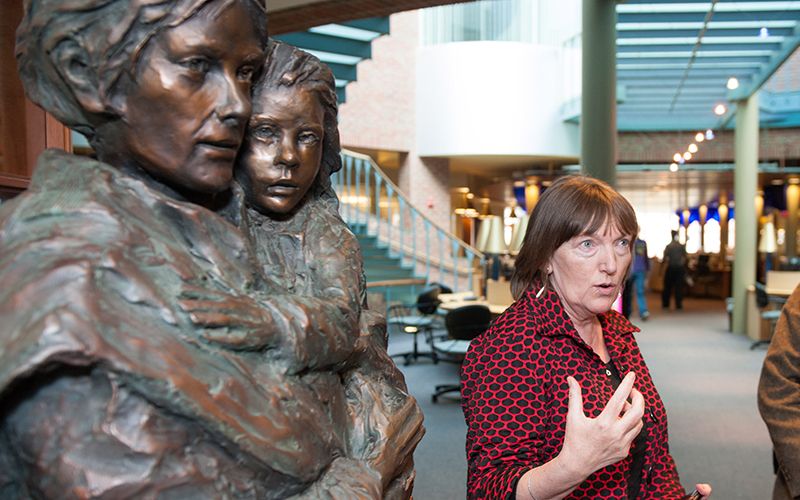 7
Ireland's Great Hunger Museum costs $350,000 each year to operate.  A spokesman for Quinnipiac told the Irish Voice on Monday that "we expect the fundraising initiative to succeed."
A note on the Great Hunger Museum's page last week thanked the public for its support and encouraged new memberships.
"Thanks to everyone who has reached out to Ireland's Great Hunger Museum in support of our mission and goals. Many have asked how to make a financial contribution. One of the best ways to support the museum is to become a member. There are many different joining levels, and every contribution directly supports the museum," the notice said.
Olian, 67, succeeded Lahey last July after a dozen years at UCLA where she headed the university's Anderson School of Management.  Lahey had been Quinnipiac's president for 31 years. During that time he grew enrollment from 1,900 to 10,000 students and bolstered the endowment from $3 million to $530 million.
Last month, Olian sent an email saying that Quinnipiac would not take part in this year's New York City St. Patrick's Day parade. Sponsorship of the march and the WNBC broadcast, which was $100,000 per year, was also pulled.
Quinnipiac had a large contingent in the parade for 30 years. A banner and place in the line of march costs $200. Lahey told IrishCentral last week that pulling Quinnipiac's banner, and denying marchers the joy of convening on Fifth Avenue, made "no sense to me."
7
Weldon, multiple sources told the Irish Voice, has no interest in building or even keeping Quinnipiac's Irish American legacy that Lahey spent years developing.  "He's totally against it, and that's why President Olian has disregarded the Great Hunger Museum," a source said.
Weldon stepped down as Johnson & Johnson CEO in April of 2012 "after a series of missteps over the past two years damaged his and his company's once-sterling reputations," CNNMoney reported.
The New York Times was even more scathing in its 2011 year-end review of the country's CEOs. "The most complacent chief executive in America has got to be Mr. Weldon of Johnson & Johnson. And maybe the luckiest as well, because he remains in his corner office despite an incredible collection of product recalls from all corners of the company: insulin pumps, syringes, hip implants, sutures, contact lenses, Tylenol (!), Benadryl, Rolaids, the list goes on.
"Johnson & Johnson is a highly decentralized organization, so it is unusual to see so many breakdowns in product quality and safety because they span such a wide range of businesses. When this happens, responsibility must surely rest at the very top of the enterprise, with Mr. Weldon and the culture he has set in place."
Weldon joined Johnson & Johnson as a sales rep after graduating from Quinnipiac in 1971 and worked his way up to the top leadership post. He grew the company's revenues by more than $12 billion during his tenure as CEO, and when he stepped down from the chairmanship at the end of 2012 he reportedly received a payout of more than $143 million.
Meanwhile, Brian Burns, the founder and principal benefactor of the John J. Burns Library at Boston College named after his father, expressed his fury over what's happening at Quinnipiac since the departure of Lahey last year.
"John Lahey is a transformative figure. Very few universities have had such a one-man impact as John Lahey has had on Quinnipiac," said Burns, who was President Donald Trump's first choice to serve as ambassador to Ireland until he withdrew his nomination last year due to health reasons.
7
Burns, who has served on the boards of Boston College, Holy Cross, and University College Dublin, said that the art he donated to Ireland's Great Hunger Museum "might belong somewhere else," in light of the "shocking disrespect being shown to John Lahey."
"There isn't anyone I've spoken to – and I've spoken to many people – who approves of Judy Olian and Bill Weldon trying to tear down what John Lahey did for Quinnipiac."
To support the Great Hunger Museum visit www.ighm.org.
Read more: Leading Irish Americans organize to protect the Good Friday Agreement from Brexit