Irish art from the collection of Brian P. Burns was among sales which lead to the highest total for a private collection of Irish art at Sotheby's auction house in London.
At Sotheby's in London, on Wednesday (Nov 21), a sale of Irish art from the collection of Brian P. Burns brought a total of $4,204,562. One of the most significant collections of its kind in private hands, this remarkable lifetime achievement has made an invaluable contribution to the appreciation and understanding of Irish art. The result brings Sotheby's overall total for Irish art sales this season to $7.7 million.
Burns (82) was in the press most recently as he was one of President Donald Trump's first picks to be the US Ambassador to Ireland. Sadly, Burns had to turn down the position due to illness.
4
Charlie Minter, Head of Irish Art, Sotheby's, said: "We were honored to be entrusted with this once-in-a-lifetime sale of Brian's wonderful collection. Ever since we unveiled highlights in Boston and Chicago this summer, before moving on to New York, Dublin and now London, the pictures have met with an enthusiastic response.
"As was Brian's aim, we are delighted to have been able to celebrate Ireland's artists and bring their reputation to a wider audience. There was international bidding from new and established collectors, with strong prices for the great names in Irish art, including O'Conor, Yeats, Lavery, Orpen and Osborne, as well as new records for lesser known artists such as James Hore and Lilian Davidson. It was fantastic to see the demand for sculptures by Rowan Gillespie, an artist championed by Brian."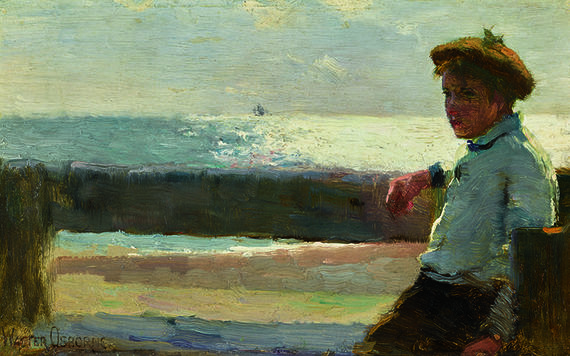 4
The auction opened with a flurry of bids for Rowan Gillespie's The Settlers, commissioned directly from the artist and given pride of place in the entrance of the Burns family home. The bronze sculpture sold for $83,698 / $93,942, more than four times its pre-sale low estimate (est. $19,300- 25,750). It was one of six works by the artist, all of which found buyers, selling for an overall total of $205,000 (est. $68,258-99,167).
The sale was led by Roderic O'Conor's 'Romeo and Juliet', which sold for $468,790, the highest price for the artist at auction in 10 years (est. $300,000-643,890), and Jack B. Yeats' Misty Morning, which brought $286,000 (est. $150,000-321,966).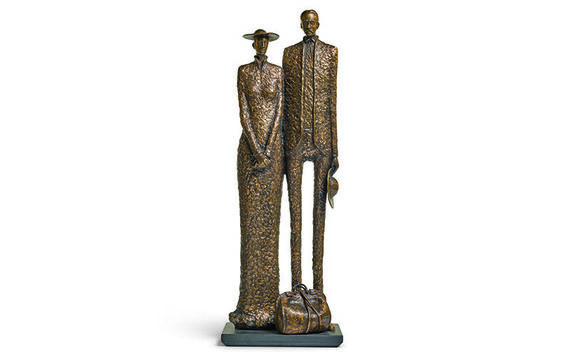 4
Sir John Lavery's Armistice Day, November 11th 1918, Grosvenor Place, London was acquired by Imperial War Museums, selling for $414,634 (est. $257,564-386,361). The work is one of the very few paintings, other than newspaper illustrations, produced at the time of the Armistice celebrations one hundred years ago, when the artist set up his easel at an upstairs window in St George's Hospital and looked across Hyde Park Corner and down Constitution Hill, capturing the scene before him.
The sale saw further institutional buying when Kathleen Fox's Self-Portrait with Palette, sold for $16,098, was acquired by the National Self-Portrait Collection of Ireland at the University of Limerick, with the help of the Friends of the National Collections of Ireland.