President Trump's vow to tighten America's borders, including his executive orders to build a wall along the Mexican border and the entry ban for citizens of seven Muslim-majority nations, has caused alarm in the U.S. Irish immigrant community.
Even green card holders are feeling ill at ease with Trump's moves, with many taking steps to secure U.S. citizenship to ensure full protection of their rights and livelihoods here.
"We know that immigration agents aren't going to be knocking on our home doors – at least we think they won't be – but nevertheless I am scared about the new climate under Trump and don't know what I'm going to do," one undocumented resident of New York for the past eight years, originally from Northern Ireland, told the Irish Voice.
"I have friends who feel the same way. We've built lives here, never got into trouble and believe me, we are doing work that Americans don't want to do. Everything is very up in the air now."
Read more: What life is like for an Irish illegal immigrant in this era of anti-immigrant furor
Siobhan Dennehy, executive director of the Emerald Isle Immigration Center with offices in Queens and the Bronx, told the Irish Voice that the center has noticed an uptick in calls since the Trump orders came into effect.  Since the November election the center's U.S. citizenship program, which assists green card holders with the naturalization process, has also been busier than normal.
Today, we stand together #WomensMarchNYC #WMNYC #Community pic.twitter.com/zp6Tccz07I

— EIIC (@EIIC1) January 21, 2017
On Monday, after a weekend of nationwide protests over Trump's ban on migrants from seven countries, "we fielded increased calls and emails mostly from clients who currently have open cases trying to find out whether their pending applications might be affected, and asking about how their ability to travel might be affected under the executive order," Dennehy said.
"Some are clients with pending adjustment cases wondering about their ability to travel with advance parole in light of the new orders," Dennehy added, referring to the mechanism that allows the undocumented in line for legal status to travel abroad while their cases here are pending.
"Others are in the process of getting their permanent green cards and also wondering about travel.  All should be fine since they are not from any of the order's designated countries."
The center is also dealing with clients from the seven affected countries, and is in the process of reviewing their individual cases. 
Dennehy is asking for all those affected by the Trump executive order to contact the center so that the information can be shared with local and federal officials.
Read more: What Trump's immigration moves mean for the Irish ― worries about H-1B visas
The Irish International Immigrant Center in Boston has also taken a strong stand against Trump's orders.
"Last week the president's mean-spirited and discriminatory executive orders on Immigration were met with resistance across the country. Many of our staff members were in attendance at various protests. We urge you to join with us as we stand up against hate and fight for the equal rights and human dignity of everyone living in our country," a statement on the center's Facebook page said.
Our statement re: executive orders signed by @POTUS. We stand in solidarity, advocating for #immigrants, #refugees, and the #undocumented. pic.twitter.com/ezQYuzyiqp

— iiicenter (@iiicenter) January 26, 2017
Ciaran Staunton, president of the Irish Lobby for Immigration Reform, is urging the estimated 50,000 Irish undocumented to remain calm despite Trump's executive orders.
"We are advising people not to be alarmed by scaremongering. The authorities don't have the manpower to go after people who have committed misdemeanors like parking fines as they have undocumented criminals with felony offenses like murder and rape to deal with first. Overstaying a visa is not a criminal offense in the U.S.," he said.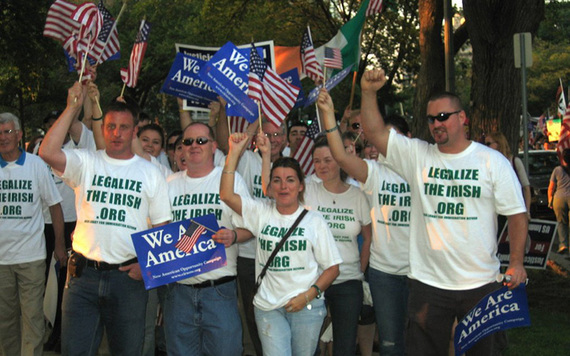 2