IrishCentral is thrilled to announce a collaboration with Chptr, the leading platform for digital video memorials.
This groundbreaking alliance has launched a sensational new feature on IrishCentral's website: Interactive Digital Memorials, a transformative evolution in the way we remember, honor, and celebrate lives.
Forget what you knew about mourning and celebrating the lives of loved ones. With IrishCentral and Chptr's revolutionary new collaboration, the experience of remembrance has been reborn for the digital age.
These interactive digital memorials are far from the outdated, static obituaries that populate dusty corners of newspapers and websites. Instead, they provide a living, breathing digital canvas that richly captures the essence of a life well-lived.
3
By intertwining IrishCentral's masterful storytelling abilities with Chptr's technologies, we've created a platform that redefines how we commemorate our dearly departed. Each memorial is a vibrant, multimedia journey that deeply incorporates the legacy of your loved ones into the Irish and Irish-American narrative.
Utilizing embedded videos, rich timelines, interactive photo galleries, and even audio memories, these memorials become living testaments to the people they honor.
Imagine a digital space where families can upload that cherished video of Grandpa playing the fiddle at a family gathering, or where friends can contribute stories and photos that capture a person's humor, kindness, and spirit.
Every memorial will be posted on IrishCentral.com as well as the Chptr app, where the community memorializing a particular person can participate and contribute. These are not just online repositories but sacred digital spaces where communities can converge, share, and contribute in real time.
"We are incredibly excited to offer this groundbreaking service to our audience. Not only does it give a platform for the Irish and Irish-Americans to celebrate the lives of their loved ones, but it also serves as a rich tapestry that adds new dimensions to our community's shared history," said Kate Hickey, CEO of IrishCentral.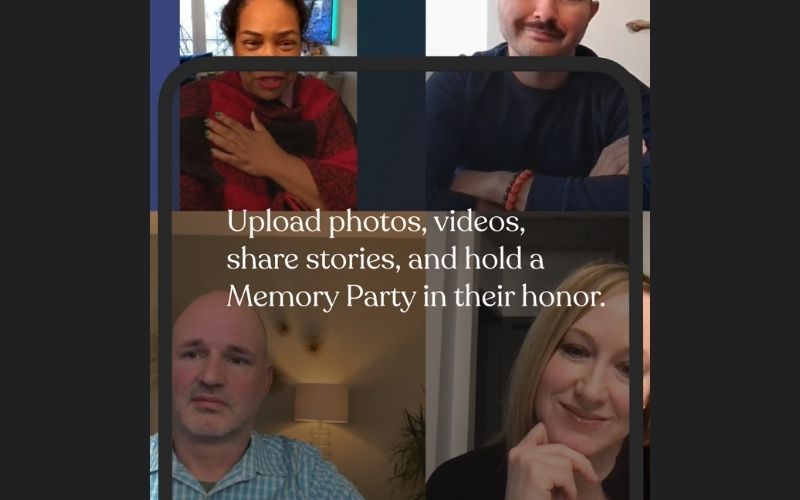 3
Standard Digital Memorial - $49: This foundational package invites an unlimited number of contributors to build a digital monument filled with memories, photos, and sentiments. Complete with a personalized link, your memorial becomes an evergreen haven to visit and revisit, keeping the legacy alive for future generations.
Standard Video Package - $249: Elevate the experience with an orchestrated Memory Party session. Up to six participants can join a professionally guided remembrance, led by an award-winning journalist. This package not only gives you all the features of the Standard Digital Memorial, but it also enriches it with a 60-second video or slideshow, seamlessly integrated to capture the quintessence of your shared memories.
Premium Video Package - $849: For those who want to leave no stone unturned, the Premium Video Package provides an Extended Memory Party for up to 12 participants and a comprehensive 3-minute video that delves into the deeper stories, significant moments, and emotional arcs that shaped a life. This is the ultimate package for larger families or groups wanting a more in-depth tribute.
Memory Party Only - $99: Even if you're not ready for a full-fledged memorial, this package allows you to host a Memory Party—a dedicated time for your group to gather on a private video call and talk through a set of memories with a Chptr storytelling expert. These clips are uploaded to a Chptr so others can interact with them. These sessions provide an opportunity for a community to come together and share memories, stories, and sentiments in a guided setting.
From the varied textures of individual stories to the broad strokes of a life's major milestones, these packages are your tools for crafting a digital tapestry that is both deeply personal and widely communal. They are more than just memorial options; they're heartfelt invitations to contribute to the shared history and collective memory of the Irish experience.
The Interactive Digital Memorials will be accessible through IrishCentral's website and you can find out more about Chtpr here.