Ahead of the "Global Ireland 2025" special summit held in Dublin Castle, An Taoiseach Leo Varadkar reflected on Ireland's initiative to double its global footprint, looks at what has been achieved in the last 12 months, and how this will place Ireland on the world stage.
Editor's note: This article was submitted to IrishCentral ahead of the Monday, July 8th special summit.
Today in Dublin Castle we will meet to take stock of what has been achieved during the first year of the Global Ireland initiative. With the Tánaiste and other ministers we will discuss our vision for Ireland on the world stage with figures from civic society, arts and culture, youth representatives, and members of the Irish business community, as well as with people from the foreign diplomatic corps, foreign companies investing in Ireland, and representatives from sectors like agri-food.
Put most simply, Global Ireland is an expression of our ambition about what we want to accomplish on the international stage, and how we believe we can contribute in a positive way to the world we live in.
Read more: Global Ireland 2025 plans to double impact in Asia as part of next phase
Within the EU, we are working to broaden and deepen our strategic and economic partnerships with other regions and partner countries, across Africa, Asia-Pacific, the Americas, and the Middle East, as well as in our near European neighborhood.
4
We believe in the multilateral system, with the United Nations and the World Trade Organization at its core, and we see it as the best way to protect our national interests and progress our international objectives.
So last June, we launched Global Ireland, a strategic initiative to double Ireland's global footprint and impact by 2025. When I first announced this initiative, I recalled the words of Taoiseach John A. Costello in 1948, when he expressed a hope that Ireland could wield an influence in the world 'far in excess of what our mere physical size and the smallness of our population might warrant'.
Global Ireland is our way of ensuring that we wield that influence for the greater good, spreading our values and sharing our culture, and showing leadership on the great issues of the century such as climate action and international development.
Humankind today is faced with existential challenges like climate change and ecological degradation. The international community is struggling to respond to record numbers of peoples displaced, migration crises that transcend regional boundaries, international trade tensions that are undermining economic growth, and regional conflicts that are having a devastating impact on civilian populations and the integrity of nation states.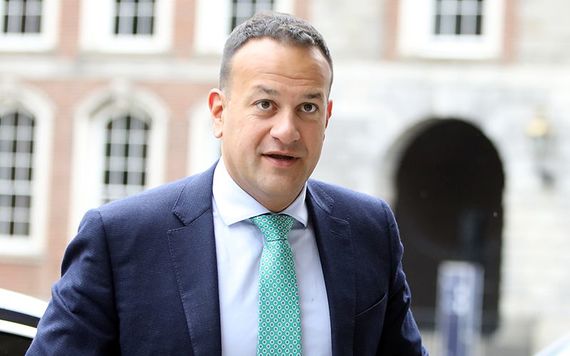 4
All international politics eventually becomes local. We have to play our part now. With strong and sustainable economic growth, record-low unemployment levels and ongoing social progress, we know that our continued progress, prosperity, and security is dependent on what is happening in the world around us. We are part of a global community that must, more than ever, pull together if it is to succeed in tackling the great challenges of our era.
To give you a flavor of what has happened in the past twelve months alone, Ireland has opened new embassies in Wellington, Bogotá, Amman and Santiago de Chile, and new Consulates General in Vancouver, Mumbai, and Cardiff.
We have initiated Ireland's campaign for election to the UN Security Council ahead of the election in June 2020.
We have published A Better World, Ireland's new International Development policy, which reaffirms the Government's commitment to delivering 0.7% of Gross National Income to Official Development Assistance by 2030.
To promote Irish culture and heritage around the world, we have appointed five high-profile Cultural Ambassadors including musician Martin Hayes, architects Shelly McNamara and Yvonne Farrell, actor Ruth Negga and Pulitzer Prize-winning poet Paul Muldoon. We are also co-funding the development of Irish arts and cultural centers in New York, Paris and London.
4
Our agencies are increasing their activities to deliver more for Ireland. IDA Ireland has opened a new office in Toronto and has reconfigured its EU headquarters in Frankfurt to better position us for our post-Brexit challenges. Our ambition is to double its growth in project investments from non-US markets.
Enterprise Ireland is undertaking a major expansion of its international operations, opening new offices in Seattle and Manchester. Our ambition is to double Eurozone exports by its client companies and double the total value of exports by client companies while reducing the proportion of client exports to the UK to under 30%.
Bord Bia has appointed additional personnel in New York and Warsaw, and new representatives in West Africa, North Africa, and Japan. Our ambition is to grow the value of agri-food exports to €19 billion (an increase of 85%), by 2025.
Tourism Ireland is investing significant new resources into developing priority markets such as Germany and the USA and gaining a greater presence in countries including China, India and the Middle East.
Our ambition is to triple revenues from Developing Markets, including China, to €600 million a year, and to double revenue from the US and German markets.
We have renewed our commitment to the UNIFIL peacekeeping mission in Lebanon and approved the deployment of a contingent from the Defense Forces Army Ranger Wing to the UN's MINUSMA mission in Mali.
We are now observer members of the International Organization of La Francophonie and expect to join the African Development Bank later this year.
Global Ireland is the most sustained expansion and renewal of Ireland's overseas presence ever undertaken by the State. It will have a significant positive economic, political and cultural impact.
If Ireland is elected to the UN Security Council, it will place us at the heart of UN decision-making on matters of international peace, security, and development.
Our new international development strategy envisages a significant expansion in Ireland's Official Development Assistance budget.
We want to help other countries in achieving the Sustainable Development Goals, intensify our work on Women, Peace and Security and on gender-based violence, fight the epidemics of HIV, TB and malaria, and develop new initiatives on sexual and reproductive health and rights, as well as exploring innovative global solutions to climate action and climate impact.
One hundred years ago, at the first meeting of the First Dáil, we sent a message to the free nations of the world expressing our belief that freedom and justice are the 'fundamental principles of international law'.
We believed that through co-operating with others around the world we could bring an end to 'vested privileges' and counteract those who profited through empire or military force.
One hundred years later, these same values are at the heart of Global Ireland. It is our vision for Ireland on the world stage, promoting our culture, upholding the principles of international law, engaging in free trade, and speaking out for freedom and justice.
Read more: How you can help shape Ireland's engagement with Irish America
* Originally published on July 8, 2019.