The Donald Trump-Irish female journalist encounter during a phone call from the president congratulating the new Irish leader Leo Varadkar really took off as a story yesterday.
When The Daily Mail runs it as their lead story and the Washington Post has it as its most popular story, you know you've made an impact.
RTÉ journalist Caitríona Perry added 8,000 followers to her Twitter feed in a few hours and the media in Ireland were also going wild with the story.
Lost in the farrago of coverage, however, was any discussion on why Trump picked his call with the new Irish leader as the first he has allowed the media in to witness.
Not only that but National Security Advisor H. R. McMaster and other senior officials were also in the room.
Read more: Twitter explodes over President Trump's "sexist" comments to female Irish journalist
Tells the new Taoiseach that there were Irish press in the Oval Office for his photo op congratulatory phone call to him. pic.twitter.com/RirBDHLZx5

— Mark Knoller (@markknoller) June 27, 2017
Why was little Ireland so important to Trump? There were no NATO matters to discuss, no Middle East knotty problems, no kindred conservative soul on the other end of the phone.
Indeed Varadkar, gay, ethnic, relatively liberal, should have been the opposite of the type of people Trump courts.
Given that and his dreadful relations with most of the press it seemed a strange move from a president who is quite embittered by his press coverage.
The only explanation is that someone in the White House thought it was a good idea. There are enough Irish Americans around the president, most notably Steve Bannon, who may have decided on the public aspect of the call, but I have a sneaking suspicion it was likely Trump himself.
His statement that he thought he knew every Irish person in the US was revealing. The Irish are one group that Trump appears to be very relaxed around.
The fears of the Irish government early this year were that Trump would cancel the St.Patrick's Day events at the White House for lack of interest.
Far from it – the event had his daughter and son-in-law on hand and he gave then Taoiseach Enda Kenny an overwhelming welcome.
Of course, there may well be a political calculus, too. Catholic voters will be key in 2020 and it is no harm to pay homage to the biggest white, Catholic slice of the electorate of all.
Read more: Trump said he feels like he knows all the Irish people in the US - does he know you? (POLL)
His VP Mike Pence was practically begging for Irish citizenship over that same period, attending the Ireland Fund dinner, entertaining Kenny at his residence, and making two remarkable speeches about what his Irish heritage means to him.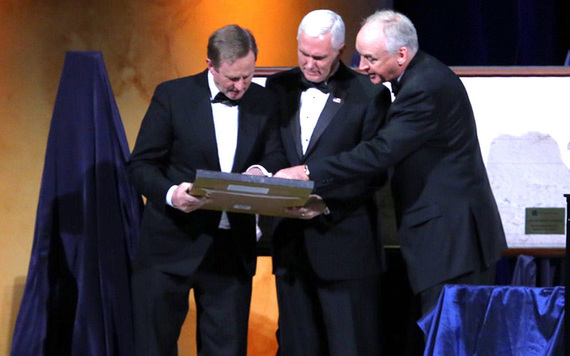 2
Then there are the Irish staff members, Sean Spicer, an out-an-out hibernophile; Bannon, once married to an Irish woman; Kellyanne Conway, though she may lean more towards her Italian heritage; and others including McMaster.
Trump also knew the major Irish players in the construction business in New York and by all accounts made friends with quite a few of them. Add in his golf course and hotel in County Clare and the Irish influence is clear.
It may not mean much at the end of the day, but Trump clearly likes the Irish. On issues like immigration it could be that Irish negotiators on behalf of the undocumented would make far more sense. Having the ear and friendship of the president of the United States, no matter who he is, can mean an awful lot. How that influence is used is critical.