Washington D.C.: Irish undocumented in the United States are deeply worried about the policies of incoming president Donald Trump and fear the worse when he takes over. As a result, many are driven further underground.
Most, however, have no option but to stay in the US as they have children and in many cases businesses and have nothing to go back to in Ireland.
Over 40 representatives of Irish immigration groups from across the United States met at the Irish Embassy in Washington at an all day conference hosted by Ambassador Anne Anderson to discuss the crisis atmosphere that has enveloped the Irish communities across the United States with the election of Donald Trump.
The stated aim, as Ambassador Anne Anderson said, was to ensure that the Irish undocumented, an estimated 50,000 across the country, were fully aware that the Irish immigration centers, Irish diplomats and Irish lobbies were not giving up on their undocumented members and that efforts to pass immigration legislation would continue.
"The message is we care and we continue to care deeply for undocumented Irish," she stated.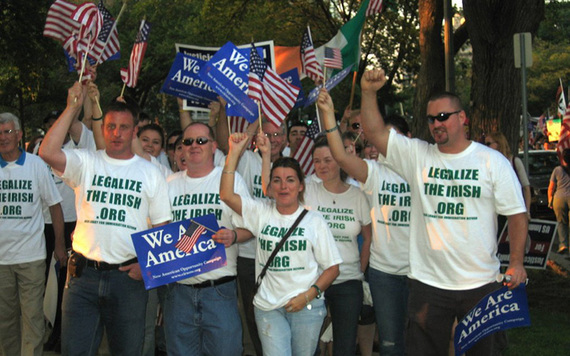 4
From San Diego to San Francisco, Boston, Chicago – where Emigrant Senator Billy Lawless attended from – to New York and Boston the conference heard a grim message of fear and despair among undocumented immigrants given the high level of anti-immigrant rhetoric that resounded during the election.
The conference heard that many undocumented applicants are being exploited by unscrupulous lawyers promising green cards, demanding exorbitant fees and then never delivering.
Also present were former Congressman Bruce Morrison, author of the Morrison visas, and Jim Walsh a former head of the Friends of Ireland in congress. Walsh stated that the immigration issue might not turn out as bady as many had predicted, that building the fence would draw a lot of the sting out of it, while Morrison stated that although comprehensive immigration reform was dead the ability to get small bills through was still there.
Ciaran Staunton, co-founder of the Irish Immigration Reform Movement, stated the battle would continue whoever was in power and reminded those present that very little was actually done by President Obama when it came down to it.
4
The most worrying aspect reported by the immigration centers was the low attendance at Irish immigration information events and the sense of hopelessness of anything changing that was driving the undocumented Irish even deeper underground.
Many noted the need for a beefed up communications strategy and central information point given that rumors and "fake news" about immigration raids were likely to be running wild once Trump took power.
As regards Irish government backing, Senator Lawless stated he had several conversations with Taoiseach Enda Kenny about the issue and that he was willing and eager to help in any way he could.
4
Read more: Only 12 per cent of Irish think a President Trump will be good for them