Speaker Paul Ryan turned his back on his own Catholic faith in order fire Chaplin Fr. Pat Conroy to please anti-Catholic zealots in his own party.
There is no other explanation for what Ryan did, given that the Jesuit priest, a very popular figure in the chamber, had broken no laws. He was only the second Catholic chaplain in US history and the first among the 60 House chaplains who have served to be fired.
Read More: Fury in Congress as Paul Ryan fires beloved Chaplain Fr. Pat Conroy
The Irish have a name for those who do the bidding of the English or in this case the anti-Catholic forces, It's "gombeen man," the one who did the foreigner's dirty work to enrich himself.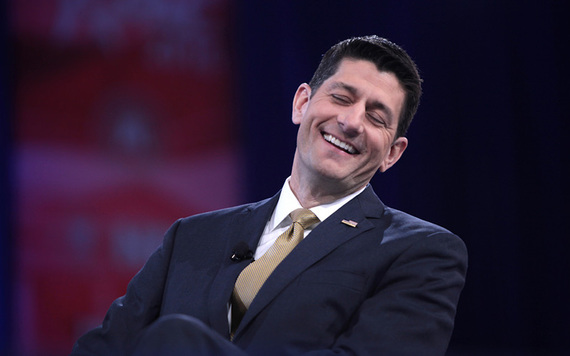 3
Gombeen Ryan, himself a Catholic, has disgraced himself with this firing. Let's hope the door doesn't hit him in the backside on his way out. Supporting everything about the Trump agenda like an obedient lickspittle is one thing. Partaking in anti-Catholic activity is another.
The Hill newspaper put it bluntly:
"Suspicions among Catholic Democrats that Conroy's Catholicism played a role were bolstered Thursday night, when Rep. Mark Walker (R-N.C.), a Southern Baptist Minister who heads the Republican Study Committee, promoted the notion that Conroy's replacement should have a family — a stipulation that would eliminate Catholic priests and nuns."

"I'm looking for somebody who has a little age, that has adult children, that kind of can connect with the bulk of the body here, Republicans and Democrats who are going through, back home the wife, the family," said Walker who is leading the search committee for the new chaplain.
Read More: Paul Ryan, once a rising star, departs as Trump's sad lapdog
Irish Catholic and fellow Republican Congressman Peter King was quick to criticize the Ryan move:
"I saw people walk up to him all the time, sit down with him. So I never heard any of these complaints before," King told reporters after the meeting. Ryan "just said he received so many complaints from members of the House about the lack of chaplain services. I never heard one of them. I'm not the Speaker, but I never heard [them]."
It seems Gombeen Ryan, as he has throughout his benighted career as Speaker, buckled under pressure from the anti-Catholic and anti-Jesuit southern cabal.
3
Read More: Speaker Paul Ryan says he'd like to be Ambassador to Ireland
House Democratic Caucus Chairman Joe Crowley from Queens, New York said Ryan's move was "reprehensible."
"That Conroy is the first chaplain of the House of Representatives to be fired in the history of the United States is just outrageous," he says.
Conroy is the 60th House chaplain in US history, He told The New York Times that "Catholic members on both sides are furious."  Democratic Rep. Gerry Connolly blames "anti-Catholic sentiment" for the ouster, though Ryan spokeswoman AshLee Strong says the speaker is a proud Catholic and the charge is "false and outrageous."
Here's November 6, 2017 prayer by House Chaplain Pat Conroy: "May their efforts these days guarantee that there are not winners and losers under new tax laws, but benefits balanced and shared by all Americans." pic.twitter.com/RQ4SzUHk9Y

— CSPAN (@cspan) April 27, 2018
A number of politicians had told Ryan they wanted someone who did more "spiritual counseling," according to Rep. Duncan Hunter (R-Calif.), who attended the meeting.
Read More: Why hasn't there been a Catholic president since JFK? 
Ryan agreed, he told the members.
Rep. Fred Upton (R-Mich.) claimed Ryan said the dismissal was not done for any politician reasons, but because it was just "time for a change."
Father Conroy told the NYT the speaker's office complained about his prayer about tax laws last year - and Ryan later told him to "stay out of politics" https://t.co/0GLkwwJNI7 pic.twitter.com/QHRCuhlj6C

— Steven Dennis (@StevenTDennis) April 27, 2018
Some Democrats believe a prayer  Father Conroy gave that was perceived as critical of the GOP tax law was the signal for GOP right-wingers to act. No doubt Jesus reincarnated would be too liberal for the southern folk.
Conroy also dared to pray that lawmakers would help "the least among us."
He prayed to St. Nicholas, "who fed the hungry, brought hope to the imprisoned, gave comfort to the lost."
He asked the politicians to serve other people in their need" and "to pray for the unemployed."
Obviously, this was heathen stuff to the Baptist right so they resolved to get rid of him.
And the little green gombeen did their bidding one more time.