The Pope's brass band in New York uses hate, propaganda, and downright lies to get his hatred of gays, Jews, and non-Catholics across.
Catholic League President Bill Donohue has surpassed himself in his recent attempts to blacken Parade Grand Marshal Loretta Brennan Glucksman's reputation. There's even a tinge of anti-Semitism thrown in.
The divorced Donohue is the pope's brass band in New York pontificating on alleged slurs against his religion at every opportunity Wealthy conservative Catholics back him - only God knows why as he is an increasing embarrassment.
His latest missive shows how far over the brink he has gone.
He writes: "Since 1762, there has been a magnificent St. Patrick's Day Parade in New York City, drawing Irish Catholics from every county in Ireland, as well as from a host of schools, colleges, and voluntary organizations. The police and firefighters are front and center. But what was once a celebration of St. Patrick has now evolved into a celebration of the Irish."
Wrong. The first marchers in 1762 and for many years after were British army soldiers, Irish Protestants in the main. Their marching had nothing to do with the Catholic church.
Then there's this paragraph.  "No one has done more to deracinate the heritage of the parade than John Lahey, the president of Quinnipiac University. (and chairman of the parade committee)."
Deracinate? Who is Lahey trying to make less Irish? Ah, the gays, of course, which is Donohue's real purpose.
3
Lahey allowed the gays to march and they clearly have no business being Irish is what Donohue is saying.
Then comes the greatest slur of all. Donohue writes "This year's parade is showing evidence of further secularization. The Grand Marshal is Loretta Brennan Glucksman, a woman with strong Irish credentials, but no Catholic ones. Indeed, she is an ex-Catholic. "I don't pray, I don't go to church, and I don't do any of those rituals that once were such a core part of my life," she said recently.
This is a Goebbels technique where you do not have the full context of the remarks.
Brennan actually said she has started praying again since Donald Trump became president since she feared what he would do. Here is the relevant quote from the Irish Independent:
"In the early hours of November 9, 2016, Loretta Brennan Glucksman did something she had not done in more than 40 years. She prayed.
She was so worried by Trump's victory she said that. "It [praying] was such an instinctive action that it stunned me."
"I don't pray, I don't go to church and I don't do any of those rituals that were once such a core part of my life," says the Catholic-born former daily communicant.
"I'm still praying. On my calmer days, I know our [US] institutions will prevail, but it's still so unsettling".
Here's the little anti-Semitic dig by Donohue. Speaking about Brennan Glucksman he says, "So fed up with the Catholic Church is she that she took off her miraculous medal in the 1980s when she married Lew Glucksman."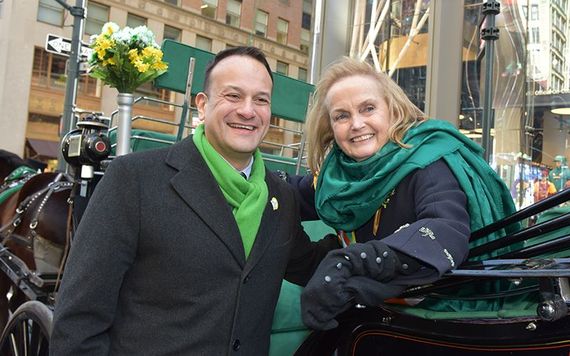 3
Again, he is making this up. The actual quote says Glucksman gave her a beautiful pendant which she considered a second miraculous medal, nowhere does it state she removed the medal her aunt a nun had given her.
Unspoken here is Glucksman is Jewish and it's an anti-Semitic dig at Brennan and Glucksman.
This Goebbel stuff is worse than the usual Donohue palaver. He is using propaganda and downright lies to get his hatred of gays, Jews, and non-Catholics across.
Time to hang up the poison pen Mr Donohue.
Read more: Pope Francis faces a mission impossible on his Irish trip