This St. Patrick's Day, the cross-border and cross-community Cross Border Orchestra of Ireland (CBOI) will play Carnegie Hall in celebration of 25 years of the Good Friday Agreement.
Carnegie Hall in New York City will be the place to be on St. Patrick's Day 2023. Onstage the Cross Border Orchestra of Ireland (CBOI), all 140 of them, will be busy bringing the house down.
Established in 1995 as a peace initiative, the CBOI is currently composed of over 100 exceptionally talented young musicians from all over Ireland and Northern Ireland.
As well as entertaining audiences worldwide, the orchestra has focused on building and nurturing cross-border and cross-community relationships between the young people who join its ranks. 
5
Yes, you certainly have heard of them and how could you not when over 28 years they have played for heads of state like President Barack Obama at the White House in 2016?
They have also performed for the Presidents of Ireland on many occasions and at important national events including the launch of 1916 commemorations on behalf of the Government of Ireland.
This upcoming St. Patrick's Day performance at Carnegie Hall will be the culmination of the orchestra's recent concerts throughout Ireland and will not only be a celebration of the CBOI as it has changed and grown over the past 28 years, but a celebration of the 25th Anniversary of the Good Friday Agreement. 
"I have been co-chairing the Orchestra since 2004 and this is their third time coming to Carnegie Hall and there's nothing they wanted to do more," CBOI co-chair Orla Maguire Moore tells the Voice. "We figured it's the best possible day to celebrate their anniversary as an orchestra on the best stage in the world, on the national Irish holiday, it's quite a melange of all good things."
It's also the 25th anniversary of the Good Friday Agreement, she notes. "And that was part of the premise of how the orchestra was founded initially, to just bring kids together from different communities and different backgrounds and different religions with peace through music."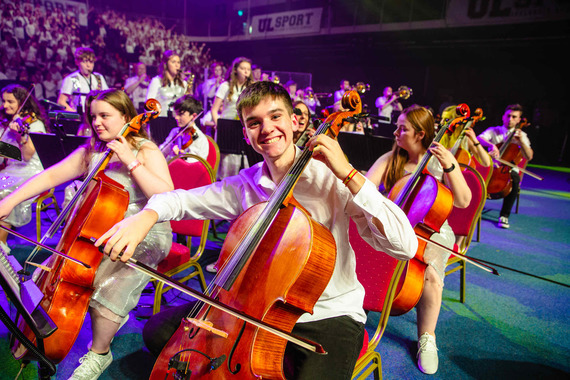 5
If you're not familiar with the background of the orchestra, it can be simply put. The premise was to bring kids together who wouldn't normally be in the same rooms as each other, and who wouldn't be traveling together, in the hope of fostering better community relations and friendships. And 28 years later that is exactly what it has done. 
"And it's a very diverse group now because as you know the landscape has changed tremendously in Ireland over the years. Now we have kids from Eastern Europe that are living in Ireland, we have Russian kids living in Ireland, and we have kids from all denominations and backgrounds, not just north and south.
Co-Chair Ciaran O. Grant strongly agrees. "While the foundation of the orchestra was originally a cross-border initiative, today the orchestra strives to build bridges and encourage a greater sense of community far beyond their Catholic and Protestant origins. Ireland has become a much more diverse nation since the launch of CBOI in 1995 and through its many programs, from Peace Proms and Count Us In, the orchestra encourages inclusion and strives to foster sustainable and diverse partnerships today more than ever."
More than 35,000 elementary and middle school children have performed with the orchestra to date and this is the youth orchestra's fourth visit to New York City and their third Carnegie Hall performance. 
"We are incredibly excited to have the orchestra back in New York," Grant continues. "To have both the Mayor of New York City Eric Adams and the Tainaiste Micheal Martin onstage to welcome and provide opening remarks prior to the performance is a testament to CBOI's reputation as an acclaimed, flagship peace initiative."
"Sharon Tracy, the orchestra's founder, has their travel schedule down to a fine art," adds Maguire Moore. "We come to New York with such excitement and just hit the ground running, with back-to-back events planned. And the orchestra is so adrenaline pumped anyway to be in New York, and especially when they come to Carnegie Hall. It's a huge excitement and for this particular concert they are coming on the back of having performed eighteen concerts in Ireland already."
5
Ancora (meaning "still" in Irish) is the name of the CBOI's current show, which will be conducted by Greg Beardsell, and joining the 140 players onstage will be the 100-singer-strong Fairfield County Children's Choir and the Xaverian HS Pipe Band from Brooklyn. 
"By the time they reach New York, the orchestra will have actually worked with something like 30,000 kids throughout Ireland. That means they've long outgrown traditional concert venues and now perform in arenas."
If you're wondering what kind of music to expect on the night, open your mind. "They have such an amazing repertoire ranging from typical classical orchestra music to pop hits to all kinds of number-one tunes we hear on the radio, they even play a few U2 numbers and one of their pieces in this repertoire is from The Cranberries. So they really have quite the range."
Having local choir kids sing along with them is very special for the communities they visit, Maguire Moore agrees. "That's what has helped grow their name and success. For this particular performance, we're working with the Fairfield County Children's Choir from Connecticut, who have sung with the orchestra on the three previous times they've been in New York, and the Fairfield Children's Choir has actually gone to Ireland and performed with the orchestra there. So they have a beautiful synergy together."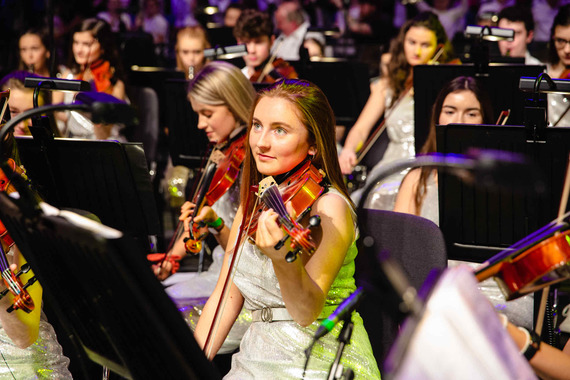 5
The signing of the Good Friday Agreement and what that has meant to peace and people's lives – even against the backdrop of the frightening attack we saw recently - has a new intensity lately, would they agree?
"Absolutely, the whole premise of the orchestra is fostering relationships between the kids because they are the future and through this initiative they can move forward with a more peaceful mindset. As it pertains to the Good Friday Agreement, these young people are basically ambassadors for our future. And, you know, it just creates a very positive kind of outlook for all of us when you see such a large group really working together in unity."
Alongside the young people, a large group of their parents will also attend. "The parents will represent the orchestra in the St. Patrick's Day parade on Fifth Avenue in their banner and their sashes. So that's really quite a feat for them all to be in New York on such a momentous day."
"And we have other things planned, including a flash mob on the day as they visit some hey sites and take in some scenery around New York City and do things that kids want to do. That's why there's a lot of excitement, lots of buzz about this visit and this performance. It's going to be so special and I can't wait for the Irish community here to come and see just how!"
Tickets to Ancora, the Cross Border Orchestra of Ireland's spectacular new Carnegie Hall Show, can be purchased at carnegiehall.org.